 Newcastle United suffered a tremendous blow at the weekend after their 5-1 trouncing by Crystal Palace saw them sink back into the relegation zone.
Misery and Humiliation
One of the clear problems present with the current Newcastle side under Steve McClaren is their inability to keep and maintain their lead in a Premier League match. Newcastle have now lost more points (10) than any other side this season from winning positions. This corresponds nicely with McClaren's post-match comments suggesting that his team's "commitment and fight went down".
​​In correlation with this game, Newcastle were swiftly and effortlessly put down by Crystal Palace's quick retaliation to going a goal down thanks to McArthur's equalising goal in the 14th minute. However even then, the game was not over. Newcastle looked the better side early on after several shots from the likes of Vurnon Anita and Moussa Sissoko were blocked by Crystal Palace goalkeeper Wayne Hennessey.
However as Crystal Palace fought their way back into the match and began to really exploit all areas of the Newcastle team, "the game was gone".
This trait of a steely determination exhibited by many of the league's teams to come back is one definitely not shared by Newcastle United. The last time they came back from behind in a Premier League game was back in February 2013 against Chelsea and this clearly displays the lack of commitment by the players as their losing streak continues.
The joy for the travelling fans was few and far between, only cheering as Cisse netted his first goal of the season, ensuring he has scored in all three matches he has played against Crystal Palace. However, the Mags defencee cracked as the game wore on and the Newcastle faithful witnessed a side that "was not coping very well" as Fabiricio Coloccini slipped on the line to gift Palace a second goal in the game.
Desperate search to find the 'hiding team'
​This latest loss by Newcastle United grants them their second largest margin of defeat for the season, only outdone by the 6-1 mauling at the hands of Manchester City at the Etihad.
In contrast, this game presents the first time Crystal Palace have scored five in a Premier League game and marks Alan Pardew's 100th victory in the division as a manager. Even achievements have come to light for McArthur, who revealed post-match that he has not scored two goals in a game since playing at Under 13 level.
The match embodied the worrying trials and tribulations of a supposedly new Newcastle United side after some much needed investment in the summer and the introduction of a new manager in McClaren. Despite changes, this 'new' side was labelled as "not a true Newcastle side for 90 minutes" in McClaren's interview following this game.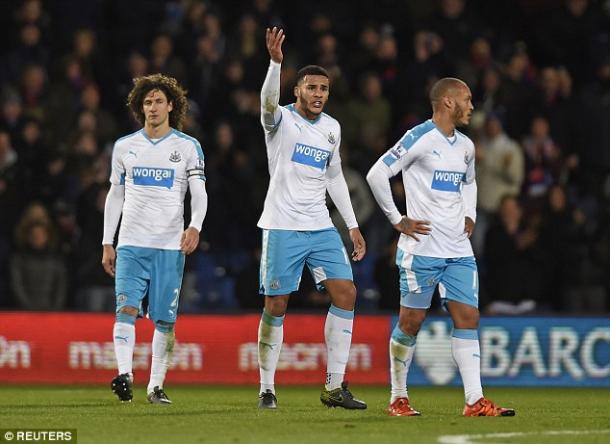 The main body of the Newcastle United team, at this moment at least, lacks the required level of quality expected for the competitive clashes of the Premier League, with them in a deserved "relegation fight" after just 14 games. This point was neatly personified as Chancel Mbemba Mangulu was easily shrugged off by Connor Wickham to grant Palace their third in the game.
However, this stems to incorporate Newcastle as a club, who cannot maintain their leading points in games and are quickly and easily shaken off of the three points as they quickly lose their focus.
McClaren has also clearly been shaken by the sheer pressure of commandeering such a club that needs to "show its true metal" and successfully "regroup and prove [their] worth".
Both players and staff alike are feeling the constraints of the understandably angry fans that fired boos and jeers upon their teams thrashing at Selhurst Park. McClaren has stated that "we are all hurting" though and that the true "fight begins against adversity".
Newcastle must now "regroup and focus" as they now face a revitalised Liverpool side under the command of Jürgen Klopp at St James' Park next week.