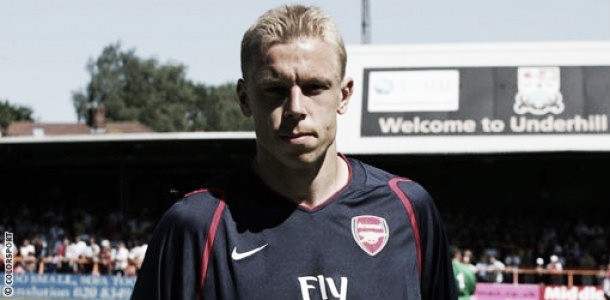 Mart Poom, an Estonian international goalkeeper was brought into the English game in 1994, the first ever Estonian to play in the Premier League in 1997 and is the only Estonian since then to make an appearance.
First brought to England from the Swiss league to Portsmouth, after making just seven appearances, he was loaned back to his native city Tallinn. After a brilliant game against Scotland, Poom was brought to Derby and made his debut against Manchester United, not such an easy debut for the man between the sticks. He would go on to play for the Rams for the next six years of his career before moving on to Sunderland. Derby would be the scene for a great moment of his career, on his return to Pride Park he scored a header in the dying moments of the game. Met with a standing ovation from both sets of fans, a testament to the legacy he left at his former club.
Move to Arsenal
In August of 2005, Poom was involved in a move in which young right-back Justin Hoyte was loaned to Sunderland for the season with Poom loaned the other way. Although Poom didn't make a single appearance that season, Arsenal made the move permanent after getting a Champions League runners-up medal for the previous season simply for being a member of the 2005-2006 squad.
The next season was definitely better than the last for Poom, who finally made his debut as well as a string of appearances elsewhere. Poom made his final appearance for Arsenal on the final day of the Premier League season, his first Premier League start for the Gunners saw a cleansheet in a goalless draw against Portsmouth. Knowing well that he was a third choice for the goalkeeper spot, Poom waited until called upon and always put in stellar performances in what was the twilight stage of his career.
After Leaving Arsenal
Poom moved to newly demoted Watford in 2007 for an undisclosed fee, starting as a first choice 'keeper, but he eventually lost his place to Richard Lee. A dislocated shoulder in September that year put him out for most of the season, although he had returned before the season ended. Watford released him from his contract in April of 2009.
His international career tells a far different story to that of his club career. An Estonian icon with six Estonian Player of the Year awards and 120 caps for his nation. He was selected by his nation's governing body as the greatest player to be produced by the nation in the last 50 years. He was awarded the Order Of The White Star, a medal which recognizes services provided for Estonia by both Estonian citizens and foreigners.
Now a goalkeeper coach for the Estonian national team, Poom has coached at many clubs also since retiring with Arsenal being one. Poom also runs a coaching school in his home city, Tallinn, an end to a playing career has started off what may be a great coaching one for the Estonian legend.