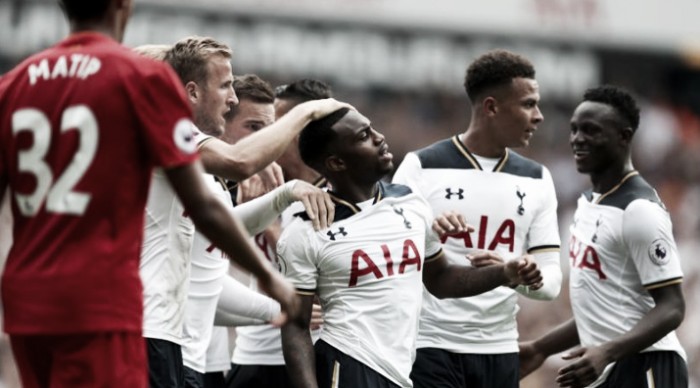 Tottenham Hotspur were lucky to share the spoils from their clash against Liverpool.
A converted James Milner penalty just before half time put the visitors in front, before Danny Rose equalised with just over ten minute left.
When you compare the two teams statistically they look relatively even. Tottenham had eleven shots to Liverpool's 13, even though Spurs had more on target.
Liverpool edged possession with 51% and with that, the Reds looked like the more superior team. They got settled into the game quicker than Spurs did while they also looked smoother in possession.
Early substitution
An injury to Kyle Walker, which saw him limp off the pitch in the 28th minute strongly impacted the Spurs side.
With Kieran Trippier not on the bench due to doubts around his future in North London, Mauricio Pochettino took the opportunity to change his side's formation, opting to bring on Vincent Janssen. This saw Eric Dier move back into the right back position, a position in which he played two seasons ago, with Dele Alli assuming Dier's role in the double pivot, and Kane pulling back to play behind Janssen.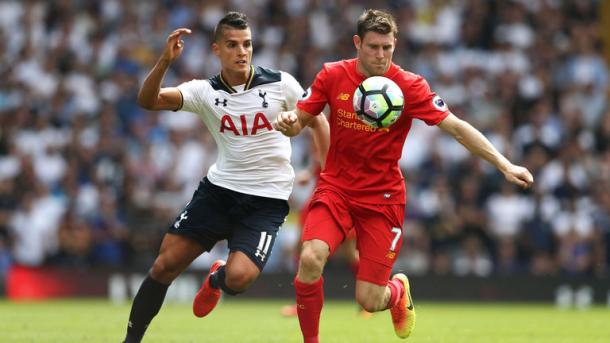 First and foremost Dier looked completely out of his comfort zone at right-back. Dier's physique means that he can't produce an instant burst of pace, which meant he found it difficult to run onto balls which were being played to him, hence he added little when going forward. However the Englishman did provide the cross for Tottenham's goal after getting behind Milner.
Secondly by dragging Alli back into the double pivot it minimised any threat the young starlet could have posed. The Englishman is most effective for Spurs when he plays in the hole behind Kane.
In this position Alli is able to make effective runs, which has seen him score on numerous occasions when attacking the box with a late dash forward. Having to play further back meant that Alli had to focus more on his defensive duties and was tasked with recycling the ball back out to his teammates rather than bursting forward himself. With Christian Eriksen and Erik Lamela not fully in the game themselves this hurt Tottenham even more so.
Was it a penalty?
Liverpool gained the lead through a Milner penalty, just two minutes before half time. Roberto Firmino fell to the ground in the penalty area, however many believe that the contact from Lamela did not take place in the penalty area and even so was minimal or accidental. On top of this the contact that actually brought Firmino down was caused by the Liverpool player's own foot as it catched underneath him.
Vorm puts in excellent performance
With Hugo Lloris coming off injured during the first half of Tottenham's clash with Everton on the first day of the season many fans were worried about how Michel Vorm will cope in his place.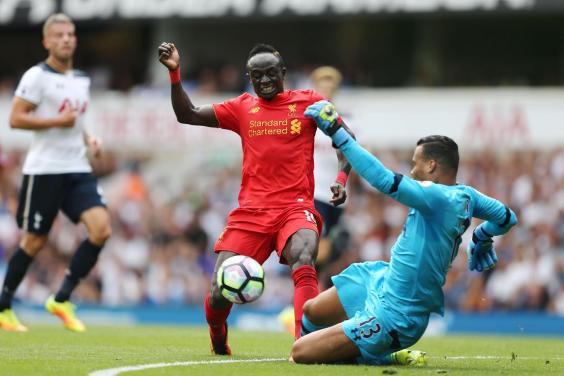 Today the goalkeeper proved any doubters wrong. Vorm denied Liverpool a number of goals with his outstanding instinct off the line to come out and make some great one on one saves as well as keeping out an early effort from Phillipe Coutinho with his boot. Without the Dutchman, Tottenham would have been much worse off and would have conceded more than the once.
Why did Tottenham need to rely on Vorm so much?
Liverpool's front three in the form of Firmino, Coutinho and Sadio Mane were a nuisance for Tottenham's defence. The trio constantly pressed Spurs's backline and jumped on any opportunity they had with their pace.
This meant that the Tottenham defenders couldn't play the high line they normally would which in turn made playing out from the back a lot more difficult and in fact put the players under more pressure. On top of this the full backs were not able to get forward as much as they normally do, also limiting Tottenham's attacking potential which resulted in them gaining a point.