Theo Walcott is my man of the match, he looks a completely different figure to the Walcott of last season. Now with five goals in seven games, he looks full of confidence and happiness.

Arsenal should have had more, but their wastefulness and Vaclik's stoic performance denied them a more comfortable scoreline. Basel looked all at sea and prop up the rest of Group A.

The fluid Arsenal is back, their first half display was exemplary, Walcott, Ozil, Sanchez and Iwobi all looking hungry and very threatening. Burnley awaits them next in the Premier League, as they look to keep their impressive form up, with a big October and November ahead. September was an unbeaten month for Arsene Wenger, and no doubt he'll be impressed overall with tonight.

I've been James Eagles, thank you all for your company over the course of the last two or so hours.

What did you think of the game? Let me know on Twitter @therealjeagles
Easy for Arsenal, but PSG's 3-1 win over Ludogorets means they miss out on topping the group for now. The Bulgarian side is next for the Gunners, a double header starts at the Emirates, before Arsenal make the trek to the Ludogorets Arena.
FULL TIME: ARSENAL 2-0 FC BASEL
90+1' Lang's crossing goes back to its normal standard. I hope the fan on the end of that knew it was coming.
90' TWO MINUTES OF ADDED TIME. "We love you Arsenal" rings around the ground.
89' CHANCE! Corner finds Sanchez at the back post, but Vaclik denies him once again. The Chilean lets out a roar of frustration; Vaclik groans whilst holding his nether regions. He's been outstanding.
88' CHANCE! Sporar evades the offside trap, but Ospina blocks. At the other end, one ball from Bellerin releases Oxlade-Chamberlain. He rounds Vaclik but runs out of grass, and the keeper shovels his cut back out for a corner.
85' Cazorla goes for the daisy-cutter approach, but the Basel wall didn't quite jump high enough and it all fizzles out once again.
84' And here come the "Ole's" as Arsenal enjoy a lenghty spell of possession. Sanchez also throws in a few hundred stepovers for good measure. He wins a free kick on the edge of the box from Elyounoussi.
83' Mustafi and Steffen collide heavily. Both players seem to be okay.
82' Ozil ends a patient Arsenal move by being caught the wrong side of the defensive line. Arsenal still looking for that final flourish.
79' SUBSTITUTION: Bjarnason (OUT), Delgado (IN)

Basel have no remaining changes.
75' SUBSTITUTION: Monreal (OUT), Gibbs (IN)

Arsenal have no changes remaining.
74' Monreal tries his luck for 35 yards. He's no Xhaka, I'll tell you that for free.
74' Steffen, having no luck going forward is forced to concede a corner, with Bellerin on his heels.
71' SUBSTITUTION: Zuffi (OUT), Elyounoussi (IN)

Basel have one change remaining.
70' SUBSTITUTION: Iwobi, Walcott (OFF), Oxlade-Chamberlain, Elneny (IN)

Walcott trudges off to a standing ovation, Arsenal have one change remaining.
69' This has turned into quite the end-to-end encounter. Both sides are showing good intent, Basel are much improved. Sporar has already done more than Doumbia in a matter of minutes.
68' CHANCE! No, we're not getting another goal. Cazorla finds Walcott down the right channel of the box, his cut back finds Sanchez in a role reversal, but his volley evades the gaping goal.
66' CHANCE! Basel, once again have the shot. Koscielny's poor back pass is cut out by substitute Sporra but his shot is wide and wild.
64' CHANCE! It's Bjarnason once again! Ospina flaps at a Zuffi corner, but the Icelandic international cannot keep his half-volley down. Warning signs for Arsenal, they need another goal!
63' CHANCE! Basel are starting to test Arsenal, Bjarnason's long range effort has to be tipped over by Ospina, who's showed no signs of a waning concentration level.
62' Ospina holds the second corner. Immediately kicks to find the scampering Bellerin, who just loses out to Traore on the touchline.
61' Much better from Basel. This time, Lang's low cross is testing and Koscielny has to stretch to concede the corner. Corner is cleared for a repeat.
58' SUBSTITUTION: Doumbia (OUT), Sporar (IN)

Basel have two changes remaining.
57' CHANCE! Iwobi bursts forward, with the Basel defence backtracking. He has Sanchez to his left, Xhaka to his right but he goes alone; his toepoke goes narrowly wide of the mark.
56' Basel fans, to their credit are still singing away. Their team haven't hit any of the right notes.
53' Sanchez nicks the ball off of Suchy's toes, but his tame pass is cut out by Taulant Xhaka.
51' Offside once again. Sanchez and Walcott link up for the umpteenth time tonight, but the flag is up. Luckily for Walcott, as he missed the resulting chance.
45' We're underway again. Can Arsenal add to their lead?
Elsewhere in Europe, there are goals aplenty:

Atletico Madrid 1-0 Bayern (Carrasco 35)
Besiktas 1-0 Dynamo Kyiv (Quaresma 28)
Napoli 1-0 Benfica (Hamsik 20)
Celtic 3-2 Manchester City (Dembele 3, 47, Sterling o.g. 20; Fernandinho 11, Sterling 28)
Rostov 2-2 PSV (Poloz 8, 37; Morishige 14, de Jong 45+2)
Ludogorets 1-1 PSG (Batista Pimienta 15; Matuidi 41)
Gladbach 1-0 Barcelona (Hazard 34)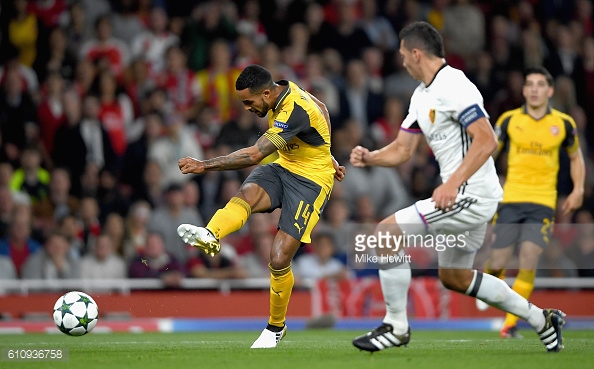 If you do have anything to say on the game tonight, then feel free to tweet me at @therealjeagles
HALF-TIME Arsenal are purring tonight, and go into the break two goals ahead, with Basel already scraping the barrel for attacking ideas. Walcott's second Champions League career brace is the difference.
45' Petr Cech is a spectator tonight. So is David Ospina, if we're honest.
41' CHANCE! Sanchez again toys with the waning backline. His deep cross finds Ozil, who's evaded the shaky Traore; but his volley is straight into the side netting from a tight angle. Wenger will be worried by this wastefulness though.
40' Basel's lack of competition in the Swiss Super League is showing tonight, they are simply not at the races and don't look particuarly sharp. The scoreline is currently flattering. The stats aren't.
38' More shots for Vaclik. Monreal's scooped pass is expertly killed by Sanchez, but his effort is scuffed and is saved by the outstanding keeper. Walcott's rebound cannons off of Suchy's head.
37' Yet another chance goes begging, Ozil poking wide after a swift counter attack. I'm confused as to how this isn't 4 or 5. Urs Fischer is probably wondering the same.
36' Vaclik's earning his wage tonight. Ozil finds Walcott in a baffling amount of space on the right, he slides it through to Bellerin, but Vaclik is out quickly to block.
34' Another chance, Walcott's fizzing low cross goes begging.
33' So nearly a third. Arsenal are rampant! Walcott again the instigator, turning Traore before releasing Bellerin. The ball is worked over to Sanchez by Cazorla, but Vaclik produces a fine save to stop the chip. Corner comes to nothing.
33' Doumbia looks to run at the Arsenal defence. Mustafi replies with an inch perfect tackle.
32' Basel are enjoying a rare spell of possession, but don't go anywhere. The ball goes back from Fransson to Vaclik, who is immediately pressured by Sanchez. Balanta's rushed clearance is charged down by the impressive and nomadic Walcott.
28' Arsenal come forward again, not as easy on the eye this time, with legs everywhere and the hands of Vaclik desperately trying to clear the danger. The ball falls to Walcott who goes over under the challenge of the suspect Balanta, but Makkelie waves away the half-hearted penalty claims. Out of sympathy, you'd think.
26' GOAL! It is superb by Arsenal, with Sanchez and Walcott linking up again. Ozil to Walcott, who goes for a one-two with the Chilean, the resulting pass takes out three Basel men and Walcott drills his shot in off the post and into the bottom corner.
25' Once again, on a rare foray forward for Basel, Lang's attempted cross evades everyone and goes out for a throw-in.
22' Corner for Arsenal, Walcott's "shot" is well skewed, in fact it goes back to Cazorla, who took the corner. His second cross comes to nothing. Xhaka (Granit) booed by the Basel fans, contrary to the "Shoot" prompt he had from the Arsenal fans on Saturday.
21' Suchy pulls back Sanchez and is the first man to be booked by Mr. Makkelie.
20' Sumptuous by Arsenal. Sanchez spins Xhaka on a sixpence, before sliding a delicious ball through to the advancing Ozil. The German is offside though. The Emirates is pleased by the sounds of things.
18' Another corner for Basel, but it's just about cleared. Balanta's rebound drive was bravely blocked by Walcott.
15' Zuffi's corner is met by captain Suchy, up from the back, but he can't direct his header goalwards.
15' Arsenal have already hit the 100 pass mark.
14' Walcott caught offside. Sloppy by the winger.
12' Arsenal holding the ball nicely, and Basel have little answer, going for a route one approach, with little success.
8' GOAL! Good build up from Arsenal. Lovely ball by Cazorla to Sanchez, who crosses for Walcott who scores. Two goals in a week for the Englishman, who looks to have found some much needed form.
7' CHANCE! Iwobi slides in Monreal, who forces a save from Vaclik.
4' Doumbia initially escaped the attentions of Hector Bellerin, but the Spaniard used his pace to recover. Doumbia's no sluch though, Arsenal have to be wary.
3' Sanchez tries to get a backheel away to Walcott, but Alvarez Balanta gets in the way.
1' Bjarnason gives away a free kick early. Arsenal hold possession.
0' We're underway. Arsenal and Basel both in away kits. Odd.
The familiar ring of the iconic Champion League anthem, composed by England's own Tony Britten nonetheless is met with silence by the full capacity crowd.
Here come the teams, to a buzzing Emirates Stadium, just dazzled by a questionable light display.
As the night wears on, if you have any questions you wish to ask me, or have any comments, then feel free to tweet me @therealjeagles.
This is the first time the two have faced each other in competition, so no previous history to speak about. Arsenal's last encounter against Swiss opposition came 11 years ago, when FC Thun succumbed to a late Robert Pires penalty at Highbury in this very competition. That year, Arsenal went onto to reach, and lose, the Final.
It seems a pulsating clash is ahead of us, as two brothers face each other. Granit will face Taulant in the battle of the Xhaka brothers, for the second time in just three months; after going head-to-head in the EURO 2016 group stages, where Switzerland beat Albania. Granit had the upper hand that day, will Taulant have the bragging rights tonight?
The teams are now confirmed, and David Ospina gets the nod over Petr Cech once again, after starting and impressing against PSG a fortnight ago. Apart from Granit Xhaka replacing the injured Francis Coquelin, the line-up for Arsenal is as you were in the victory over Chelsea. That also means that Alexis Sanchez starts as the lone man up top once again. Mohamed Elneny is on the bench, and will not start against the club he left in January.
Basel look to have come for a point here, playing with a very conservative five at the back. Will it work for them? Time will tell.
Arsenal: Ospina; Bellerin, Mustafi, Koscielny, Monreal; G. Xhaka, Cazorla, Walcott, Ozil, Iwobi; Sanchez
Substitutes: Cech, Gibbs, Gabriel, Perez, Oxlade-Chamberlain, Reine-Adelaide, Elneny
FC Basel: Vaclik; Lang, Suchy, T. Xhaka, Alvarez Balanta, Traore; Bjarnason, Zuffi, Fransson; Doumbia, Steffen
Substitutes: Vailati, Gaber, Sporar, Delgado, Elyounoussi, Hoegh, Calla
Our referee tonight comes from the Netherlands, and goes by the name of Danny Makkelie.
If you missed yesterday's match preview, then you can look at it here. The teams are soon to be announced in full.
Meanwhile Basel, led by Urs Fischer, are currently unbeaten in all competitions, but were surprisingly held in their opening group game by Bulgarian minnows Ludogorets, and will be desperate to take something away from North London.
Welcome to VAVEL's live coverage of Arsenal and FC Basel's second test in this season's UEFA Champions League at the Emirates Stadium. I'm James Eagles, and will be guiding you through this evening's action. What's in store for Arsenal? We'll find out for certain at around half past nine this evening, but Basel's recent results against English clubs would suggest that this will not be a stroll in the park for the Gunners, currently on a high after dismantling Chelsea on Saturday evening. Arsenal lie top of the very even group, after snatching a point away from Paris Saint-Germain on Matchday 1.