Tottenham Hotspur grabbed their first win in the Champions League against Russian club CSKA Moscow, thanks to a late Heung Min Son goal.
The North London side were desperate for points as they sat at the bottom of Group E due to their 2-1 defeat to Monaco on opening night, hence being without crucial players Danny Rose, Harry Kane, Eric Dier, Mousa Dembele and Moussa Sissoko, for the clash was worrying. Despite this only two changes were made from their clash against Middlesbrough as Kyle Walker made way for Kieran Trippier and Erik Lamela replaced Sissoko.
Tottenham dominated throughout the match but their sloppiness in front of goal made the task more difficult that it should have been. Spurs should have scored numerous of the chances that they had but poor finishes and sloppy final passes dictated play in the final third. This has been an increasing problem for Tottenham in recent weeks and they will look to be rid of it before their top of the table clash with Manchester City at the weekend.
Tactical increase in width
It is well known that as a team Tottenham lack width in their game. Usually it is produced by their full backs Walker and Rose, neither of which started against CSKA Moscow and so Spurs struggled even more than they usually do to exploit the space on the flanks.
Tottenham started the match playing with inverted wingers; Son playing on the left and Lamela on the right, however at half time Mauricio Pochettino swapped the two players around. Spurs struggled to create chances when CSKA Moscow played with ten men behind the ball as they were not able to play their usual intricate game. Subsequently Spurs threatened the most on the counter attack or through break CSKA's lines. In order to exploit this more Pochettino swapped the positions of Son and Lamela, which meant that the two were less likely to cut in and so use the space on the flanks.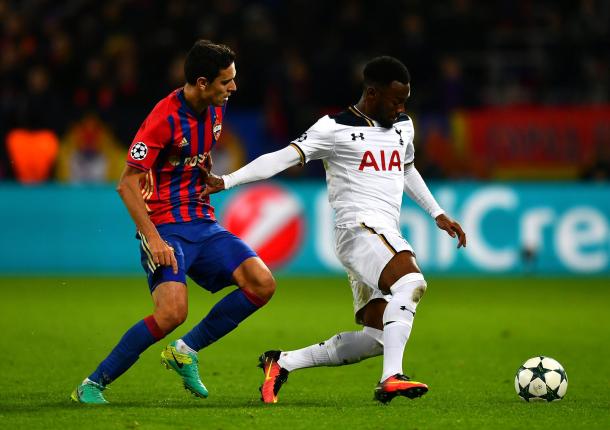 The argentine then took this even further by bringing on Georges Kevin N'Koudou for Vincent Janssen, which left Lamela playing as a false number nine. Had Pochettino used Son in this position Spurs would have gone back to losing their width on the right wing, instead the change allowed Son more space on the right, which he used to score the only goal of the game. On top of this having Lamela in a more central position meant that he had more freedom to create chances and break on the counter like he has done for Spurs on numerous occasions in this central position, leading him to set up Son's goal. N'Koudou's speed and agility allows him to quickly run past players and break the defensive lines and so created chances for his teammates to score.
Spurs will now travel to Bayer Leverkusen in the Champions League, with the game taking place on October 18.