Manchester United haven't won a Premier League match since they beat champions Leicester City 4-1 at Old Trafford. The Red Devils have drawn the matches against Stoke City and Liverpool and were humiliated by Antonio Conte's Chelsea at Stamford Bridge on Sunday.
Jose Mourinho's tough run at the Theatre of Dreams continues as he hosts former rival Pep Guardiola at Old Trafford for the second time this season after losing to the former Bayern Munich boss 2-1 in the season's fourth game week at home.
The former-Barcelona midfielder had played against Mourinho's Real Madrid many times and is aware that the Portuguese often seeks "war not football" when things don't go as planned.
Xavi wants football, not war
Just before this season's Manchester Derby which will be played in the round of 16 of the EFL Cup, the Qatari club Al Sadd player had said that "sometimes, when things don't go well for Mourinho, he wants war not football" as the case was when "he was at Madrid" and the former Spanish international hopes that "we don't see that again in England".
Xavi knew that another Mourinho - Guardiola rivalry would be special
The 2008 and 2012 time UEFA Euro and 2010 FIFA World Cup winner had expressed that "when I knew they would be rival coaches again, I knew it would be good for football" and that "it would be especially good for English football" as "they're two of the best coaches in the world and their duel can be the best in football".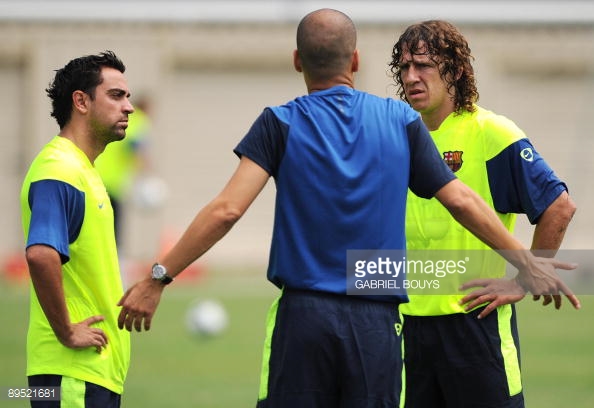 Xavi thinks United can't win the league this season
The former Blaugrana player doesn't think Mourinho can secure the Premier League title for United this season, as things stand and the player thinks that "the domestic competitions have to be everything for United and Mourinho this season" and he doesn't "think this season they can win the Premier League. These competitions are their hope for a trophy".
Jose Mourinho's men face a tough competition when they host Pep Guardiola's Manchester City tomorrow night in must-win game to keep their hopes in winning the EFL Cup trophy.