Newcastle United ended their two game losing streak with an emphatic 4-0 victory over Birmingham City at home on Saturday.
At the heart of it, as always, was dynamic midfielder Jonjo Shelvey. The playmaker has been the centre of attention, firstly with a potential ban in accordance with FA laws and just last week was given a straight red card.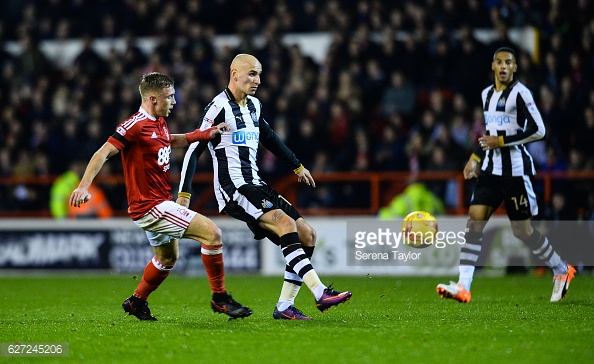 That well-documented red card
Since the Nottingham Forest game, the disciplinary sentence has been rescinded and Shelvey finally spoke out about incident in an interview with NUFC TV.
Referee Stephen Martin was heavily critcised by football fans, pundits and even United boss Rafa Benitez for the decision to send off Shelvey and awarding Nottingham Forest two penalities which Karl Darlow proceeded to save. Ultimately playing with nine men for 45 minutes wore Newcastle down as they conceded a late goal, stripping them of all points.
Shelvey comments
When quizzed about the referee's unpopular decision, Shelvey said "last week, I felt that I didn't deserve to be sent off to be honest with you. I thought the boy [Henri Lansbury] made a meal of it, but it is what it is."
The midfielder then added, "Obviously, I still felt like I'd let the team down because we ended up losing the game," before stating, "I felt that I needed to go out there and owe one to the team and owe one to the fans, and I think that I've done that, and repaid them."
Involved again
The Geordie faithful left the East Midlands thinking that the straight red card meant that Shelvey would not participate in Newcastle's game again Birmingham City, but United's successful appeal meant that the star featured in the starting line up that broke down the Birmingham outfit. His pin point accuracy in passing were instrumental to opening City's backline.
Shelvey was happy to have played his part in the victory, ash he said "we thoroughly deserved to win. We dominated the game throughout. It was important just to get back to winning ways.
Before adding, "obviously we're happy to have done that – but obviously the job is not done yet. We need to go and carry it on into Wednesday.
"To win 4-0, you have to do things right. We've been working all week, we've had a game-plan from the get go, and we've stuck to it. We've listened to the gaffer, and it's paid off in the end" Shelvey concluded.
Newcastle sit at the top of the table, briefly dethroned as Brighton Albion took all three points away from a Friday fixture. They will play Wigan Athletic, who are in the relegation zone, away from home on Wednesday, while their competition take on Blackburn Rovers away on the same night.