 Newcastle United manager Rafael Benítez has urged his players to keep their focus as they head into the final seven games of the season.
The Championship leaders extended the gap between themselves and third-placed Huddersfield Town to 10 points at the weekend following their 2-1 victory over Wigan Athletic and Burton Albion's late winner against David Wagner's side.
And Benitez believes that another three points on Wednesday when his side take on Burton at St James' Park could be the final nail in the coffin for Huddersfield's title hopes.
"One game at a time"
Speaking to The Chronicle after the Wigan game, the Spaniard said: "I keep saying it's a mini-league, and we have three points in this mini-league. Hopefully, we can carry on. We've started it well this month.
When asked about extending the gap from third place, Benitez admitted his side need to "concentrate on one game at a time" and then "it'll be easier to talk about the gap if we can win the next game."
Saturday also saw second-placed Brighton & Hove Albion run out 1-0 winners over Blackburn Rovers to keep the gap between themselves and the leaders to just one point.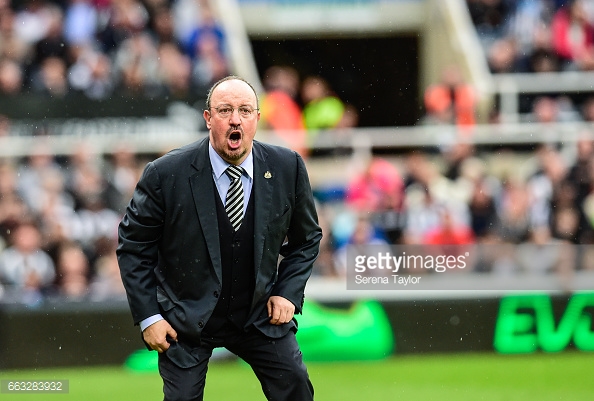 The pressure is mounting
Ahead of last month's visit to Huddersfield, Benitez questioned whether the Terriers would be able to handle the pressure of the run-in.
"We're talking all the time about what to do," said the Spaniard. "You can see Brighton have problems. Huddersfield have problems to win easily.
"You can feel the pressure like everyone else. I said about Huddersfield feeling the pressure."
It is a new kind of pressure for almost all of the Newcastle squad given that many of them are used to being mid-table or fighting relegation.
And Benitez feels the "winning mentality" he has installed in the side will help massively going into the final few games.
"If you analyse the players we had [last season] …in the end we were relegated, so these players don't have that experience [of being at the top].
"The players we've brought in haven't won trophies. We've been top all season more or less. It's not easy, and that's the point. People are saying these players have come from the Premier League. Yes, but not from the top of the table or ones winning the league.
"We had to create an attitude where they play with confidence and winning mentality, which helps in games like this [the victory over Wigan]."