 Anthony Martial's confidence will have been given a great boost by scoring twice from the substitutes bench in two games for Manchester United, his manager José Mourinho has asserted.
The Frenchman's future at Man United has been in doubt since Mourinho took over as manager from Louis van Gaal. Not because he wasn't good enough, it's simply because he did not have a trait that one expects from a José Mourinho winger - tracking back to help his team defend. Although it is understandable why Mourinho wants his wingers to track back, having Martial to stay on top can help Manchester United break on the counter much faster.
Martial has scored twice off the bench
Martial's time at the club under Mourinho, who's now in his second season in charge, has been wavy - ups and downs aplenty. His manager has publicly criticised him. Whether it was the right move or not, it has certainly helped Martial shape the way he is right now, having also been linked with clubs like Sevilla in January, and more recently Tottenham Hotspur.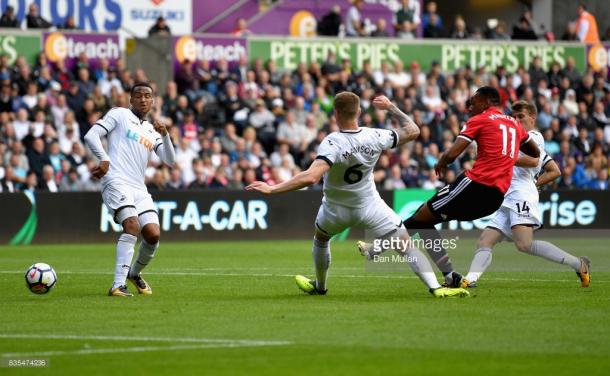 After a solid pre-season, the young striker has impressed from the bench, scoring twice and assisting once in two games. All of that has come in the space of 25 minutes of playing time. Despite that, it's not certain that he'll start in United's next league game against Leicester City, and he must be patient and recognise his chances may come in other competitions, especially with the start of the UEFA Champions League group stages nearing.
The United boss said: "For me it's simple. I can't play Premier League, Champions League, FA Cup and EFL Cup with 11 players, I need a squad."
Martial's attitude has improved
Mourinho admitted that Martial has changed his attitude for the better as a professional footballer and that the club is utilizing him well so far: "We're using him well and he's coming with the right attitude."
"His confidence is growing. Two periods, scoring two goals – it's good for his confidence."
It will be a big year for Manchester United and Mourinho as they got off to a promising start in the Premier League. Not to mention that Mourinho has a record of winning big things in his second season at a club.