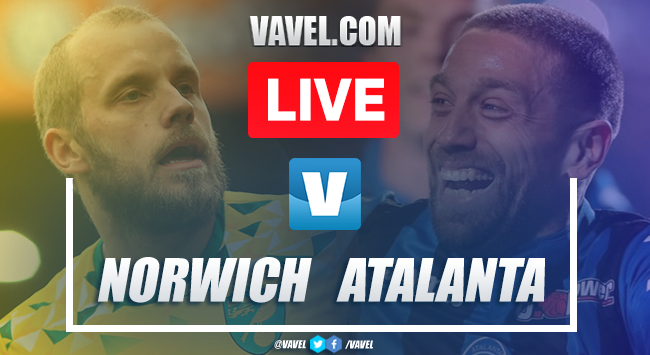 Watch the entire 90 minutes again right here and enjoy a great evening of action...
Norwich will bring entertainment!
...shaky in defence (11 goals conceded in 6 games)
Great going forward... (15 goals scored in 6 games)
Final thoughts...
FULL-TIME RESULT: Norwich City 1-4 Atalanta
Another GOAL for Atalanta!
Atalanta continue to dominate
GOAL!!! Atalanta extend their lead
More Norwich changes
Disallowed goal for Atalanta
Inches over from Vrancic!
Norwich changes - Vrancic returns
Great effort!
Off the line!
Seeing red
Radio star?
Trio of Norwich changes
GOAL! Atalanta lead!
VAR drama!
Zapata on
Great save!
Close!
Half-time thoughts
GOAL!!! Atalanta equalise after a dreadful error!
Atalanta probing
Cantwell impressing
GOAL!!! 1-0 Norwich
Close!
Nervy start
The teams are out
Key contests
Controversy on the cards?
Ready for kick-off
Atalanta subs
Atalanta lineup
Norwich City lineup
Norwich City is here
How to watch Norwich vs Atalanta: Live TV Stream
The players to watch
Atalanta's progression
The new boys
Norwich team news
Atalanta's pre-season so far: The Great British challenge
Norwich's pre-season so far: Positive preparations
Welcome!