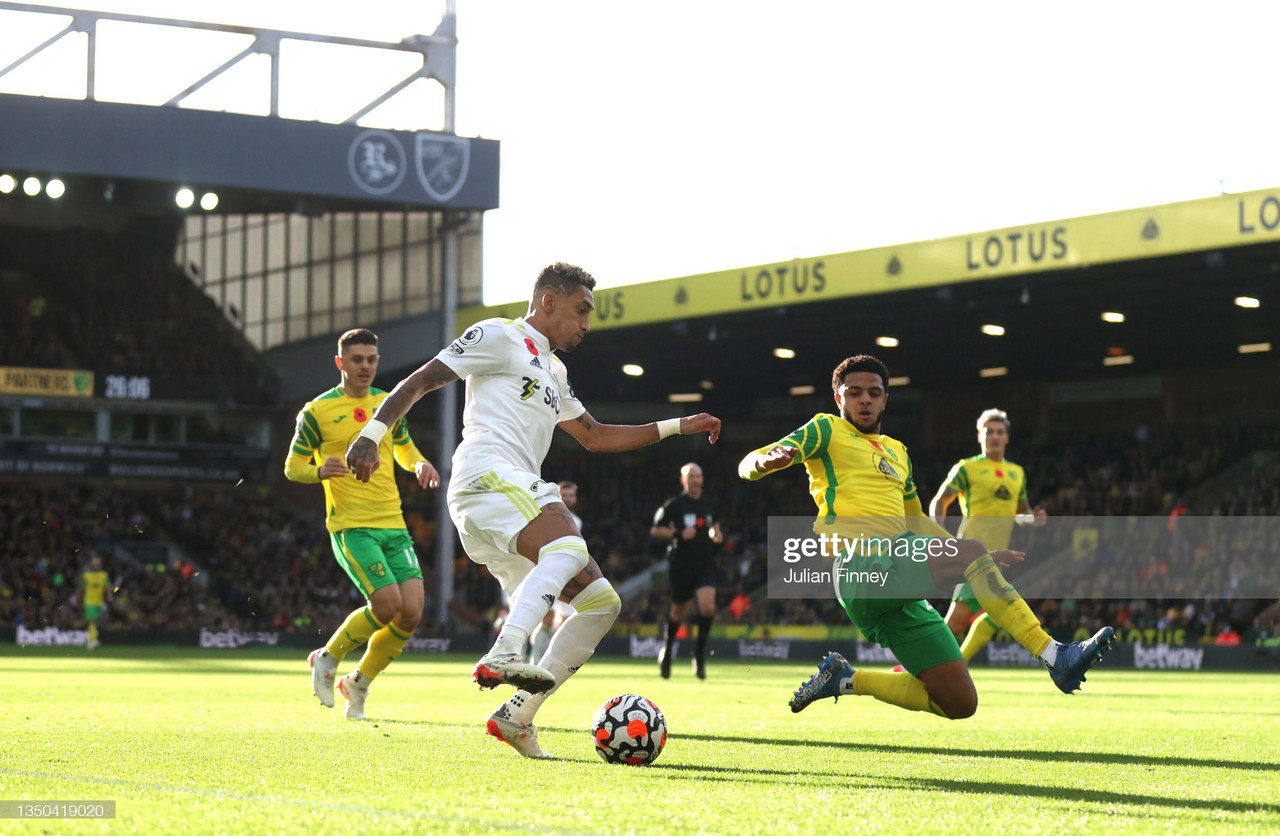 In a match where it was a must-win game for Norwich City, it was Leeds United who came out on top and took all 3 points back to Elland Road, leaving Norwich with 8 points from safety and a -22 goal difference in just 10 games.
Here is how the game unfolded:
Norwich started the game on the front foot, pressing and flying tackles in to lift the fans and give the team belief.
Teemu Pukki had a shot from the edge of the box that went just wide of the post, following from a poor clearance off an opposition player to set him up.
Mathias Normann, a favourite of the Carrow Road faithful had a low driven shot from about 25 yards about that narrowly went just wide of the post.
After all Norwich's effort and endeavour in the first half, it was Leeds who took the lead from their Brazilian star man on 56 minutes - Raphinha with a wonderfully composed solo run in which he tucked his shot into the bottom corner.
Norwich was desperate for a reaction and they got one! 19-year old Andrew Omabamidele with an excellent glancing header, in off the crossbar and Norwich burst into life with the atmosphere as loud as it's been all season.
Unfortunately, an unforgivable error from City's shot-stopper a few minutes later, Tim Krul sunk the Canaries and effectively deflated the whole team - Rodrigo picks the ball up from 30 yards out and hits a left-footed dipping shot that should have been comfortably saved by Krul but it trickles through his hands as he attempts to catch the ball.
Norwich didn't look like scoring another equaliser and it showed without testing the Leeds keeper with 30 minutes to go.
With full-time boos and Norwich players on their knees it does spring the question, where do Norwich City go from here?
The calm before the storm
There was a calm before the storm as the rain poured down in Norwich before kick-off. Add in a questionable team sheet, lack of belief from the fans and players, the result was only gonna go one way.
Daniel Farke has been criticized heavily, and rightly so, for his team selections and his team's performances on the pitch. When team news came out an hour before kick-off, was it brave or naive for Farke to play a forward as a left wing-back and a 19-year-old making his second Premier League start?
You would do well to argue without it being the latter.
Oh no, Ozan
You may have heard of the name Ozan Kabak when he was on loan at previous Premier League champions Liverpool from Shalke. Well, from helping to finish into the top 4 he's now in a relegation dogfight with the Canaries and his quality on the ball is evident, but is he trying to do it all himself too much?
Kabak absolutely relishes a powerful solo run from inside his own half, he's very good at beating his man, but his execution to find his teammates, not so much - he lost the ball 4 times out of position as a centre back, in the Premier League it's simply unforgivable. Kabak tried a pirouette to get his team up the pitch but he lost the ball and fell on his backside (which summed up the game for the Canaries in truth) with Rodrigo scoring straight after his mistake.
Kabak has a high reputation with an impressive profile given he's only 21 years old, however, he's still a young man who needs guidance and support from his teammates.
Daniel Farke has recorded 48 games in the Premier League in total for Norwich - he's won 5, lost 35 and conceded 100 goals in his tenure.
Those statistics are monumentally appalling, it has to be said.
Admittedly, the first time Norwich were promoted it wasn't expected and the club admitted it was a "free hit" so when they were relegated it was expected. Now, Farke has been backed by the club in spending £70 million on players, an obscene amount of money given Norwich are a "self-funded" club.
There are no excuses for Farke now. The supporters pay a lot of money to watch agonising performances in which there seems to be no game plan from the manager.
It's damaging to witness a beloved coach that gave Norwich City supporters some of the best football they've ever seen in the club's history, from winning 2 Championship trophies to simply tarnishing everything he believes in. His philosophy is gone, it's now route 1 football (long ball) to Teemu Pukki whose game isn't to win headers and it's sickening to watch as Daniel Farke is ruining (if not already has) his legacy.