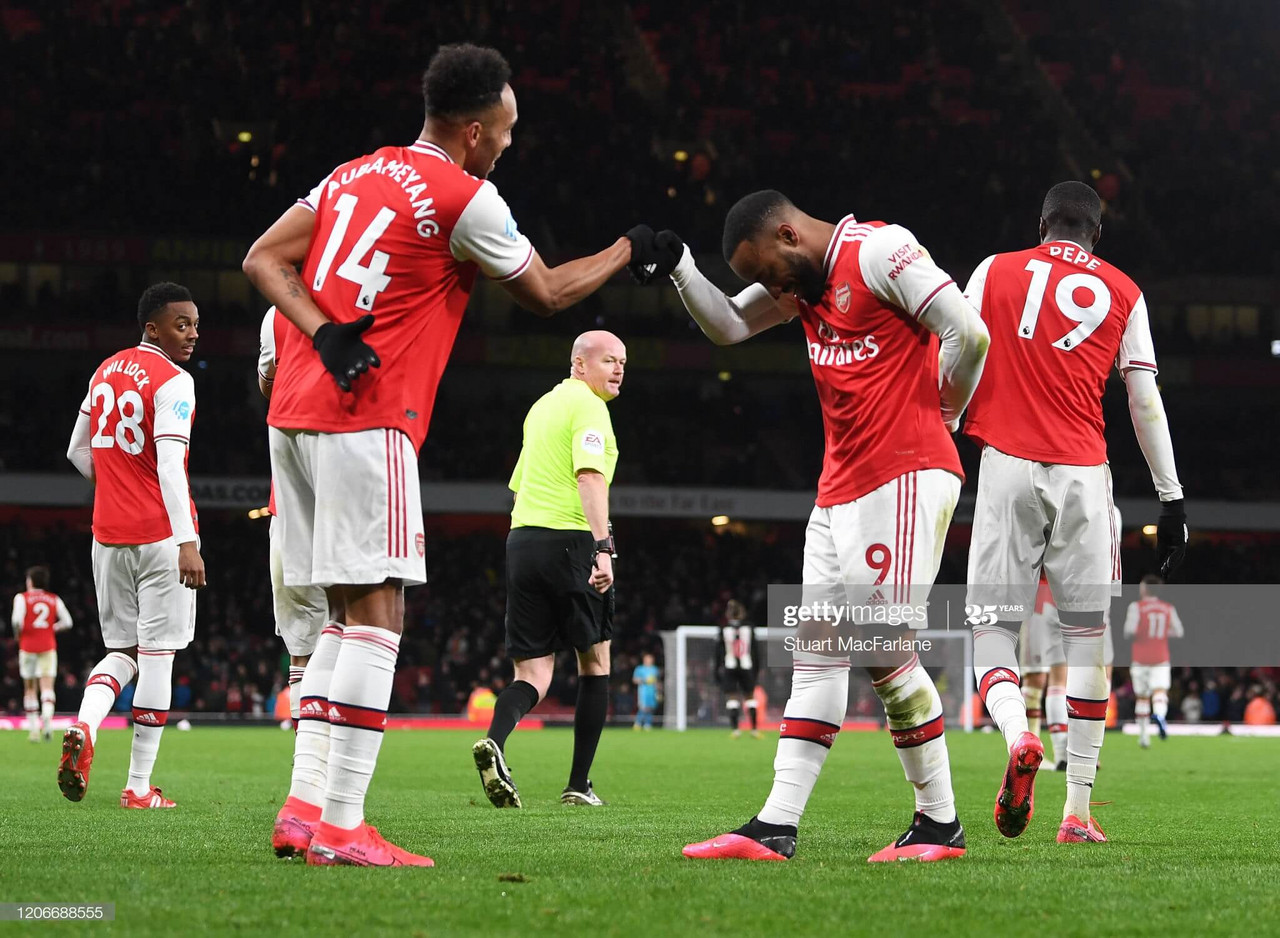 Despite the football season being put on pause as Europe faces the Covid-19 pandemic, the transfer rumour mill continues to spin. For Arsenal fans the foremost of these rumours concern their two senior strikers, Pierre-Emerick Aubameyang and Alexandre Lacazette.
Why are they being linked away?
The two forwards are being linked with moves away but their situations are very different. Aubameyang is the talismanic leading scorer and club captain with just a year remaining on his contract, a situation that will remind Arsenal fans of Robin van Persie's acrimonious departure in 2012.
Lacazette on the other hand is generally regarded as the more expendable of the pair, but has two years left on his contract and is possibly less sought after too. He has had moments where he has shone for Arsenal but his numbers are dwarfed by Aubameyang.
A key issue for Mikel Arteta and the Gunners hierarchy is how they approach this delicate phase of Arsenal's rebuild. The futures of Aubameyang and Lacazette are central to how the squad takes shape over the next few seasons- but whichever way it is approached, there is no easy solution.
The complicated case of Pierre-Emerick Aubameyang
Aubameyang's importance to Arsenal cannot be overstated but it is fair to question whether offering a 31 year old, already on high wages, a last big contract is the wisest decision in the long term. Even more so when Arsenal's recruitment strategy is already under a microscope. That works both ways though- if Arsenal decide to cash in on their prize asset as part of a longer term strategy then it is easy to see how that will be held against the Gunners.
With Aubameyang, it does feel like Arsenal are trapped between a rock and a hard place. There is no easy solution and, whilst this should not matter too much to one of the biggest clubs in Europe, there will be critics whichever approach Arsenal take. They are in their third season of Europa League football and may find it harder to attract top talent if they spend much longer out of the Champions League. It may well be that Arsenal prioritise the short term needs of the squad- an elite striker in Aubameyang's mould- as a way of making the long term future a bit more promising.
There are no guarantees in football and it is equally likely that Arsenal see that thinking as a risk- any new contract for Aubameyang, whether at Arsenal or elsewhere, will be expensive. For a club that operates within its means, they may see it as more prudent to cash in and reinvest in a younger talent. That also represents a big risk- particularly given the uncertainty over when the transfer market takes place, and what sort of fees players will be commanding, and also because replacing a player of Aubameyang's quality is much easier said that done.
It is, on paper, a case of off pitch vs on pitch risk taking. Of course, all this is without considering whether Aubameyang wants to stay. There is currently no indication from him either way on his thinking, and no immediate links away from the club which seem to have any foundation. He has never shown any signs of being unhappy at the club and there have been no rumours of substance to suggest otherwise. But if Arsenal cannot meet his ambitions or his financial demands, then all signs may point one way.
And what about Lacazette?
The case of Lacazette differs in many respects- he is less important to Arsenal, and thus probably easier to replace. Whilst he has has two years on his contract, and possibly would be less in demand should he be available, the Frenchman has been linked with Atletico Madrid on a number of occasions. If Arsenal are looking to sell one of their strikers, this may be the answer. If however it is Aubameyang who is to go, then relying on Lacazette to replace his striker partner's output is unrealistic but it could be a situation Arsenal find themselves in. As it stands, it is difficult to imagine the club selling two senior strikers, particularly given that buying one will be hard enough on its own. It could well be that Arsena's number nine is given an opportunity to rise to the occasion out of necessity rather than preference.
Many Arsenal fans, whilst they relish the strength in depth that Arsenal have up top, acknowledge that one or the other is likely to leave in the near future, whether that is this summer or next. If Arsenal are to only retain one, the obvious choice is Aubameyang. The need for a replacement should Arsenal sell Lacazette is far less, and thus a far easier situation to countenance. It could even be that Gabriel Martinelli and Eddie Nketiah are seen as enough quality should Lacazette depart.
Of course Arsenal would prefer to have to replace neither, given the other areas of the squad- namely the back four- that require more urgent attention than their attacking options. On top of that, the uncertainty that the coronavirus pandemic has created means that an already tricky situation becomes even harder to navigate. Transfer fees, player performance and when seasons end and start this year are all up in the air, with varying degrees of uncertainty. Whatever decisions Arsenal make on the futures of their two senior strikers, there will inevitably be critics. There also will be perfectly sound reasoning behind those decisions.