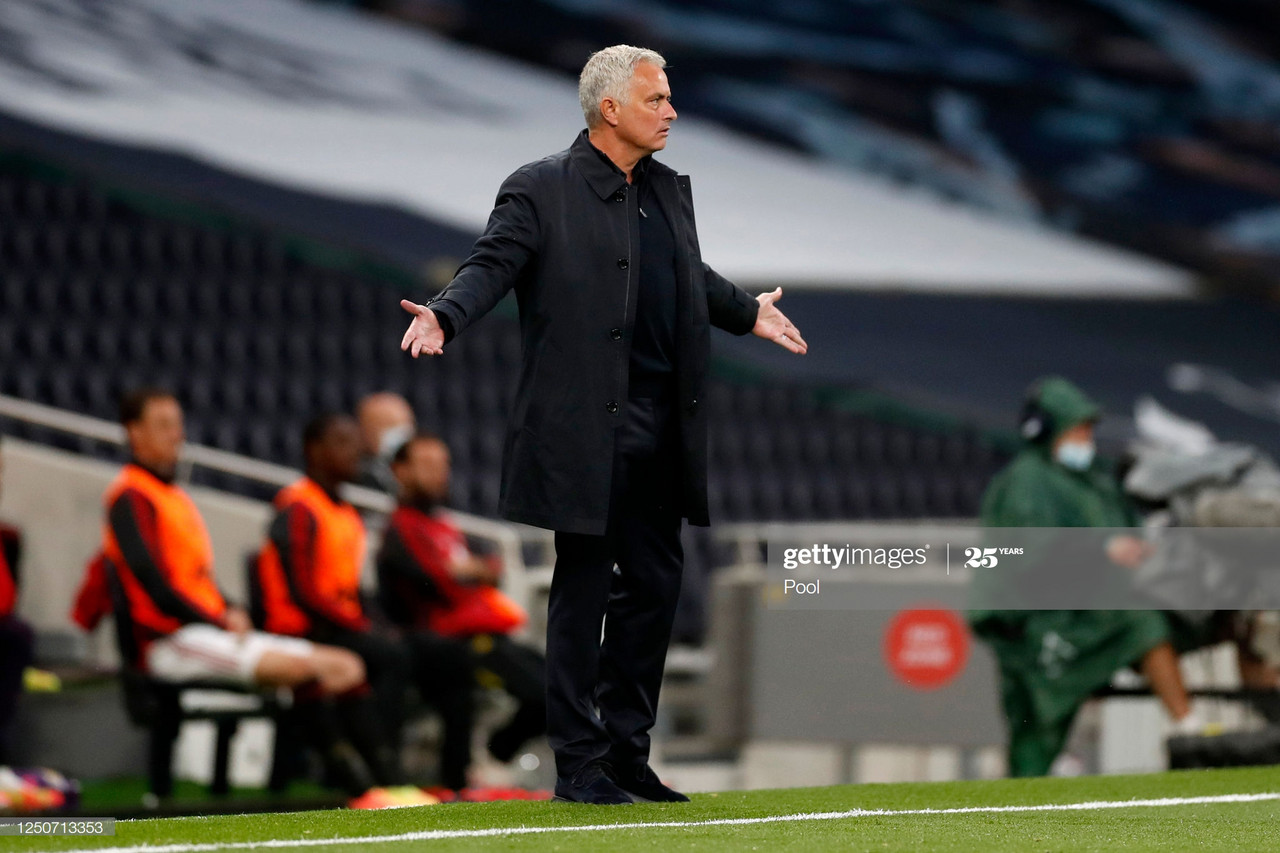 Tottenham Hotspur manager Jose Mourinho was left angered by the penalty decision that resulted in his old side Manchester United scoring their equaliser, and bewildered VAR did not get involved.
Steven Bergwijn had put Spurs ahead in the first half after a fantastic solo run before unleashing a low strike which David De Gea should have dealt with.
Spurs were the better side by some distance in the first half, but United came back in the second and looked a different team when Paul Pogba was introduced.
Pogba, around the 70th minute, found himself on the right hand side, taking on Eric Dier and winning against the England international - who then brought the Frenchman down; Bruno Fernandes in turn burying the penalty.
Referee Jon Moss then adjudged Dier again to have fouled in the box, this time Fernandes the United player going down - but VAR reviewed the incident and it was quite obvious there was no illegal contact from the Spurs man.

Both incidents left Mourinho fuming, with the first incident up for debate, while the second incident causing confusion as to how on Earth the referee came to the conclusion that Dier infringed Fernandes.
Mourinho's frustrations
Speaking to Sky Sports after the game, Mourinho expressed his frustrations with the decisions and VAR:
"I am not happy with the penalty and not happy with the second penalty.
"I am unhappy with the VAR, not the referee on the first, the referee can make a mistake but VAR is there to do the job.
"Paul Pogba did his job, that is it. I think Jonathan Moss was also trying to do his job the best he could. I think the VAR is a different situation.
"In the second I am unhappy with Jon Moss because he did not give the free kick leading up to it and then gave a penalty. In this case, the VAR gave the truth."
While Mourinho's judgement of the second incident is a fair one and unchallenged, his opinion for the first incident is definitely up for debate.
Was the Pogba incident a penalty?
It is hard to argue that Pogba should not have been awarded a penalty, but it is one of them incidents where if the referee did not give it, it could almost be equally as hard for VAR to award the penalty - so the on-field decision would have always been followed, no matter what the decision was.
Penalty or no penalty? 🤔⚖

Eric Dier isn't happy with Paul Pogba but it's given and Manchester United level it up! 💥

📺 Watch on Sky Sports PL
📱 Follow #TOTMUN here: https://t.co/DHrp3e9h7N
📲 Download the @SkySports app! pic.twitter.com/iLqpfj8BHw

— Sky Sports Premier League (@SkySportsPL) June 19, 2020
There are two factors on each side of the argument which could possibly sway the referee
First of all, Dier has been beat and Pogba is running past him and about to slide the ball across or cut back for a clear goal scoring opportunity.
Pogba and Dier are tussling but they are not actually shoulder to shoulder, Dier is slightly behind the United player leaning into him.
However, on the other side to this argument, Pogba looks like he is almost dragging Dier into him, he is pulling the defender but is it enough to put the Englishman off balance?
Furthermore, the contact between the two while they are tussling from Dier is very soft and there is no way someone as strong and powerful as Pogba will go down like that anywhere else on the pitch.
To counter that point though, there looks like there is possible contact from Dier with his leg against Pogba's leg, causing the United player to trip slightly before Dier barges him over - but again this could have been caused by Pogba holding onto Dier.
It is an incident which is open for debate but there is no definitive point to prove it is either a clear penalty or clearly not a foul and ultimately is down to opinion.
Hear more from us
Here at Vavel, we are always looking for new ways to engage with our audience and expand the variety of content we produce.
So if you want to hear more of our opinions, make sure you keep an eye out for new podcasts we will be producing in the future, including our very own Tottenham dedicated podcast!
On this weeks episode we will be previewing the West Ham game and analysing the Manchester United game, also analysing this incident in more detail - as well as talking about the latest transfer rumours!
Make sure you follow @VAVELSpurs on twitter as well as our regulars @Dan_H26 and @WillFurnessFJ