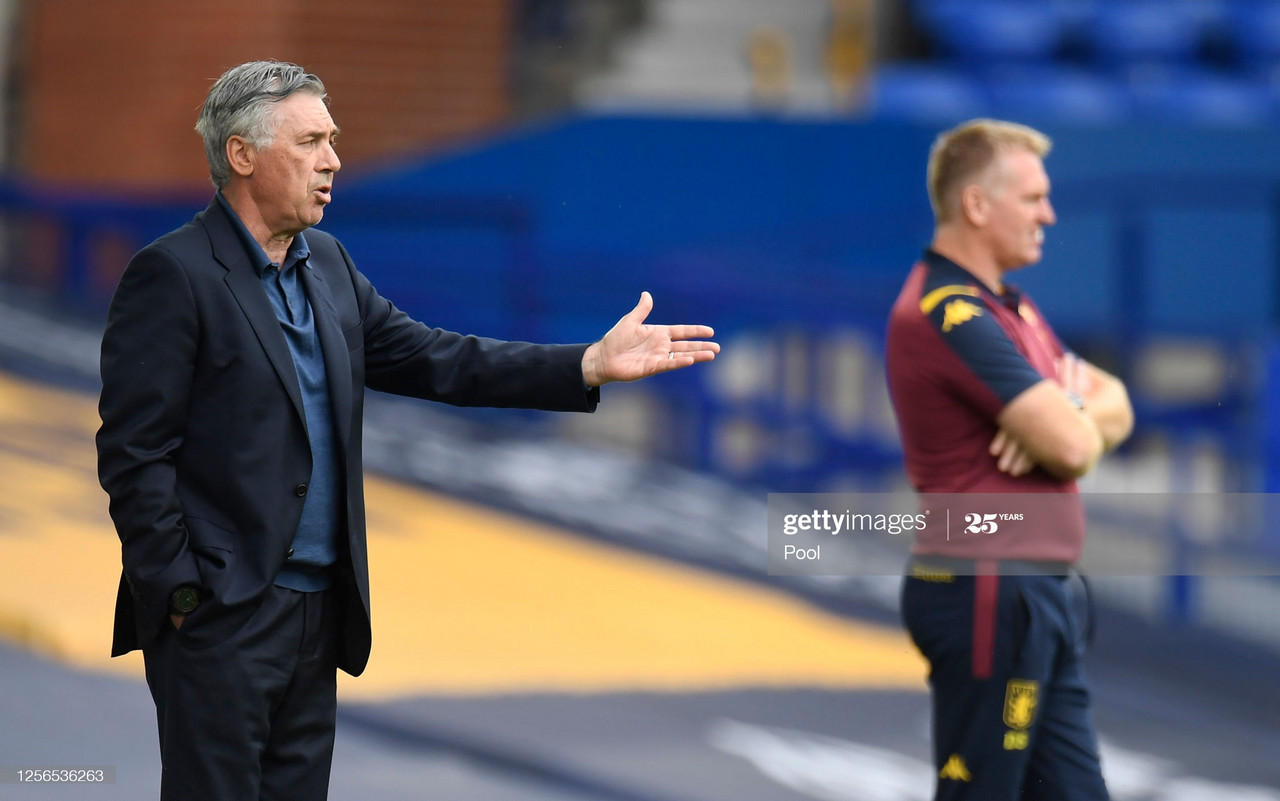 Everton manager has confirmed that his Toffees will be without Fabian Delph, Yerry Mina, and Mason Holgate for the remainder of the 2019/20 season in a triple injury blow.
Speaking in his pre-match press conference for Monday's match against Sheffield United, the manager said: "All three are out, I think, for the rest of the season. There are only ten days left so they will not be able to recover before the end of the season."
However, the injuries to Mina and Holgate have opened the door for young defender Jarrad Branthwaite to step up into the first team just six months after signing from EFL League Two side Carlisle United.
Ancelotti made it clear he has been impressed with the youngster and sees this as an opportunity to put more faith in him, saying: "We have the possibility to give experience to a really young one (Branthwaite) who did really well in the last game.
"Against Aston Villa he did really well, considering the fact he is really young."
Board to back Ancelotti in transfer crusade
Ancelotti also said that he believes the board will back him in the transfer market financially despite the ongoing questions about how the COVID-19 pandemic will affect football transfers.
The manager has been very clear in previous press conferences that he believes the squad needs to be improved if Everton want to climb into European contention next season and he repeated that sentiment, saying: "It doesn't matter if we are not in Europe. It doesn't matter if we didn't play well in this period in the last two or three games. I think my opinion of the squad is pretty clear at the moment.
"But we want to finish well in the last two games and then be focused to try and improve the squad for next season."
When pushed on whether the board will support him in the improvements he is looking to make Ancelotti responded: "I think that the board is going to support me, is going to support the team. We have the same idea that the team has to improve."
Increased role for Moise Kean
Finally, Ancelotti spoke about how Moise Kean's first season in England has been a learning experience for the Italian and how he expects him to play a more prominent role for the Toffees going forward.
When asked about what Kean had learned in his first year at Everton, Ancelotti replied: "He has learned the environment we have here at the club, about his teammates. His teammates have learned from him. It takes time, he is still very young and a potential player with great quality.
"It is true he didn't play a lot but it's also true that until the last period Dominic Calvert-Lewin had been really strong competition in front (of Kean). Richarlison and Calvert-Lewin had played really well. In these last two games, he is going to have more opportunities but we have to plan for next season for him to have more opportunities to play".
It has been a turbulent year for the young striker. From being substituted on and then back off again by interim head coach Duncan Ferguson at Old Trafford to being fined two weeks wages for breaking lockdown regulations to host a party during the height of the COVID-19 pandemic. But judging from the manager's comments, Ancelotti still sees a place for the former Juventus man in his set-up and believes Kean is starting to come out the other side of his problems.