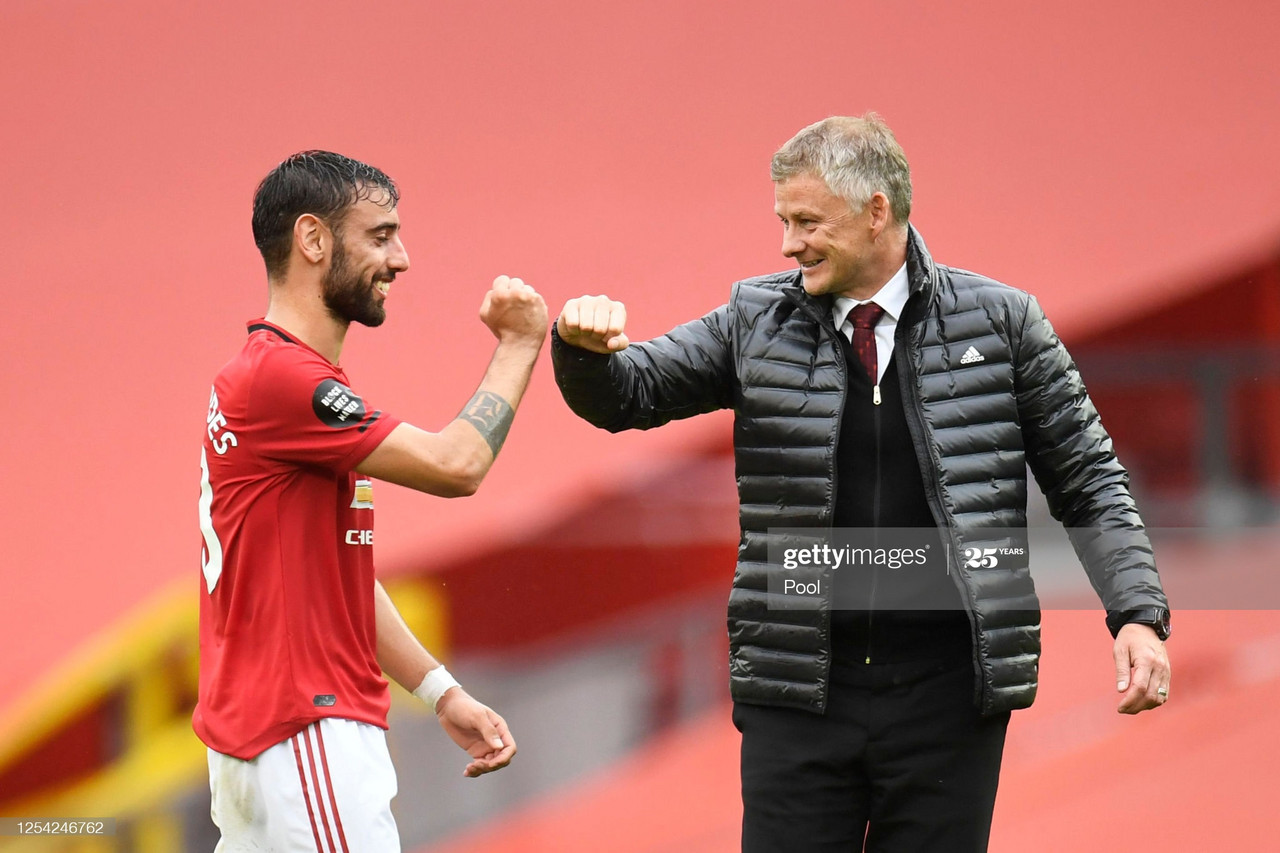 At one point in January, it seemed inevitable that Manchester United would soon part ways with Ole Gunnar Solskjaer, the club legend who had a good stab at it but ultimately couldn't implement his long-term plan without unforgivable short-term failures.
The league table now shows that they are the third-best team in the country. An expensively-assembled squad and a gulp-inducing wage bill, yes, but a good league campaign in the end for United.
"I don't think many were predicting it, the predictions were for us to finish sixth or seventh," Solskjaer said, insisting that those pessimistic predictions drove him on.
"We all have different ideas of management and I do it my way."
What is the Solskjaer way? Fitting into the traditions of United perhaps summarise it best. Playing the kids, pragmatic attacking football and handling yourself in the right manner. He's stabilised a club that was coming dramatically close to a cliff edge. He's done that with young players, a happy environment and wins in big games. There's still much to improve. His in-game substitutes have often been poor, or too late, and United do rely on counter-attacking with very little possession in a number of big games.
But when they've finished as high as their expectations would ever have had them this season, those questions and concerns can be parked for the time being at least.
Transfer business
One of Solskjaer's best qualities has been his activity in the transfer market. Gone are the expensive, hyped-up signings of supposed world stars who were never the right fit for United. Well, the expensive bit remains, but that's a given when dealing with United. £80m Harry Maguire was overpriced but United were desperate for a good defender. Maguire is good even if he's not at a level anywhere near Liverpool's Virgill van Dijk or Real Madrid's Sergio Ramos.
Daniel James was cheap and surprised everyone with an electric start at United. He's struggled for months now but it was still the right kind of signing and James will learn from this season.
Aaron Wan-Bissaka has been so reliable and the £50m United paid for him was worth it. He's developing the attacking side of his game well. In the first half of the season, it was certainly a concern. Wan-Bissaka offered very little.
I asked Solskjaer exactly about that concern after United had been beaten 2-0 away at Watford. He said he agreed that United should have attacking full-backs but was confident that his players could fulfil that role. He may well be proved right. Wan-Bissaka has a way to go but he's contributed more assists than Luke Shaw has and at big moments too, including away at Stamford Bridge when he sent in a wonderful cross for Anthony Martial to head home.
The Bruno Fernandes signing was the big one. A season-defining moment. He's turned the club around with his quality and attitude. More on that in a second because it's worth crediting Solskjaer and United with the arrival of Odion Ighalo. That was a much-mocked move but Ighalo has scored goals for United, quite a few of them, he has loved the club since he was a boy and his enthusiasm is infectious. Much of Solskjaer's work at United has been in having the right characters in the squad. Ighalo is one of those and does offer United a different option upfront. Gone are the days of relying on Fellaini to come off the bench. Ighalo is a much more attractive Plan B and has done really well, so much so that he's staying until January now.
Manchester United's turning point of the 2019/20 season
On January 26th, United thrashed Tranmere Rovers, scoring six without reply. Fans weren't even confident going into the game. United had just lost to Burnley at home and things looked bad.
And it was a bit of a shaky start at Prenton Park. But Maguire stepped up his game, dragged United forward and it was a great day out for the travelling United contingent. They saw six goals, some of them screamers, and smiles were back on United faces. Bittersweet grimaces was the order in the club's next game, a win against Manchester City (a third of the season) but not a big enough one to send them through to the EFL Cup final.
Before the club's next game though, the signing of Bruno Fernandes has been confirmed, right at the end of the January transfer window. From there, it all changed. United have only lost one game, the FA Cup semi-final against Chelsea, since that point.
Manchester United Player of the Season
Fernandes has obviously brought quality but there are two things important to pick out.
The first is that he brings tempo to the United team. Through all of United's recent managers, we've seen some dreary football. Passing has been slow, movement has been non-existent and results have often reflected that. But Fernandes keeps the tempo up. He passes quickly, he moves all over the pitch, he takes on a man when needed and he gets stuck in defensively. The number of chances he creates, well, everyone can see that. The tempo is the undervalued attribute though and it's part of the reason that United have recovered from shaky starts against Tottenham Hotspur, Sheffield United and Bournemouth.
The other key to Fernandes' success has been his attitude. Solskjaer has done a good job in getting rid of the bad apples in the United camp. Alexis Sanchez was one of them. Romelu Lukaku was another according to people at United. Paul Pogba was not, it should be noted. Solskjaer obviously 'gets' what United are about and what the club needs. But it almost felt as if someone from the outside was needed, someone without any fear or apprehension who had the confidence to come in and look at the shadows in the Old Trafford corridors that lurk and think 'we're going to be as good as they were' rather than 'we'll never be that good again'. Bruno Fernandes has done that. He's come in with great confidence and the right attitude and transferred that to the rest of the team.
It's worth mentioning a few other players here. Before lockdown, Fred was in with a shout for Player of the Season and before his January injury, Marcus Rashford was carrying United.
Most improved player during Project Restart
Anthony Martial scored six goals in lockdown, including his first hat-trick for United. He was in good form before the break but his football has flowed freely since and his inclusion here is in recognition of that rather than a great improvement. There hasn't been a particular United player who has suddenly improved during Project Restart. Mason Greenwood bulked out during lockdown and has been lethal but that was always expected from a talent that has had people talking at United since he was 12.
Honourable mentions should be made to United's midfield pairing of Paul Pogba and Nemanja Matic. Pogba was injured until the restart but has made himself indispensable in the United starting line-up already. The same is true for Matic who looked certain to leave the club as recently as six months ago.