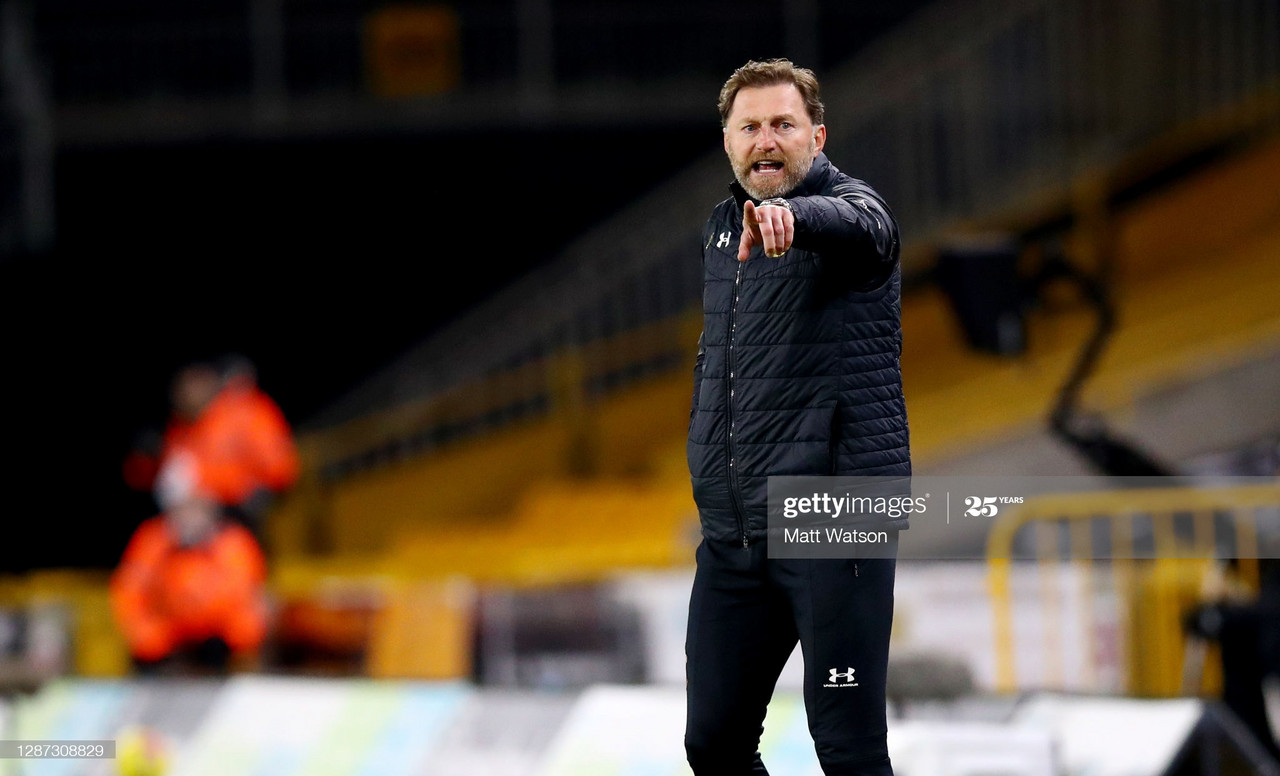 Ralph Hassenhuttl spoke to the media after his team drew 1-1 with Wolves at Molineux on Monday evening.
Southampton drew 1-1 with Wolverhampton Wanderers at Molineux in the Premier League on Monday evening.
Theo Walcott's opener was canceled out by substitute Pedro Neto who tapped home a rebound to level the scoring late on in the game.
Saints boss Ralph Hassenhuttl spoke to the media in his post-match press conference:
On the tight game:
The match provided a lot of entertainment throughout and both teams had chances to take home all three points.
Both the Saints and Wolves performed well and the game became a tactical battle, with the away side looking to press and hold possession, while the hosts aimed for a quick counter.
Hassenhuttl gave his thoughts on the game: "It was not easy. You have seen the game and how intense it was. Tactically, it was like chess. Both managers definitely found solutions to cause the other one problems. It was a tough game for everybody.
"Especially in the end you could see they had another gear to go and they are a very good, international team – they have a lot of quality in front.
"In the end, it was a tough fight. We had the match point I think with Theo's second chance when he makes the chance to win this game. If it was deserved – I don't think so, but I always like undeserved wins."
On tactics:
Southampton are now seven games unbeaten in the Premier League and this largely comes down to the progression of Hassenhuttl's tactics.
The team have grown in confidence and are beginning to settle into the more possession-based playing style that the Austrian wants to implement.
He said: "It shows me how far we have come with our tactical development that we were able to immediately find the right solutions.
"It's tough, you invest so much and you try to be brave. The best chances they had was when we lost the ball in those situations and sometimes it was just a little bit tough."
On fighting to stay level:
After Neto scored the equaliser, Wolves piled on the pressure to grab a winner. The home side had 20 shots on goal in total during the game, with a lot of those coming in the final stages.
But the Saints managed to hold on and defend strongly which pleased their manager. Hassenhuttl said: "It's not so easy [under the pressure]. You must fight for this one point and we did it tonight. I'm very proud of how my lads did it and the team was really working hard.

"It was important that we do everything to take this point and stay unbeaten. We believe in what we're doing. You can see we had to be brave in the second half, lost a few balls, but then also had chances. It is hard against a team who are very aggressive."
On Theo Walcott:
Walcott scored his first goal for Southampton for 15 years on Monday evening and his return to the club he started his career at has started well.
He has now scored in 14 consecutive seasons which shows how impressive his long Premier League career has been.
Hassenhuttl praised the goalscorer for his impact on the team since joining. He said: "Theo is investing a lot for our team. He's very good against the ball, always closing, but his finishing can be better. It's not always perfect. But I like the way he works for the team and this is good."
On his team and their form:
As previously mentioned, Southampton are now seven games unbeaten and sit in fifth in the table. They are one of the form teams in the league and opponents now fear the threat of the Saints.
Hassenhuttl is proud of his team's improvement and wants the fans back in the grounds to witness the good football that they are playing.
He said: "We have made some good progress in our team and I really enjoy watching the guys work in the moment; we'll be glad when the fans are back because we can enjoy watching together."