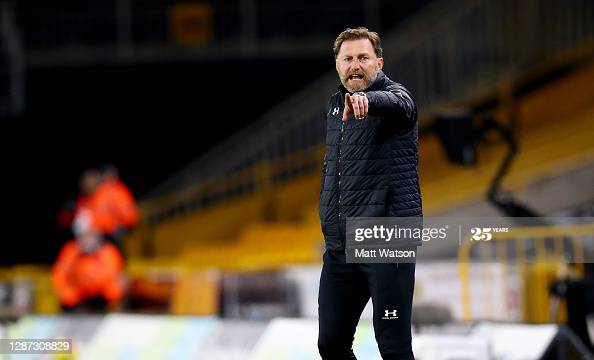 Not too disheartened by last week's narrow defeat to Manchester United, Southampton boss Ralph Hasenhuttl is approaching their latest Premier League test full of confidence, not least because they had gone seven games unbeaten.
Hasenhuttl, who celebrated his two-year anniversary at the club on Saturday, is targeting a strengthening of defences to allow Saints a better chance of taking points from games consistently.
He also talked about the quality of Monday night's opponents, Brighton & Hove Albion, whilst remembering Southampton's last trip to the AMEX Stadium – which resulted in a 2-0 triumph.
"To lose in the last minute against Man. United is not nice, but these things can happen," the Saints boss reflected. "It's a Champions League team. It was a bit disappointing in the end, particularly to give a two-nil lead away.
"We showed some good habits and some good behaviours, but also some that we should do better in the future. This is what we immediately try to turn around in the next game.
"The fixtures coming up are not easy. We must get better and that's the target we have in training every day. The guys are fully focussed on the next game. We have some injured players returning to training this week so this is good for us.
"What we've showed after the first two games of the season has definitely been an improvement of our game. We still must pay attention to try and keep clean sheets, that is the key to winning games.
"It's not always possible to score three or four times, we must sometimes try to win games by only scoring once or twice. If we can manage this we have a bigger chance of taking points.
"Brighton have the quality to be higher in the table, they had a lot of chances to actually win against Liverpool (last weekend). Last season (against Brighton) was a very important win for us, our first of the season, we took a clean sheet and scored in the right moments."
And defender Jan Bednarek is targeting the start of another unbeaten run when the Saints travel to the AMEX Stadium on Monday night.
The Polish centre back insists there will be no dwelling on the defeat to Man. United, and instead the team will look to start a new run in the south coast derby.
"We just want to make another run," said Bednarek. "I think we were a little bit unlucky (against United) – maybe we didn't deserve nothing from the game, but we gave ourselves a shout and we did everything we could on the day.
"That's football – sometimes you win and sometimes you lose. That was a day when we weren't lucky enough to get three points or even one.
"But we know our qualities, we know what we did wrong and we will work hard to become a better team and show ourselves that we are a really strong team against Brighton.
"They produce really good football, trying to play from the back with good quality on the ball.
"They are a really difficult opponent, but I am really sure that we can handle this. We have a lot of qualities, we are strong and we feel confident that we will win this game."