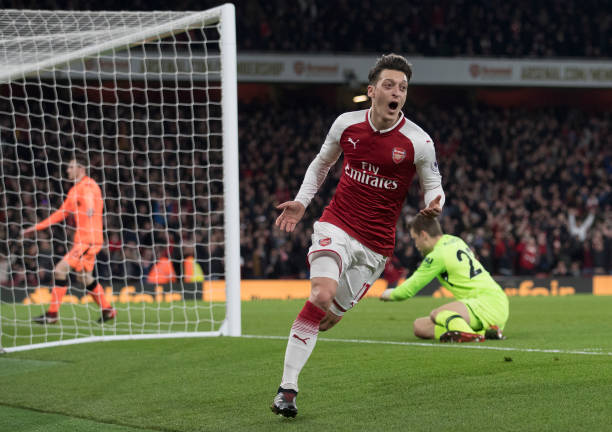 Arsenal's iconic midfielder Mesut Ozil has been the subject of much transfer speculation for the upcoming January transfer window.
The 32-year-old German attacking midfielder has contributed the most assists and created the most chances for The Gunners since his arrival from Real Madrid in 2013 (Arsenal.com).
Ozil has however been out of favour with Mikel Arteta this season with the German playmaker not included in The Gunners Premier League and UEFA Europa League squad.
Ozil has been training with the Arsenal first team but is yet to make his first appearance for Arsenal this season.
Transfer Speculation
Due to the lack of playing time, Mesut Ozil has been receiving many scenarios and stories have been suggested as to where Ozil could move to next.
The player and his agent have come out publicly and said that Ozil wants to stay and fight his way back into the team and stake a claim for getting back into the Arsenal first team.
However, with the January transfer window looming ever closer and Ozil yet to play a game this season, It is looking even more likely that Ozil could seek a January exit from the club.
It is being reported form Turkish broadcasters NTV Spor Via the Daily Mail that Ozil and his camp have received an offer from D.C. United, The former club of Wayne Rooney.
This move could be the right step for both Arsenal and Ozil due to The Gunners keen to get Ozil off the wage bill and the German playmaker in desperate need of game time.
The MLS would really benefit from an Iconic player such as Ozil joining and this league could see the former Real Madrid player rediscover his best form once again.
Why it hasn't worked out for Ozil this season
Mesut Ozil's exclusion from the Arsenal team so far this season has been a major talking point due to The Gunners missing a creative presence and spark all season.
His abilities on the ball could really have made a difference to a lot of games so far this season. There have many suggestions that Ozil's exclusion from the squad could involve off the field issues.
Arsenal have been very "tight lipped" about the situation and there does appear to be a unanimous feeling around Arsenal fans that answers will be told after Mesut Ozil leaves the club.