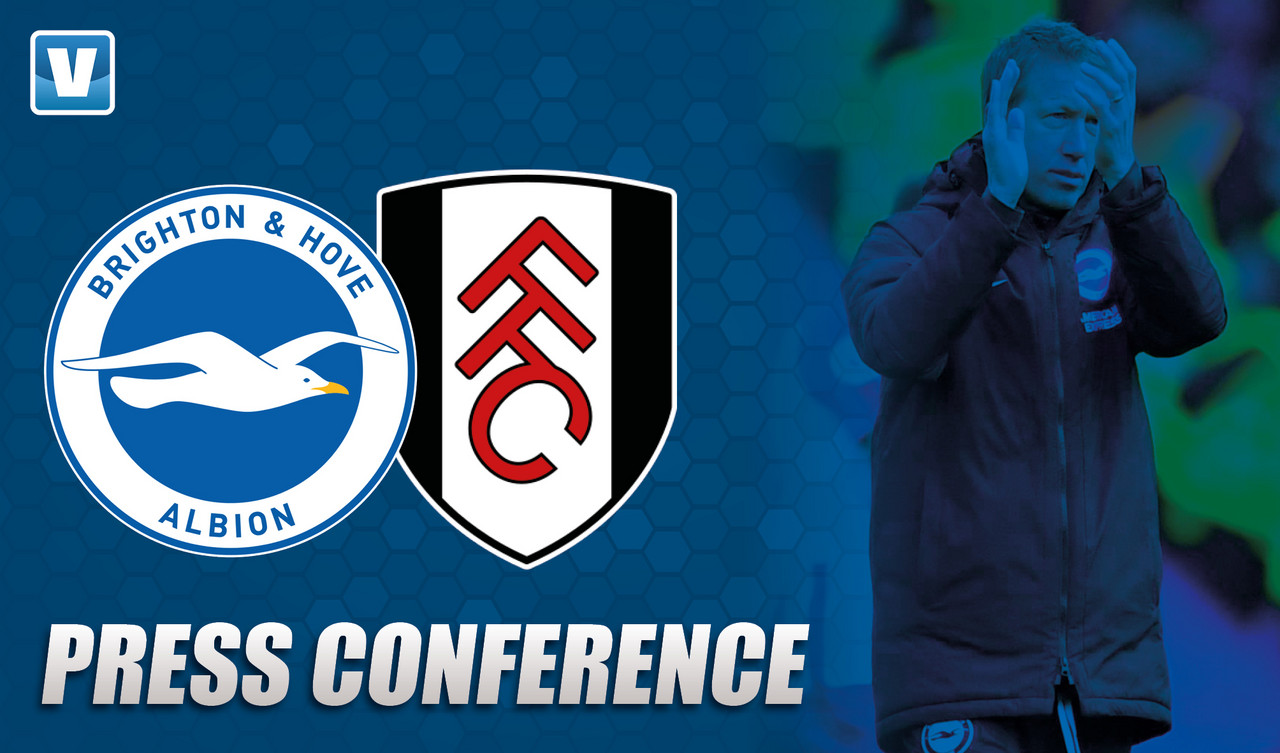 Brighton & Hove Albion welcome Fulham in what promises to be a nail-biting Premier League clash between two teams at the wrong end of the table.
The Seagulls come into the game on the back of a hard-fought win over League One Blackpool in the FA Cup on Saturday, and will be keen to make it back-to-back wins in all competitions on Wednesday night.
Boss Graham Potter is sure to be asked how his side can pick up their first Premier League win at home against fellow strugglers Fulham, whilst also be asked about the goalkeeping situation after Mat Ryan's departure and Yves Bissouma, who after impressing again is attracting interest from some top clubs in the transfer window.
Turn performances into points
I feel the results have been coming, that's what's given us that belief. we need to keep trying to improve, we can't wait for luck. When you haven't got the wins, you need to do that. Every team in this league has someone who can hurt you, so every game is important.
Transfer news
No information to give, it's that time of year where speculation is flying around. We would be here a long time if I was to say all the players I'd be interested in. Our job is to be ready to adapt to what's happening, and if an opportunity to get a target comes up then we act.
Lampard sacking
It's sad to see a colleague lose their job. It's part of football, and it's not for us to say what clubs should or shouldn't do. If results aren't to their liking, then they usually act. Frank is a top player who went into coaching and I am sure we will see him back in football pretty soon.
Fulham
We're expecting a really difficult game. Credit to Scott who has changed their style of play having achieved promotion from the Championship. They've looked at their strengths and have improved and made the transition to the Premier League well. They have got a really organised unit and they're a team I like a lot.
Sometimes playing well just isn't enough, balance is key and the attitude the players have shown all season needs to continue. We won't get anything without that.
Home record
Our home record needs to improve. Last year, we ended up with 41 points and if we win our home games then there is less pressure to win away from home. Home advantage without the crowds is less and less, but we have to do our best to turn it around.
Believer in confidence?
I believe in confidence, but it's quite simplistic to believe it's just that. Winning football matches certainly helps, and makes weekends a bit more bearable! You get tested on all sorts of levels when you don't win, and you face criticism, feedback and doubt and you have to stay strong, which is why it's pleasing when you do get these wins.
Six pointer
As far as I know you only get three for this one! I think the point is that if you ask me or ask Scott, obviously we'd love to win. But the reality is that we have another 50-odd points to play for in the Premier League.
Home advantage
You always try to approach the game to win. If you're at home there's a long standing onus on you to win, but we're without one of the biggest factors in home advantage with the crowd. There's a balance required and both teams are capable to win, home or away. The important thing is to get the points you need, whether that be at home or on the road.
League table
The league table is information and it's clear. We need to take what we've learnt from the first half of the season and get that bit of luck and get points on the board. You can play well, but sometimes you don't win, that's the veracity of the opponent and the league.
Previous meeting
It was a tight, tough game that could've gone either way. We had a few chances but there wasn't much in it. It just indicates that it'll be another tight game.
Izquierdo update
He's making progress. He's in that period where he needs to get enough training time in him before he progresses but he is definitely making good progress.
Veltman impact
Joel Veltman isn't quite at Tariq Lamptey's level of pace but brings different aspects of the game. You don't play in the Champions League semi-finals if you aren't a good player and he has done a fantastic job in whatever position he has played in his time here. He brings a calmness and experience to the side.
The Premier League brings a different type of challenge, certainly from playing with Ajax. He's not the most vocal, but he's a quiet, assured guy and a really good character to have.
That's all from Graham Potter's news conference - keep up to date with the latest from Brighton & Hove Albion here at VAVEL, including a preview of Wednesday's crucial Premier League fixture.