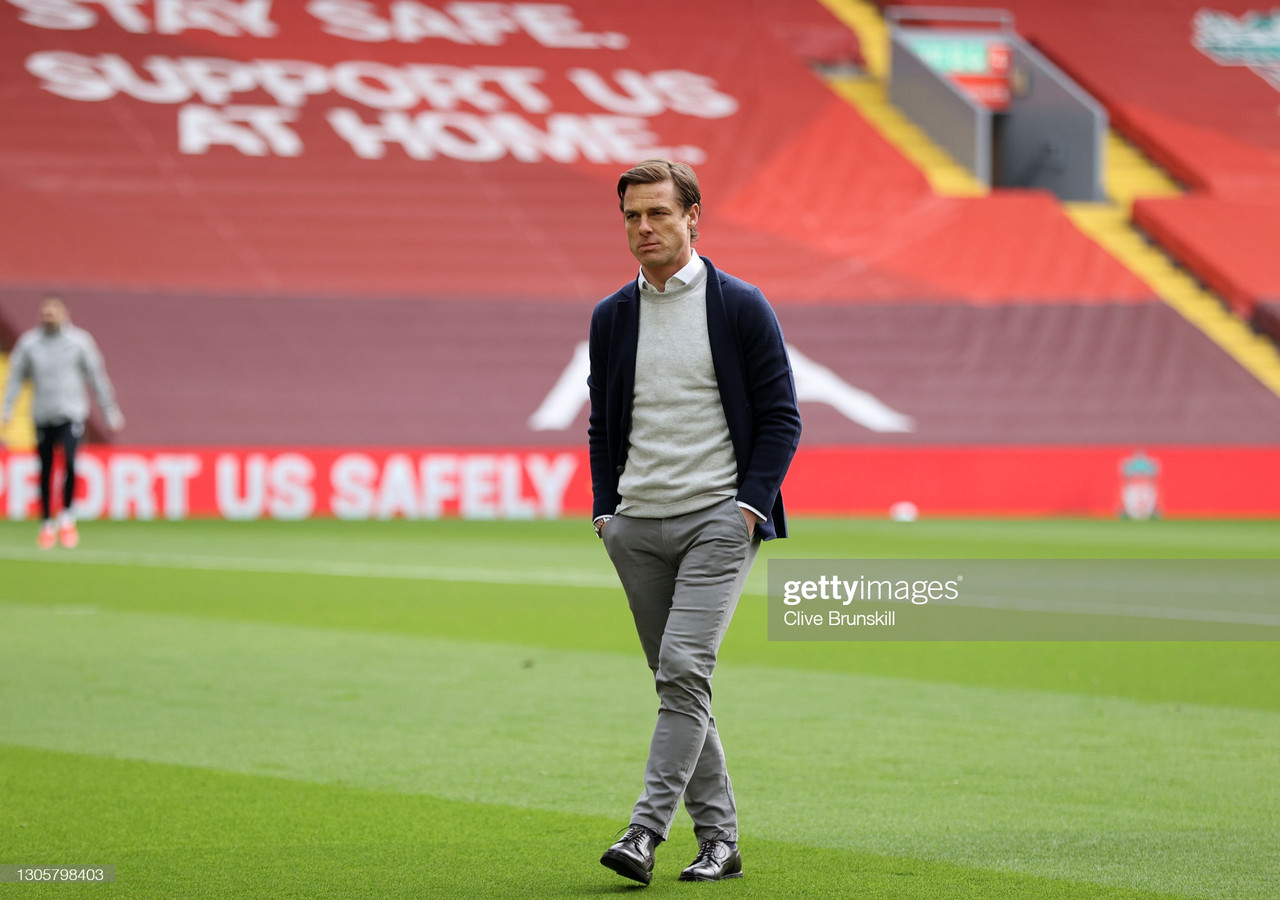 Relegation candidates Fulham welcome league leaders Manchester City to their Craven Cottage home in the Saturday evening kick-off, hoping to build on their victory at champions Liverpool last time out.
That win against the Reds made it three victories in the last six Premier League assignments for the Cottagers, who are now right back in the survival conversation, level on points with Brighton & Hove Albion and just two behind Newcastle United, the team they face on the final day.
Fulham manager Scott Parker addressed the media before the match — here are his most noteworthy quotes, as per the official Fulham website.
On the opposition
With just over 10 games remaining in the 2020/21 season, City find themselves comfortably at the top of the standings, 14 points clear of 2nd-placed local rivals Manchester United.
Bar a quite spectacular collapse, they are going to collect their third Premier League title in four years. Parker made no effort to conceal his awe at Saturday's opposition, but is keen for his own side to give this game a go nonetheless.
"This weekend [we play], for me, the best team in Europe, the best team in this division," Parker said. "You can be on the end of one when you play Man City, of course you can, and we've seen that many a time, but it's certainly a game that we want to try and assert ourselves in and try and cause them some problems."
On staying focused
With the most goals scored (61) and fewest conceded (21) in the Premier League thus far, City are — as far as the statistics say — the hardest team to come up against at both ends of the pitch.
For Parker, playing against opponents of this ability will require of his team especially strong levels of concentration, particularly for keeping things tight at the back.
"We realise the animal we're playing against here. That focus on our defensive shape and our diligence in those moments is going to be very key. They've got quality all over the pitch, in terms of structure, their positional play. They're a threat in every single moment of a game."
On his opposite number
Fulham's squad will go toe-to-toe with City's star-studded cohort, but Parker himself will also be up against one of the biggest names in the modern game.
The 40-year old was full of praise for Pep Guardiola who, in his 12 years of top level management, has already achieved enough to enter the history books as one of the most successful and prolific coaches of all time — just two years ago, he became the first manager to complete the English domestic treble.
"This is a coach who, probably in my lifetime, I've not seen a better one in terms of what he's done, what he's created. Every football club he's been at he's created a clear style and a clear way. He's going to go down as one of the greats."
On belief
So, clearly Fulham, and Parker himself, are up against it here.
But the manager wants his squad to take heart from their performances of late — particularly that which earned them a historic win at Anfield last weekend — and to remember that nothing in football is outside the realms of possibility.
"Do I believe we can win the game? Did I believe we could beat Liverpool away?" Parker asked. "Yes, I honestly did believe that, and that comes not just from my belief, that comes from what I'm seeing. I'd be the first to be very realistic about certain situations."
On what bodes well
Belief is so important when you're entering the final 10 games of a relegation dogfight behind your opponents in the table.
After a pretty tough season, where do Parker and his Fulham players get that belief from?
"If I didn't see it on the training field, if I didn't see a work ethic, if I didn't see an endeavour, if I didn't see a group of players who have showed quality during some times that have been tough this season and put their hands up and faced up, then I wouldn't have belief."