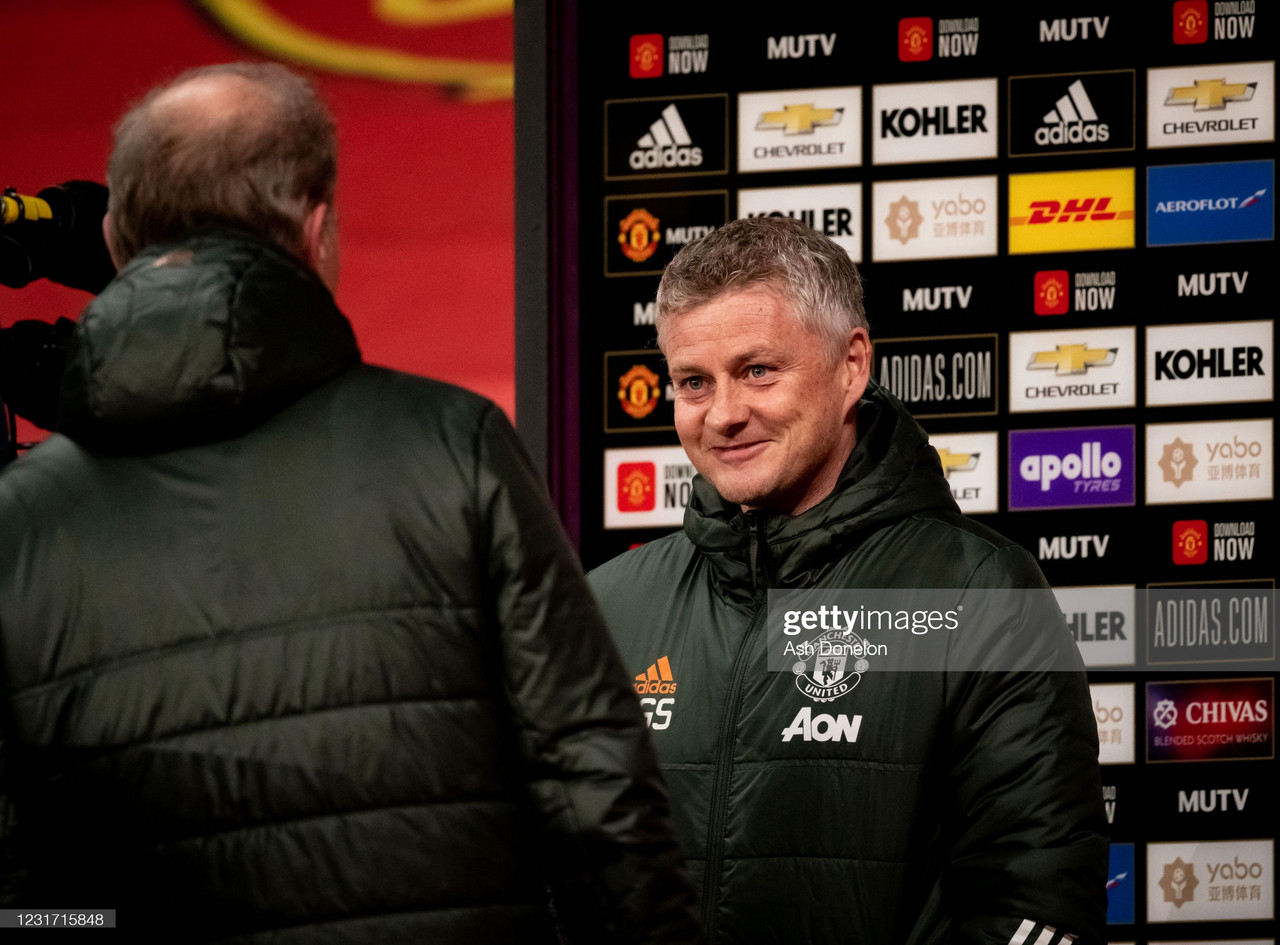 After a disappointing end to Manchester United's midweek action, it was important that Ole Gunnar Solskjaer's men got back on the right track and picked up three points on Sunday evening.
West Ham United had proven themselves to be difficult to beat on two occasions already against United this season, and there was to be no change in yesterday's encounter.
The visitors sat back and made it hard for The Reds, who in the first half came closest through Mason Greenwood as Lukasz Fabianski spectacularly tipped his effort onto the post.
The second half began in the same manner, until Craig Dawson diverted Scott McTominay's wayward header into the back of his own net.
The Hammers then came at United and tried to make things happen, but ultimately it was the home side who came closest to scoring again as Greenwood's fierce shot struck the post and Bruno Fernandes forced the visiting shot-stopper into another fine save.
When asked how important the victory was, the United boss told MUTV:
"Brilliant. It was massive for us. We know what momentum can give you or take away from you. Of course, the goal we conceded in the last minute against Milan was a mental test to see how we would react. Everybody has reacted in the right way and we kept a clean sheet. We did start poorly in the first 15 minutes, we kept giving them chances to break on us but our back four but excellent. We stopped them from hitting the target once as Dean [Henderson] didn't have a save to make."
In response to being asked about United's recent defensive solidity, the Norwegian responded:
"We're getting better. We're defending from the front. Sometimes you think 'oh come on' when our attackers are running forward but they have done so much running and pressing. That's one of the pleasing things today, that the energy was there. Mason, Bruno, Dan and Marcus did such a good job up there that we didn't feel that we had to make a change."
On Mason Greenwood's performance, Solskjaer said:
"It was a top performance. He has performed really well lately, he's growing in maturity and decision making. He just needs that goal again but it'll come. Today he was very very close and it was another top performance."
When asked about the effort his players put in, the boss responded with:
"It takes a big effort and it takes everything that you've got every time that you play in the Premier League or for Manchester United. This season is just relentless as well and they produce time and time again. I've said it so many times but I'm so impressed with their attitude, willingness and determination to recover and go again.
"We hope that the five players who are out, David [de Gea], Donny [van de Beek], Edinson [Cavani], Paul [Pogba] maybe and Antony [Martial] will likely be back. So we should have a strong squad to travel to Italy with."
What's next for United?
United travel to Italy to take on AC Milan in the San Siro on Thursday evening in the Europa League, before making the journey to the King Power Stadium to take on Leicester in the FA Cup quarter final.