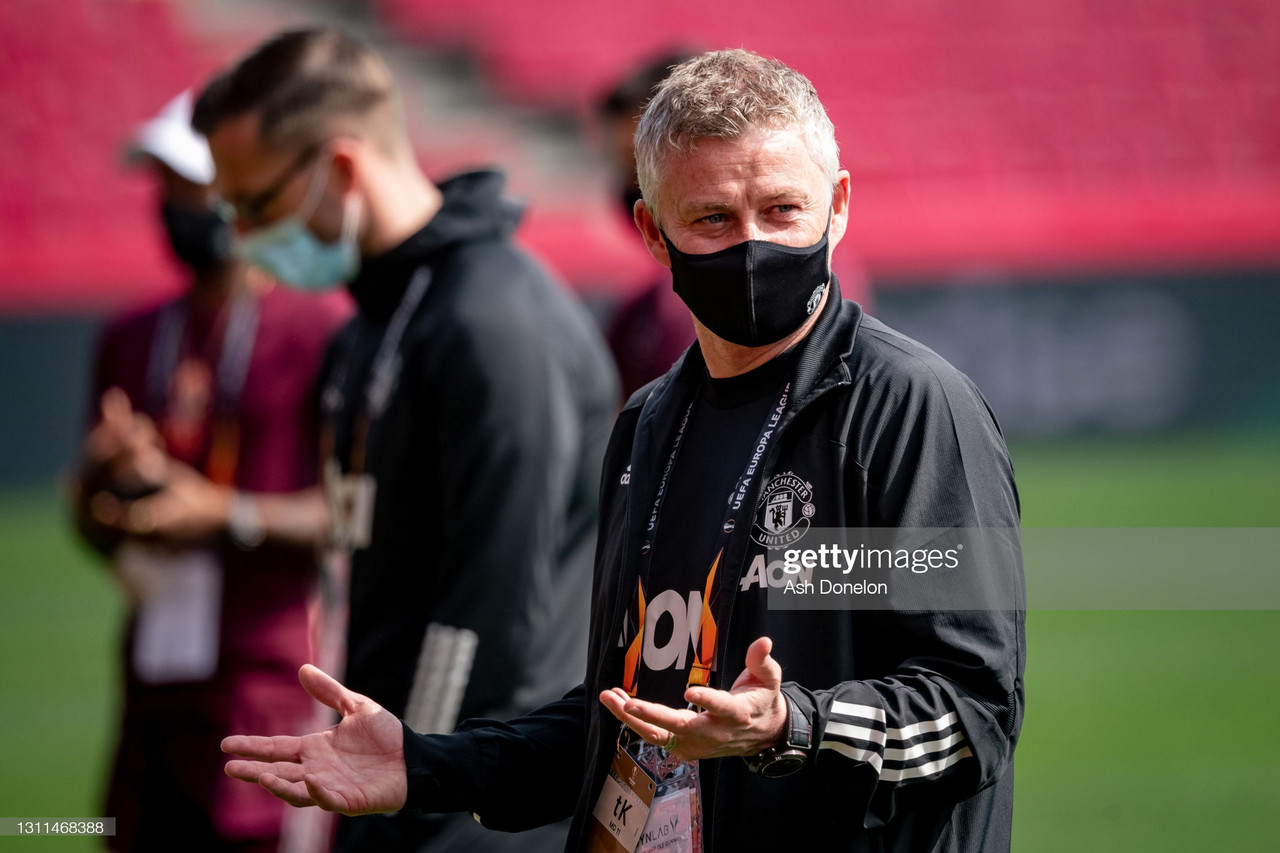 After coming back from Granada with a two goal lead in the tie, Ole Gunnar Solskjaer's Manchester United side are in a great position to progress to this season's Europa League semi-final.
But the United manager is all too aware that European nights tend to offer dramatic twists and turns – in his mind the tie is far from over.
Here's what the Norwegian had to say ahead of his side hosting the Spanish outfit:
On wether Thursday's enforced changes are a positive:
"No, it is never a positive thing to not have every player available to you, but we have got players ready to deputise and to come in to the team, of course. It was amnesty after this quarter-final, so we hoped to get them through but there was some easy yellow cards that the ref handed out [in the first leg] but we are more than ready to deal with that."
"I always pick a team that I think will win a game, and we want to win this game, but there will be a few changes. Of course, some of them are forced, but some of they may be rotation also," the United boss said.
Luke Shaw, Scott McTominay and captain Harry Maguire will all miss Thursday's second leg tie against Granada, after they received yellow cards in the first leg
On wether managers should tell their players not to dive:
"Well, I think every manager has certain values. When I got sent off against Newcastle many moons ago, I thought I did what was right for the team. But Sir Alex absolutely lambasted me after the game. I got called into his office and he told me 'We don't win by diving at Manchester United' and I have lived by that message ever since.
"We want to win and we want to win in the right manner. It doesn't matter who we come up against, we want to win by playing by the book. I'm not saying that someone else doesn't, I'm just saying that I think every manager wants to win in a fair way."
The question was given to Solskjaer after there were comments made between the United boss and Jose Mourinho regarding the manner in which Son Heung-min fell to floor in Sunday's encounter with Tottenham Hotspur.
On the challenges Thursday's game will bring:
"We know that we have got a great foundation to play from after the first result but we go into this game wanting to win the game. We want to perform well and we know that Granada will come here and give it everything that they've got.
"So, we have to go out there and try to dominate the ball, score goals like we always want to do, and just keep carrying on. Momentum is big in football and if it goes for you then it goes for you so we just want to carry on there and hopefully the players will enjoy the game."
On a potential return for Axel Tuanzebe and receiving abuse on social media:
"Well, Axel has always been a very positive and hard-working boy. Victor [Lindelof] and Harry [Maguire] have formed a very, very good partnership and Eric [Bailly] has come in and played really well when he's played. So Axel's chances have been limited, but he's been training really well and he is ready for this opportunity.
"As for the social media comments, I don't think that affected him back when it happened, no."
On wether Jesse Lingard has a Manchester United future and why his loan spell has worked so well
"Jesse has been brilliant since he left. Selfishly, we could have kept him because he has always got a part to play. Jesse is a fantastic lad, he's fantastic around the place and Manchester United through and through. Never once did he moan or cause me a problem, he just came in and worked really hard and he deserved a chance to go and play more football. That is why we let him go to West Ham, because he deserved a chance due to what he has done throughout his life for United."
"Of course we will welcome him back and I hope he will go to the Euros. With his performances now and the confidence he's got, I don't think that's beyond him. Hopefully he has a strong finish in the league, we wish him all the best for the remainder of the season until he comes back."