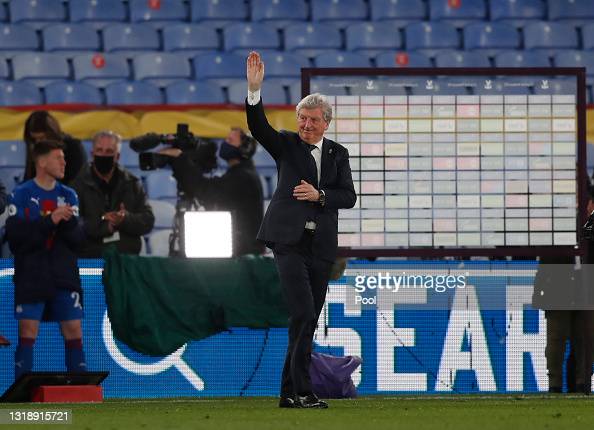 Crystal Palace looked like leaving Selhurst Park with a well-earned point when Christian Benteke's header from a set-piece cancelled out Nicolas Pepe's first-half strike.
However, a late goal from substitute Gabriel Martinelli put Arsenal back in front, and a second goal from Nicolas Pepe was enough to ruin 73-year-old manager Roy Hodgson's final game at Selhurst Park.
Here are some of the key points of the game:
Fans back for Roy Hodgson's last hurrah:
Crystal Palace manager, Roy Hodgson, was treated to a guard of honour from both sets of players and staff, alongside 6,500 Palace fans, who made their long-awaited return to Selhurst Park. The veteran manager spent four years at the club, securing 11th, 12th, and 14th place finishes in the Premier League.
The home fans were treated to a goal on their first trip back when Andros Townsend's freekick was crossed into the six-yard box, finding an unmarked Benteke, who powered his header past Bernd Leno in the Arsenal net in the 62nd minute for his 10th goal of the season.
Hodgson addressed his players and the crowd at full-time, saying: "It has been a magnificent four years of my career, and I enjoyed every moment. We would have liked to have finished the season here with a good result against a top team."
"I shall miss everybody, I shall miss football, but it has been a fantastic journey, and I thank you very much."
This suggests Hodgson's 45-year managerial career might be coming to an end. With retirement on the cards, football fans should look back at what the manager has achieved throughout his time in football with high appreciation.
Palace travel to Anfield on Sunday to try and stunt Liverpool's hopes for Champions League qualification, and the side will move up to 12th place if they can better Wolves' result against Manchester United on the final day of the season.
Lucky to finish with 11 men?
There was clear aggression in how Crystal Palace approached this fixture, with the side putting in some strong tackles on their London rivals from the get-go. In the fourth minute, Jeffrey Schlupp was awarded an early yellow card after trying to win the ball from Calum Chambers and eventually stamping on his ankle.
VAR looked at the incident, and although it looked a lot worse in slow-motion, it looked to be the correct decision with both players trying to win the ball in a 50-50 challenge.
Defender Joel Ward slid in to win the ball from Kieran Tierney to win a corner, but as the Scottish left-back looked to collect the ball, Ward proceeded to kick the back of his leg, sending him to the floor.
It was the sort of dangerous play that has definitely been penalised this season, but the referee allowed play to carry on.
Only minutes after Nicolas Pepe volleyed the ball past Vicente Guaita to put his side in the lead, Christian Benteke outmuscled Bukayo Saka, leading to an altercation between Mohamed Elneny and the striker, with the latter making a punching gesture towards Elneny.
VAR adjudged it to be a yellow for both players, but this could have easily seen The Eagles reduced to 10 men before the 45-minute mark.
Crystal Palace's 4-3-3 formation:
With Eberechi Eze suffering an Achilles injury in training that could keep him out until 2022, Palace were forced to play in an unfamiliar 4-3-3 formation compared to the normal 4-4-2.
This allowed James Tomkins to come back into the side after injury alongside Gary Cahill, pushing Cheikhou Kouyate back into his midfield position for the game. Kouyate looked comfortable back in his old role, putting in some strong tackles and helping his side move up the pitch with positive dribbles and passes.
This new formation also saw Wilfried Zaha pushed back into the left-wing position instead of the striker role, with Andros Townsend put onto the right-hand side with in-form Christian Benteke playing through the middle.
This resulted in a lot of Crystal Palace's attacking threat coming from set-pieces and long balls over the Arsenal backline. There were many occasions when Palace headed efforts towards goal with Cahill and Benteke squandering these chances.
With no players likely to return for Palace in the coming week, it is likely this formation will be the one Hodgson uses against Liverpool on Sunday. The side will really need to be more wary of the space they give their opposition, with Tierney and Martin Odegaard crossing some great balls inside behind Tomkins and Cahill and costing the team the first two goals
With the threat Liverpool can possess on the counter, the defence will need to stand strong, whereas three upfront could be very important in exposing a young centre-back partnership of Nat Phillips and Rhys Williams.
With all this in mind, Palace could cause Liverpool some real problems, and hopefully, avoid a 7-0 loss this time around.