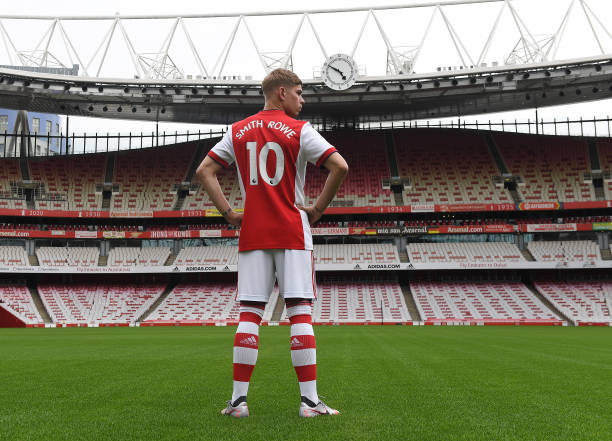 Emile Smith-Rowe has been at Arsenal since he was Ten years old, and has now signed a bumper deal after Ten years in the famous Red and White. His previous deal still had two years remaining on it however, Edu Gaspar and Mikel Arteta were very keen to secure his future as a core member of the football club.
Smith-Rowe 10
Alongside putting pen to paper on a five year deal, the Arsenal youngster has been presented with the number 10 shirt which goes to show how well thought after the Croydon born attacker is.
Last campaign, Smith-Rowe wore the number 32 however, his commitment, attitude and performances have seen him be rewarded with the jersey worn by many iconic Arsenal players over the years.
Mikel Arteta's reaction
"As we all saw last season, Emile is an intelligent player with excellent ability. His sharpness on the turn and exceptional vision have already made him a key player for us. His attitude and willingness to learn have also been very impressive. Huge credit to our team in our academy who have given Emile a great education and have worked superbly to help with his development through the age groups."
Mikel Arteta is very clearly a big fan of Smith Rowe and, sees him as an integral part of the club's future. This upcoming season, Arsenal fans and football fans can be very excited to see what the youngster can do after a full season alongside supporters back in the stadiums.
Technical Director Edu has his say
"This is another important step forward for us and we're all delighted that Emile has signed a new long-term contract. It's great to see another young player develop through our academy system to become a key part of our first team. Emile is a player who represents the future of the club and this is why we have given him the No 10 shirt. We have trust in Emile and we know he has the potential to be a beautiful player for many years to come."
Alongside the contract renewal of "The Smith" Gunners fans would love to see some high quality midfield partners come in to accompany and compliment him on the Emirates Stadium pitch. Yves Bissouma, Manuel Locatelli and James Maddison have been a few of the high quality transfer targets that Arsenal fans would love to see at N5!
Severe interest from Aston Villa
Arsenal's now Number 10 was the subject of severe interest from Premier League rivals Aston Villa during this window with Arsenal rejecting two bids from the Birmingham based side. Arsenal never had any intention on selling one of their prized assets and, can now relax knowing that one of their hottest prospects is secured to a long term deal.
Bright Future ahead in north London
Alongside this contract renewal, Arsenal have also in the past year secured deals for other stars Bukayo Saka, Gabriel Martinelli and Folarin Balogun. Despite speculation regarding exits for most of these, Arsenal have recognised that they needed to keep the future stars of their clubs on long term contracts to protect their value and ensure they can enjoy long successful careers in N5.