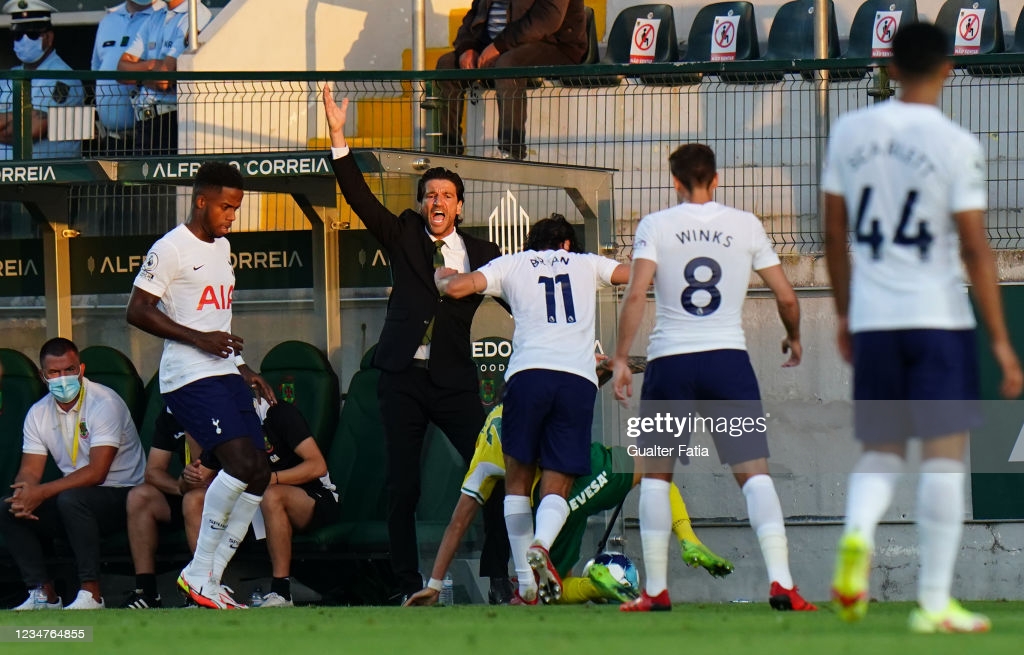 A very young Tottenham Hotspur squad traveled to Portugal to face Pacos De Ferreira in the third and final round of the UEFA Europa Conference League play-off.
Things didn't exactly go as planned for Nuno Espírito Santo, who gave the opportunity to five different players to make their first team debuts.
Pierluigi Gollini, Niles John, Bryan Gil, J'Neil Bennett and Maksim Paskotsi had their first ever outings for Tottenham's senior squad, but unfortunately for them it was a night to forget.
Lucas Silva's lone-goal before the end of the first half gave the Portuguese the win over Tottenham in the first leg.
Spurs will host Pacos De Ferreira on Thursday, August 26th. for the second leg, and it is expected that the 'Lilywhites' show a much stronger side than they did at Portugal.
Full-time in Portugal. pic.twitter.com/Netrm406LO

— Tottenham Hotspur (@SpursOfficial) August 19, 2021
Story of the game
17 year-old Dane Scarlett led the front line for Spurs, and since the beginning of the fixture, it seemed like it was going to be a long night for him along with all the Tottenham players.
Pacos De Ferreira dominated most of the opening 45 minutes, and their reward came right before the half, as a mistake by the new signing Cristian Romero led to Silva's goal.
Although Tottenham fought in the second half, they only managed to get two shots on target all game long, and it was a really poor performance by the first team players Harry Winks, Matt Doherty, Gio LoCelso and Ben Davies.
Spurs side lacked creativity in the final third of the pitch, and despite leading the ball-possession of the game by 20%, they failed to convert.
Many could argue that Espírito Santo picked too much of a weakened side for this fixture, considering Romero and LoCelso were the only players who featured in Tottenham's 1-0 Premier League win over Manchester City to play against Pacos De Ferreira.
This shouldn't be seemed completely as a loss though, considering Spurs still have to play the second leg and it was a great opportunity for many youngsters to get some playing time in a European competition.
Reactions
Manager Nuno Espírito Santo spoke to the media following Tottenham Hotspur's 1-0 Europa Conference League defeat against Pacos de Ferreira.
''As a team we were not organised enough and didn't play the ball quick enough,'' he said. "We didn't underestime them. The decision was made and the main decision was to use all of the squad.
It impacts a lot. Nobody likes to lose a game and not play well. The feel good factor is gone but that's football.'