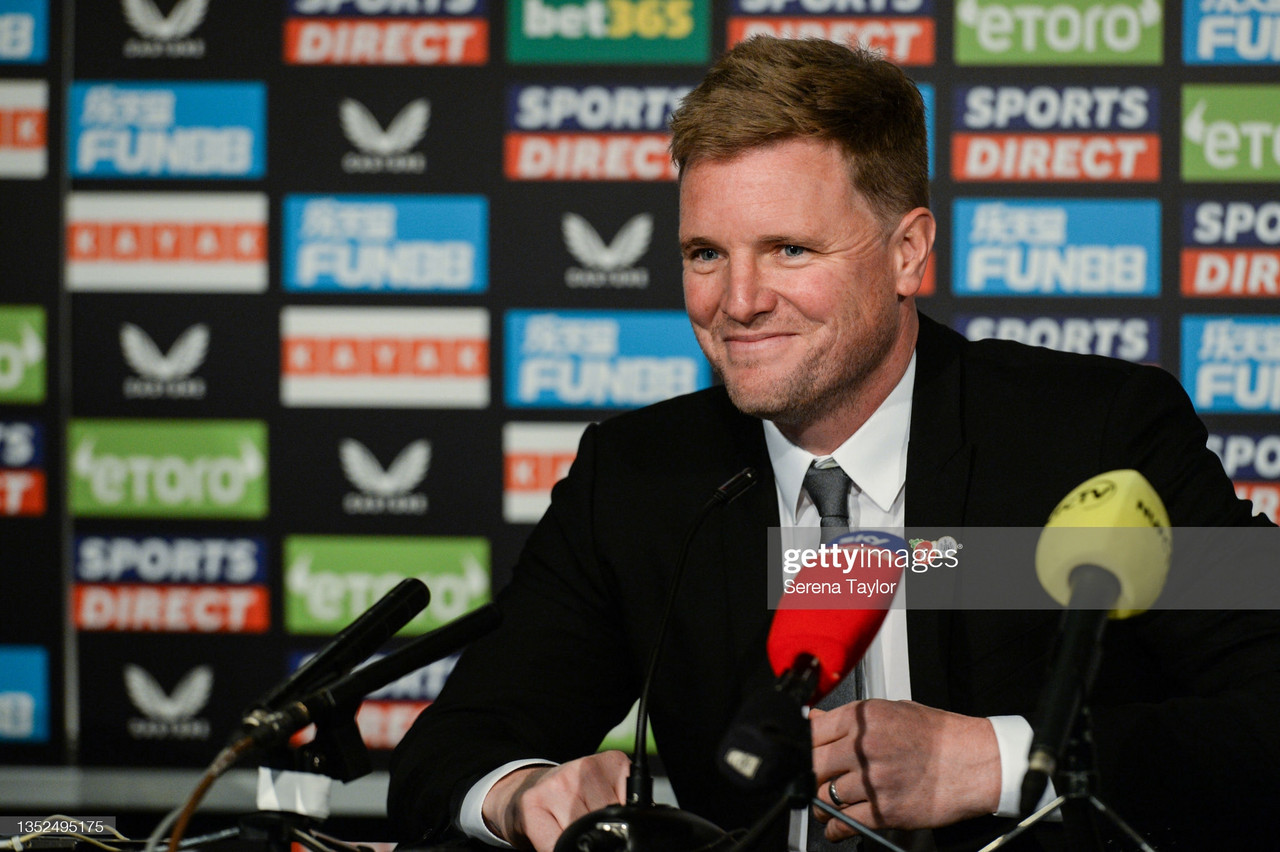 If Eddie Howe didn't already know what he was stepping into at Newcastle United, he certainly does now.
In the space of around 30 minutes, Howe was mobbed by fans waiting outside the stadium – despite it being the middle of the afternoon on a weekday – then was almost immediately pressed on Saudi Arabia's human rights record by journalists; before being asked just how he is going to ensure the Premier League's 19th placed side stay in the division this season.
But one thing was very clear, and that was the immense pride Howe had of now being in charge of this football club.
"It feels fantastic to be here," he said.
"I'm honoured, privileged and it's an incredible moment in my life.
"I'd like to thank the board for trusting me in this job and for everyone who has helped me."
'My focus is football'
It did not take long for Howe to be questioned on the concerns surrounding Saudi human rights record.
"For me, this was a football decision," Howe said.
"I am absolutely delighted to be Newcastle manager and I am delighted to be here.
"My focus is football, managing the players and running the team."
Howe had been out of the managerial game for over a year before arriving on Tyneside, and revealed that he's had a number of offers since then on the table.
"Everything just felt right. The pull of the club is huge," he said.
"Yes, I've had lots of other options but I wanted to be refreshed and pick the right opportunity. I feel this is it."
'Absolutely confident' in staying up
Despite the long-term future of the club clearly being of loftier aspirations than just striving to exist in England's top flight, Newcastle are currently embroiled in a heated relegation battle, with The Magpies now five points adrift of safety.
When asked on whether he believes Newcastle can stay up, Howe said: "I am absolutely confident we can, but I make no promises on that.
"All I can do is lead the club to the best of my abilities. I will give everything to the job.
"I will commit 100% every single day to try and bring success to Newcastle, for everyone associated with the club."
He continued: "The aim is to stay in the league, to avoid relegation.
"That really is my main focus at the moment. Everything else can wait for another day."
A lot has been said about Newcastle's squad and whether they are up to the task of surviving, but Howe thinks they have what it takes.
"I believe we have the ability within the squad to achieve that aim," he said.
"It is going to take a lot of hard work and a lot of sacrifice to get there. They need to give everything they have."
'It's so important to me that I commit to the club and the area'
Something that has always followed Howe around his managerial career is his preference to be resided with his family on the south coast.
However, Howe confirmed that he and his family will make the move some 350 miles up north.
"The plan is I move to the area with my family, he said.
"It's so important to me that I commit to the club and the area. With the hours I work, I wouldn't see them without doing that!
"I'm all in here. They'll probably move up after Christmas."
'It is an amazing feeling'
A lot is talked about Newcastle, the stadium and the passion of the supporters – and on arrival to St James' Park this afternoon, Howe experienced properly that for the very first time.
"This is the first time I have been here [to St James' Park] as manager of Newcastle and it is an amazing feeling – I can't describe it," he said.
"When you walk through the doors, down the tunnel and imagine bygone eras, previous players, previous managers, the names connected with walking down that tunnel – it is incredible."