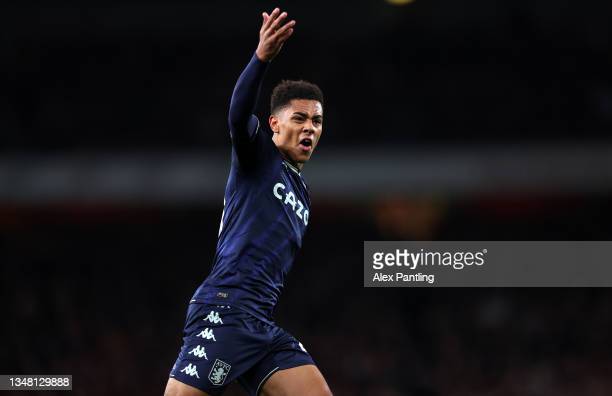 Born in Great Barr, Birmingham, Jacob Ramsey was scouted and subsequently signed by the Aston Villa academy at just six years old.
The manager at the time of Ramsey's youth excellence was Sean Kimberly, and even back then, he could see that Ramsey had the drive as well as the ability to go all the way to the top:
"If he continues to match his undoubted technical ability and eye for goal with the desire and energy to reach the next level, he will have a bright future in the game."
Ramsey's technical ability is there for all to see now. Even with his lack of experience in comparison to the majority of the competition, he has stood stood out among the best players on the pitch at times.
In the same youth system that has brought through talents such as Jack Grealish and Gabby Agbonlahor, Ramsey has had some of the best coaches around him who have nurtured him for years - turning him into the special player that he is today.
Signing the deal
After spending the best part of twelve years in the academy set up at Villa, Dean Smith decided to give the youngster a chance and offered Ramsey his first professional contract. The then 18 year old signed the deal in 2019 - back when Villa were fighting for promotion from the Championship.
At such a young age, it is rare to find a star who slots into the side so comfortably and looks established alongside his older and more experienced team mates.
Ramsey has impressed fans with his ability to pick the right pass as well as driving forwards with the ball, often causing the defence some issues while contributing to big chances being created.
To many Villa fans, this doesn't come as a surprise though, Ramsey had been shining for a while in the youth side, and after he made that step up into the first team it was clear he will compete at the highest level.
Doncaster Rovers acquired the loan signing of Ramsey back in the 2019/20 season. The England under 21 international enjoyed a spell at Donny, in which he made seven appearances and scored three goals.
After impressing on this loan spell, Ramsey returned to Bodymoor Heath and was instantly placed into first team training.
Training around players like Grealish and John Mcginn would have been vital into turning Ramsey into the player he is becoming. He does show glimpses of a young Grealish, the way he has the confidence to beat his man and often does.
Where is Ramsey now?
Fast forward only a few seasons, and Ramsey finds himself a regular name in Smith's match day squad. He has accumulated an impressive 38 appearances for the first team at the tender age of twenty.
This season, Ramsey has made an appearance in eight out of nine Premier League games, missing only a 1-1 draw with Brentford at home due to testing positive for Covid-19.
At the Emirates stadium on Friday night, Ramsey came on as a second half substitute and marked his 30th Premier League appearance with his first goal in the competition.
Despite only being a consolation goal in a 3-1 defeat to Arsenal, the midfielder beautifully found the top right corner of Aaron Ramsdale's net, leaving the England keeper rooted to the spot.
After the defeat, Ramsey shared his thoughts and feelings on scoring his first goal for the club:
"On a personal note, I'm happy to get my first premier league goal, my first goal for the club," a downbeat Ramsey said.
"I said I wanted more goals and assists."
Ramsey continued: "Its took me a while, but I'm thankful that its come tonight."
Smith will be elated that Ramsey has begun to add goals to his game, something that his side have lacked this season. With a tough fixture against high flying West Ham this Sunday, Ramsey may be given the chance to impress in front of a packed out Villa Park once again.
With Frenchman Morgan Sanson seemingly out of favour as it stands, Ramsey will need to keep up a string of impactful performances if he wishes to maintain his place in the first team.
What does the future hold for Ramsey?
There is no doubting that Ramsey will go to the very top. He is already an established member of the first team at Villa, and he is only going to get better.
With Smith at the helm, Ramsey will continue to get first team minutes under his belt and more experience is going to further develop his already apparent skills.
Ramsey has the potential to be a Villa great, the fans already adore him and choruses of 'He's one of our own' ring around Villa Park. Although already a great player, the sky is the limit for Jacob Ramsey.