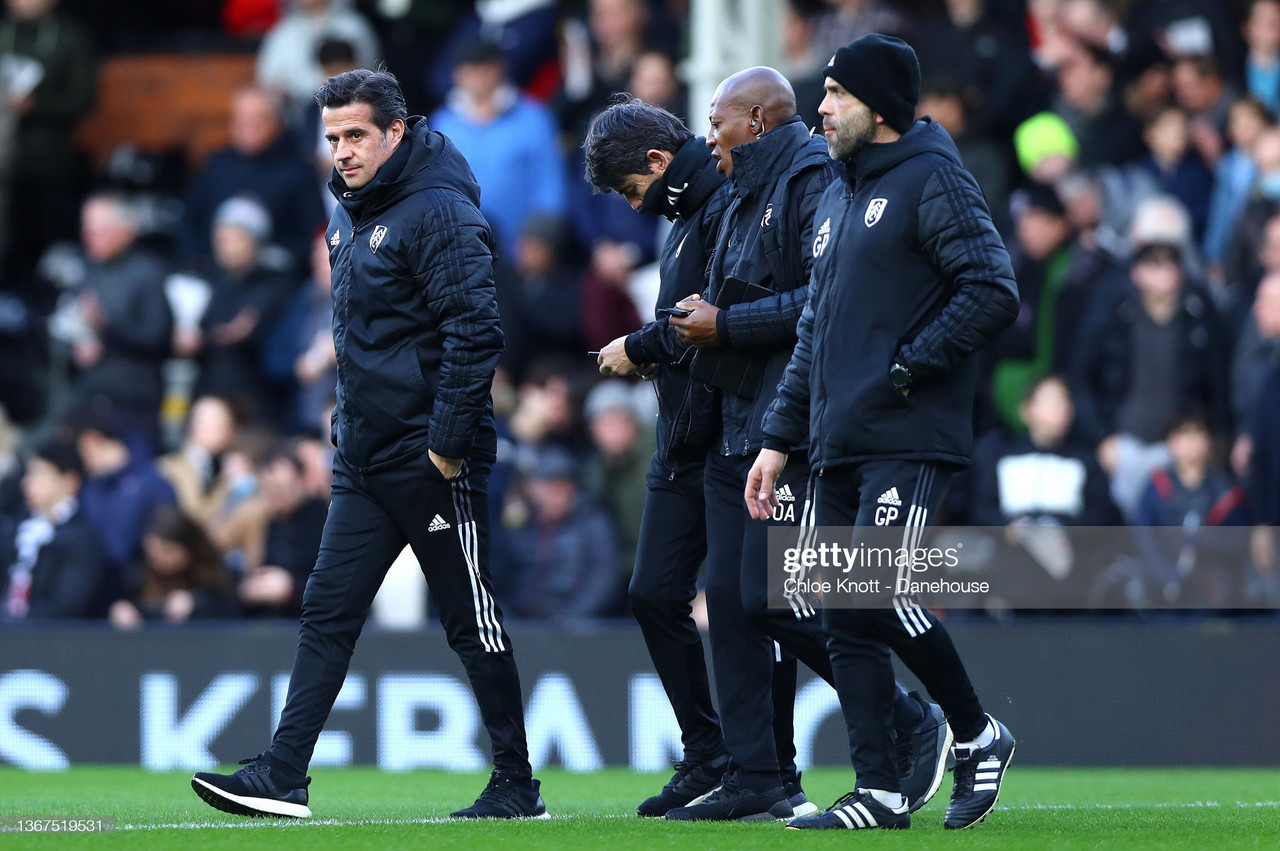 Fulham's four-game winning run in the Championship came to an end on Saturday afternoon as they were held to a draw by a resilient Blackpool side at Craven Cottage.
The Cottagers got off to the perfect start when Aleksandar Mitrovic prodded them into the lead just six minutes into contest but they failed to build on their early advantage and were punished when Josh Bowler equalised just before the hour-mark.
From then on, it was a tight contest which could have gone either way; Fulham were certainly not at their dominant best on the day.
Head coach Marco Silva addressed the media after the match — these were his most noteworthy quotes.
On a fast start
Fulham suffocated Blackpool from the word 'go' and looked certain to continue their fine form with a glaring gulf in quality in the opening exchanges.
They found their breakthrough when intricate build-up worked the space for Fabio Carvalho to tee up Mitrovic in the box, and nearly doubled their lead moments later when Harry Wilson's audacious long-range chip nearly crept in at the far post. At this point in the match, Silva envisaged nothing but victory for his side.
"We started brilliantly against a team that changed everything to play against us, [it wasn't] their normal approach, but we did very well. We scored a really good goal, and there was a great chance for Harry to score the second. The way we were playing, I could smell the second goal was coming."
On second-half struggles
The rest of the game, however, was a different story. Fulham became far too passive for the remainder of the first-half and into the second, allowing Blackpool the opportunity to come onto their hosts, and Bowler summoned up the one touch of quality they needed to get back on level terms.
"It was a bad performance in the second-half, we played too slow and when you play slow, you give belief to the opposition. Blackpool weren't proactive, but waited for our mistakes."
Perhaps the most frustrating thing for the Whites was that they were unable to regain their lead from that point onwards. They huffed and puffed but it just wasn't ticking for Silva's side, and the head coach believes this was because his side lost their composure following the setback.
"We lost some principles in our mode and when that happens, it's difficult," Silva admitted. "I prepare my players to control everything, and when we analyse things, we'll find what we did well and what wasn't good. I want them to show more emotional balance, and keep the principles, even if you lose a bit of confidence."
On a lack of intensity
For a team which is becoming renowned for their ability to suffocate their opposition both in and out of possession, this was an uncharacteristically passive performance from Fulham.
Silva was particularly disappointed with his side's lack of urgency with the ball, something which wasn't a problem at all in the opening ten minutes but became increasingly detrimental as the match wore on.
"If you don't start well from the back, you'll have problems," he said. "We didn't move the ball quick enough and that encouraged them to press a bit more. We should've shown the same intensity in the second half as the beginning of the game.
"It's another moment to learn and improve, as more fights will come for us."