Arsene Wenger stated he is still looking to improve his squad ahead of the upcoming season and will pay the right price for the right player.
Speaking after Arsenal's 8-0 friendly win over Norway's Viking FK, Wenger told Arsenal's official website that he is willing to pay over the odds: "The price of a player is down to four ingredients. One is the talent, two his age, three is how much you expect him to improve your team, and four his resale value. If he ticks all four boxes then the price is not that important. You have to find the player."
The North London club have been seeking a new striker throughout the summer with rejected approaches for Jamie Vardy and Alexandre Lacazette. Arsenal have so far bought Granit Xhaka from Borussia Monchengladbach along with Bolton's Rob Holding and Japanese International Takuma Asano.
Will make the right move when it comes
While the Frenchman stated he is looking to improve his squad, he called for calm along fans while noting the list of returning players from prolonged summer breaks: "It's not the prices, it's the players. At the moment I'm focused on the players we have. Today we didn't have Ramsey, Xhaka, Alexis - he will play on Sunday. We still have Ozil at home, and Giroud and Koscielny too. We also have young players who came on and did well."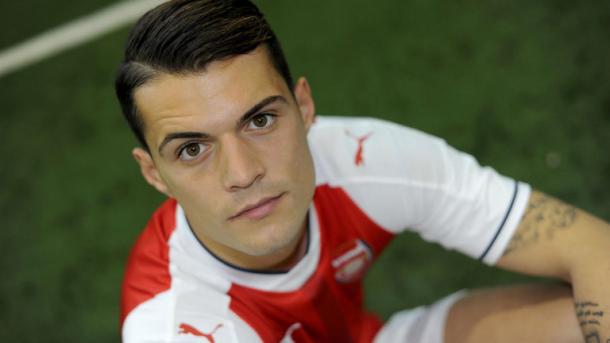 "We do not have to panic but we are on alert in the transfer market so that we can make the right move when the opportunity comes up."
Gunners put Viking to the sword
Before the preseason friendly, Arsene Wenger was awarded a commemorative plate and a sword in a pre-match ceremony. Arsenal beat Viking FK 8-0 in a convincing win on Friday night courtesy of goals from Santi Cazorla, Theo Walcott, Alex Iwobi, Joel Campbell and Chuba Akpom.