Ronald Koeman is ready to start as Everton manager. The former Southampton boss has been in the role for a few days but has refrained from saying anything to the media outside of Everton's media outlet, EvertonTV.
Koeman sat down at Finch Farm with Everton chairman Bill Kenwright to speak the gathered media and answer a whole host of questions. The new Everton boss was always going to expect questions about his past with Southampton, Everton's wantaway players and his plans for the squad.
The excitement from Koeman is shared by the Everton fans who were ready to hear him speak for the first time.
When asked about his ambition for the Blues, one word stood out above the rest. Win. Koeman's predecessor, Roberto Martinez would take the positives from losses, that doesn't look evident with Koeman.
He said the Everton board sold him on their "ambition to grow, to win." Of course, Everton are all about history and Koeman is glad to be a part of the club. He said it's nice to be a part of the history, but again he wants to "win, play European cup football and win titles."
Everybody at Everton is ready to take that next step towards success and Koeman said he is "one of them."
Koeman on transfers
Everton have a number of key players that could easily leave the club this summer. Romelu Lukaku has made it clear he sees his future away from Goodison Park, while John Stones reportedly remains a target for Pep Guardiola's Manchester City.
Koeman knows what it's like to lose key players each summer, he experienced it during his time with Southampton but he is aiming to speak to Lukaku and Stones before deciding on their futures.
He also commented that the pair are "key players" and the club will do all they can to "support" and keep ahold of them.
Koeman himself is going to have spending power like no other Everton manager, with a reported transfer budget upwards of £100 Million pounds.
It's easy to suggest that Koeman will go back to his former clubs for players, but when asked about Southampton, Koeman was rather coy.
He said "it's difficult" to go back and sign Southampton players but he likes "most of the players but maybe it's best we don't make that fight today." Koeman will not give up the names of his transfer targets that easily, but reports suggest he will move for Graziano Pelle, with Fraser Forster remains another potential target.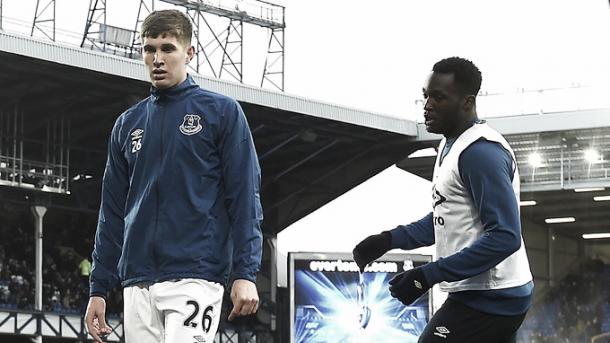 Koeman on the Everton fans support
Koeman was by far and away the first choice for the Everton board and was one of the main frontrunners for the fans. Since the early reports of Koeman being set to join, more and more of the Everton supporters have grown to accept Koeman and are feeling rather positive.
Everton fans want to see their team fight during games, not just accept losses. Koeman is a winner and he agrees. He said he is looking for his team to be one that "gives the fans nice things to do." As always, he said being a team that is supported by the fans is about "getting the right spirit in the team, a strong spirit."
The Blues faithful have seen some abject performances in the last 18 months, mainly at Goodison Park but Koeman is looking to bring back the Blues home comforts.
He said at home in the Premier League "you need to be the boss in your stadium" and that is something "what we want to change." With only six home wins in the Premier League last season, Everton lacked the confidence that playing at home is supposed to bring.