21:50. Unfortunately, that's all we've got time for this evening. I've been Oliver Emmerson, taking you through Manchester City's victory over Dynamo Kyiv in the Champions League. Until next time, goodnight.
21:47. That means we've concluded the Champions League last 16 first legs, with each tie as follows going into the final matches: PSG 2-1 Chelsea; Benfica 1-0 Zenit; Roma 0-2 Real Madrid; Genk 2-3 Wolfsburg; Arsenal 0-2 Barcelona; Juventus 2-2 Bayern Munich; PSV 0-0 Atletico Madrid; Dynamo Kyiv 1-3 Manchester City.
21:45. Elsewhere in Europe tonight, Atletico Madrid were held to a 0-0 draw away against PSV, who had a man sent off in the second half. You would certainly back the Spanish side to get through in the second leg.
21:37. An absolutely brilliant win for Manchester City, who may well have settled the tie here in Ukraine before they go back to Manchester for the second leg in three weeks time. Goals from Sergio Aguero and David Silva put the Sky Blues two up, and Toure made it 3-1 in the final minutes after Buyalskiy had pulled one back for the hosts.
Full-time: Dynamo Kyiv 1-3 Manchester City
90: In the last minute of normal time, that's likely to be the last goal of the game. City keep possession on the edge of the area for what seems an eternity, before bursting into life as Toure plays a one-two with Aguero, before curling into the top corner with his weaker foot. Iheanacho on for Aguero, two minutes of stoppage time. The youngster makes his European debut.
GOAL! Toure makes up for his miss, 3-1 to Manchester City!
82: Big chance missed! Wow, how hasn't Toure scored there? Patient play from City results in Sterling clipping the ball in for Yaya Toure, who had a free header in the six yard box, but nodded wide. A monumental chance for the visitors to put themselves firmly in the driving seat once again.
79: Crucial stop by Hart! It was very, very nearly 2-2! The ball broke kindly for Buyalskiy on the edge of the 18 yard box, and he kept his shot hard and low. It was heading for the corner of the net, before a strong hand from England's number one pushed it away. A huge moment in this tie for sure!
77: Another positive move forward by City, Silva dictating in the hole, putting Sagna away down the right. His ball in bounces off both Fernandinho and Aguero, before landing in the goalkeeper's grateful arms.
74: Aguero takes a tumble as City appeal for another penalty, but it's not given and Dynamo counter. Fortunately, Yaya Toure is on hand with a brilliant recovery tackle to stop the attack before it truly starts.
66: A hamstring injury to Danilo Silva forces Dynamo Kyiv into their third and final change, the defender replaced by Makarenko.
59: The ball is clipped in, headed out by Otamendi, falling for Buyalskiy who hits a sweet strike straight back at the defender, the ball deflecting off his hip and into the corner of the net. Game on!
GOAL! The hosts are back in it, Buyalskiy!
55: This is an extended period of pressure from the home side, who have come out after half-time full of positivity. However, City are defending well, the two center-backs especially. The visitors have a penalty shout at the other end, Sterling going down under the challenge of Dragovic, but nothing is given.
52: Just wide! Good play again from Kyiv's main man, Yarmolenko. He gets it wide on the right, cutting inside before shooting just too far across goal to get it on target.
48: Yarmolenko tests Hart with a powerful free-kick, but the English 'keeper is equal to it.
45: Back underway! One change at half-time, Kyiv making their second of the game. Teodorczyk off, Júnior Moraes replaces him.
20:45. The teams are filtering out ahead of the second half, and City need to make sure that there's no comeback from Kyiv. If they can keep it at 2-0 until full-time, or even extend their lead, you'd think that there'd be no way back for the Ukranian side in Manchester.
20:35. It's half-time in tonight's other Champions League game, where PSV are holding Atletico Madrid at 0-0 in Holland. To follow events there, click here.
20:33. That's a cracking display from Manchester City, who have put one foot into the quarter final draw with a complete first half performance in Ukraine. A two goal lead, and two away goals, and Manuel Pellegrini will be hoping for more of the same in the second half.
Half-time: Dynamo Kyiv 0-2 Manchester City (Aguero 15', Silva 40')
45: Good ball in from Silva from a free-kick, headed over by Fernando. Three minutes of stoppage time here, City will be delighted with their first half performance.
42: Great chance for three! Fernando again winning the ball, sending Aguero clear, but the striker pulls his effort wide of the post.
40: It's superb from the visitors. Great ball from Clichy to Aguero, who holds the ball before releasing Sterling. The youngster takes it further into the box, sending a great ball across to Silva at the back post, and the Spaniard taps in to make it 2-0.
GOAL! City double their lead, David Silva!
35: Fernando wins a ball in a dangerous position, setting up hin and Aguero in a two-on-two situation. He seems to panic though, giving it to Aguero a little too early, and the striker is made to wait for support. Toure eventually gets there, but his powerful strike is pushed away by the 'keeper.
31: Kyiv making a substitute already! A tactical move from Rebrov, who isn't happy with the way his team have started this tie. Garmash off, replaced by Miguel Veloso, a defensive midfielder.
26: Aguero isn't happy with Sterling, who chose to shoot when counter-attaking instead of passing to the forward. You can't blame him, given the sharpness with which he's started this game.
21: Almost two for Aguero, City breaking again as Fernando wins the ball back. Silva was the man to play him in, weighting the ball well down his right hand side, only for Aguero's effort to fly just wide.
15: A brilliant finish from the Argentine striker to put the Citizens ahead. Toure knocked down David Silva's corner, and Aguero took one touch before crashing a half-volley into the net. A priceless away goal for Manchester City.
GOAL! Aguero puts City ahead!
12: Poor from Fernando in midfield, as he takes far too long on the ball before giving it away. It breaks for Teodorczyk, who shoots from the edge of the area, but it's wide of Hart's goal.
6: Toure gets his first shot of the night away, but it's a weak effort with his left foot, easily gathered by Shovkovskiy.
4: Close! City fail to clear a Yarmolenko free-kick, and the winger bursts into the box to win the ball back for his side. Opting to shoot, he lashes a shot towards goal, which is just about helped over by Joe Hart.
0: Kick-off, underway in Ukraine.
19:40. The teams are out and the Champions League anthem is blaring, it's just about time to get underway
19:20. Around 25 minutes until kick-off, and here's a fun fact to keep you entertained until then. Dynamo Kyiv 'keeper Shovkovskiy is 41-years-old, and made his debut for the club before Manchester City's £50million winger Raheem Sterling was born.
City subs: Caballero, Demichelis, Zabaleta, Mangala, Kolarov, M.Garcia, Iheanacho.
Kyiv subs: Makarenko, M.Veloso, Petrovic, Rudko, Júnior Moraes, Korzun, Gusev.
Manchester City XI: Hart, Sagna, Clichy, Otamendi, Kompany, Fernando, Sterling, Silva, Fernandinho, Touré, Agüero.
Dynamo Kyiv XI: Shovkovskiy, Danilo Silva, Dragovic, Vida, Khacheridi, Rybalka, Garmash, González, Buyalskiy, Yarmolenko, Teodorczyk.
Team news is in!
Kyiv have an impressive record of six wins form their last six in all competitions, but they haven't played a competitive fixture since December, due to the way their league is scheduled. No amount of training can replicate the match fitness needed to compete at Europe's highest level, and that could give City the upper hand later on in the game, but we'll have to wait and see.
They're now six points from the top of the league, leaving many to believe that they can only salvage their season through an impressive European run. However, they have got the Capital One Cup final on Sunday against Liverpool, so it'll be interesting to see if that game has any impact on Pellegrini's selection tonight.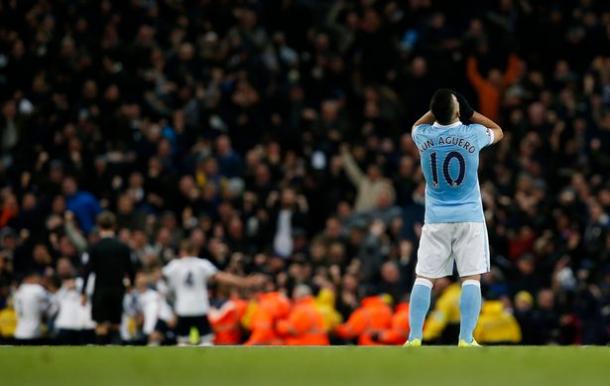 Manchester City are certainly prioritising this competition, with their injury worries meaning that they chose to put an extremely weakened side out against Chelsea in the FA Cup on Sunday afternoon. They were punished for doing as such, and lost 5-1 despite a bright start at Stamford Bridge. That loss was their third consecutive defeat in all competitions, having lost Premier League games at home to Leicester City and Tottenham Hotspur prior.
They took four points from two games against Porto, and gained maximum points against bottom placed Maccabi Tel-Aviv. The Ukranians certainly showed that they can mix it with the big boys, and you wouldn't bet against them taking a positive result to England after tonight's game, after getting to this stage for the first time in 16 years.
Things were much more dramatic for Kyiv, who edged into second place in Group G ahead of FC Porto by a single point, and only came two points behind group winners Chelsea. They only lost one group game, edged out 2-1 by the Blues in London, whilst drawing at home to them.
The evidence suggests that the Chilean is starting to get a hang of things in Europe, as City topped a tricky looking group with flying colours, in stark contrast to his previous two years in the job. Bouncing back from a disappointing home defeat to Juventus in their first game, the Sky Blues went on to record three straight victories, beating Borussia Monchengladbach in Germany before doing the double over Sevilla. They couldn't get the better of Juventus the second time around, losing 1-0 in Italy, but outsted last year's finalists to top spot thanks to a 4-2 win over Gladbach in their final group game.
Let's start by taking a look at how both the teams fared in the Group Stage. After all, it's been over two months since the Kyiv and City fans witnessed their teams in this competition, and much can happen in that period. It certainly did for the English club, who announced the famed coach Pep Guardiola will take over from Manuel Pellegrini at the end of the season. This means that it's Pellegrini's last opportunity to bring European success to the Etihad.
We're well back into the swing of things in Europe's premier club competition, with tonight concluding the first leg's of the last 16 ties. We've already seen six of the eight matches played, and they've thrown up some excellent affairs, so hopefully tonight will be similar. The other fixture this evening is between PSV Eindhoven and Atletico Madrid, and you can keep up to date with events there by clicking here. For now though, let's turn our attentions back to the game at hand.
Hello there, and welcome to VAVEL UK's live minute-by-minute commentary of tonight's UEFA Champions League match between Dynamo Kyiv and Manchester City. The two teams do battle in the first leg of their last 16 tie, with kick-off set for 19:45 BST. Until then, stick with us as we build up, and get the team news, of what promises to be an entertaining spectacle.