Newcastle United lifted themselves out of the Premier League relegation zone for the first time since January on Saturday afternoon, with Andros Townsend's stunning free-kick and Karl Darlow's penalty save ensuring Alan Pardew would leave his return to St. James' Park emptyhanded.
After the diabolical display at Southampton last month, Newcastle looked all but certain to be facing the drop. Now, after clinching eight points in their last four games, many fans and pundits alike believe that Newcastle's dreams of a great escape may just become a reality.
Dare to dream?
Newcastle fans should, however, dream with caution, as their fate still remains out of their own hands. Both Sunderland and Norwich City - who currently occupy the remaining relegation places - have a game in hand over Newcastle, and sit just a point behind the Magpies.
Sunderland's game in hand comes at home to Everton, and Norwich's will see them host Watford, both prior to the final weekend of the season.
Everton and Watford have both seen their seasons stutter since the turn of the year, and home clashes against the two will no doubt be seen as highly winnable for both the Black Cats and the Canaries.
Newcastle themselves travel to already-relegated Aston Villa this weekend and will realistically need to take all three points ahead of a tough final-day showdown at home to high-flying Tottenham Hotspur. Although Leicester's confirmed title win could see Spurs take their foot off the gas when they come to St. James' Park, it will still remain a tough ask having to keep the likes of Harry Kane quiet with so much potentially at stake.
If Newcastle can take three points at Villa, which they realistically should, it could bode well for the Magpies with Sunderland and Norwich facing tough matches against Chelsea and Manchester United respectively this weekend.
All Newcastle can do at this stage is focus on their own games, before they can turn their attention to the fortunes of Sunderland and Norwich.
Newcastle do sit higher in the form table than their relegation rivals, but Sunderland and Norwich are still well up for the fight.
Jermaine Defoe's last-gasp penalty at Stoke rescued what could be a precious point for Sunderland on Saturday, whereas Norwich will consider themselves desperately unlucky to have come away with nothing after a good performance at Arsenal.
Fighting for their lives
One thing Newcastle can take credit for is the fight they've shown over the last few games.
They have often been criticised for having the quality but not the commitment during the course of the season, and rightly so.
Since the horror-show on the south coast last month they've looked a different team. They've fought relentlessly in each game since, and have picked up valuable points because of it. The likes of Jamaal Lascelles and Cheick Tiote have come into the side and have been superb, and Townsend's quality at the other end is proving to be a real asset to Newcastle's attack.
Rafael Benitez is still, of course, taking a lot of the plaudits for Newcastle fighting back when they could have easily gone out with a whimper. The Spaniard looks to have re-installed the belief into every player wearing black and white over the last few weeks.
He embraced each player on the pitch at full time on Saturday. You can really see the affection and respect the players hold for him, and it's working wonders.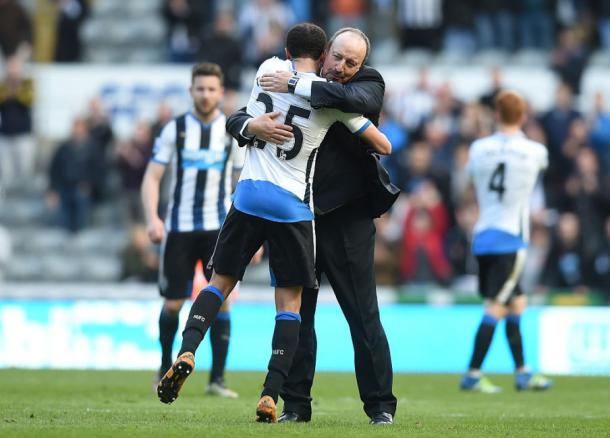 If Newcastle do go down, which remains a strong possibility, those at the top will only have themselves to blame. Benitez' appointment should have come sooner, there is no doubt about that, and should Newcastle drop down a division their fans will only be left to wonder "what if?"
They may still be reliant on Sunderland and Norwich to drop points, but there is a feel-good factor back at Newcastle right now. While it might be too-little, too-late, it could just push them over the line to safety.
All they can do for now is focus on Aston Villa this weekend.