Newcastle United fans awoke to the news on Thursday morning that after all the speculation that unfolded, Georginio Wijnaldum was in-fact joining Liverpool in a £25million deal.
Talks on a Wijnaldum moved peaked on Monday with Merseyside newspapers beginning to report an imminent Wijnaldum medical. But despite the reports, the deal came to a standstill on Tuesday.
The Magpies travelled to Doncaster Rovers on Wednesday evening, Wijnaldum made the trip to the Keepmoat. Fans eagerly anticipated the release of the team sheet, wondering if Wijnaldum was starting or on the bench - he wasn't even on the team-sheet.
As the Geordies began to digest the Wijnaldum news, at around 7:15pm when Rafael Benitez's men took part in their pre-match warm-up, the Dutchman lined up alongside his team-mates, which caused a stirred on social media. What was going on?
Club sources claimed that it was a 'clerical error' as @NUFCOfficial confirmed that Wijnaldum was added to the bench – where he was required for the final 11 minutes.
The situation was laughed off with some referring to the circumstances as the "team sheet-gate".
But, just over 12 hours after the farce, it was revealed by local and national press that a Wijnaldum deal was agreed shortly concluded following the 2-2 draw with Doncaster, paving way for the 25-year-old to complete his medical.
A superstar - fast start
When Wijnaldum joined from PSV for £14.5million in the summer of 2015, the Geordies were delighted that their club acquired a captain and prone goal scorer, not forgetting a man that scored at the World Cup in 2014.
After a good pre-season behind him, the Dutchman announced himself on the Premier League stage, starting with a goal on his debut against Southampton. For the remainder of 2015, fans bragged – they had a superstar on their books.
Wijnaldum hit seven goals before the turn of the 2016 year, including an emphatic four goals in the 6-2 victory over Norwich City.
The Dutchman's goal-scoring antics at St James' Park overshadowed the midfielder's performances away from Tyneside with Wijnaldum failing to live up to standards met in front of the 52,000 Geordie faithful.
Form detaerates
2016 struck, Wijnaldum plummeted, like his team mates. Newcastle and Wijnaldum got worse under Steve McClaren – becoming more and more likely of ending the season in the bottom three.
Wijnaldum stopped scoring as fans began to questioned the players desire in a black and white shirt. The Geordies were crying out for big players like Wijnaldum and Moussa Sissoko to step-up, neither did and ironically, they are the ones demanding moves away from the club.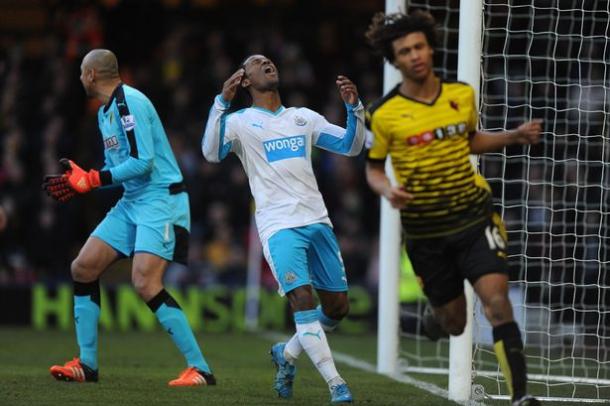 Benitez was appointment in a last gasp attempt to save United, unfortunately his best efforts was to late for the Magpies.
Wijnaldum only bagged two goals in 2016 before the Toon took on Tottenham Hotspur, equalling his 2016 tally in a game with United were already relegated.
Wijnaldum wont be missed – he didn't want to be there
Based on Wijnaldum's goal scoring form in 2015 - he would be missed. Overall, a tally off 11 goals looks great on paper, but if you were to analyse his on the road and 2016 performances, it's very disappointed for a man that had the potential to do more.
The Dutchman loss his way in the second half of the season. Maybe he picked up the recently known "losing mentality" or took a few tips from Sissoko on how survive with doing a bare minimum in games.
Personally, I would have liked to Wijnaldum to stay as he clearly has special ability on his day. But unfortunately, he craved a move away from St James' Park. If a big name in Benitez can't get The 25-year-old, his feelings were made pretty clear.
Any football manager knows, it's hard to get the best out of a player that doesn't want to be a part of your squad. A £10.5 million profit is a great deal for Newcastle.
The Dutchman can do well for Liverpool
There has been an argument – Wijnaldum failed to retain his form due to the players he had around him at United. The Dutchman has been praised with carrying the Magpies through the first half the season, which he arguable got sick of doing that as the new year came round.
Liverpool have a better squad than Newcastle. Mentally for Wijnaldum, the Dutchman will know that he is surrounded by players with the same ability as himself, suggesting that the pressure on the 25-year-old to perform will be reduced.
Because Wijnaldum was such a big player for Newcastle, when he had an off day, his team mates did. At Liverpool, when a bad day comes round, it might not be as clear as it was on Tyneside.
There is no doubt that the new-Liverpool player has bags of talent.