The North London team were out classed by a superb BVB team as they travelled to Germany for the last-16 tie. The Lilywhites now have a mountain to climb at White Hart Lane as they endured their biggest defeat this season.
Tottenham lacked an attacking threat in the game, and coped well enough with the on slaughter of attacks that Dortmund produced, yet this didn't stop the hosts from exploiting their defensive flaws and consequently scoring three goals.
A goal from Pierre-Emerick Auameyang and a Marco Reus brace put the home team in front but two penalty appeals for Tottenham could have put them back in the game but neither were given.
Tottenham had only three shots on target throughout the game showing how little they influenced the game; to only experience 37% possession was, again, something unheard of for this young Spurs team.
Pochettino disappointed but backs decision
The Argentine started a weakened team against the German giants with younger squad members Joshua Onomah and Tom Carroll just two of seven changes. Meanwhile experienced key players such as Harry Kane and Erik Lamela were left on the bench, while Eric Dier, Dele Alli and Danny Rose were left in England. Alli, due to suspension, while Rose picked up a small calf injury on the weekend.
The Spurs boss received criticism from fans and pundits alike as it was assumed that Tottenham would be up for the challenge that Dortmund posed and so would have played a stronger team. After the game Pochettino was asked by BT Sport about his team selection in which he replied that he "always [tries] to select the better team" adding that it is a "collective" responsibility for the "very bad" performance which was shown.
The Tottenham boss concluded by acknowledging that the result is not ideal, but the team need to "fight" and continue to "work hard".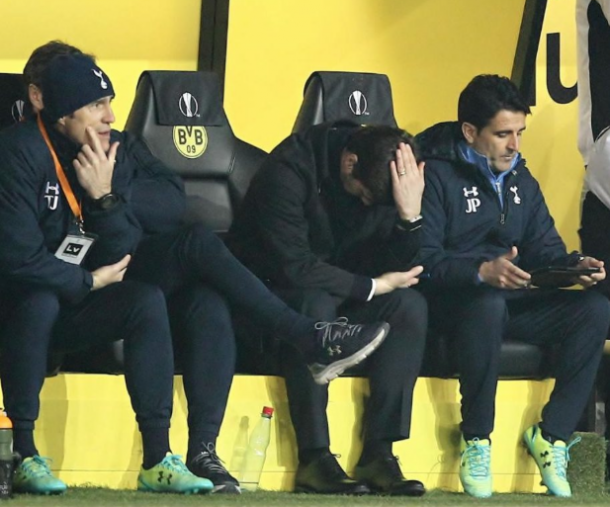 Players downhearted
Speaking to SpursTV after the match 18-year-old Joshua Onomah expressed mixed emotions as a "good moment" personally did not produce the "result we wanted". He further praised his opponents saying, "Credit to them, they were very good."
Onomah's words were echoed by defender Toby Alderweireld, who labeled the night as "difficult" due to the lack of "control". He finished by saying that the team now have to "focus on an important game at Villa" before turning their attention to the home leg.
Tottenham will look to get back to winning ways on Sunday as they travel to Villa Park, to face a deflated Aston Villa side in the Premier League.