It's been quite the 12 months for Eric Dier. Becoming a cornerstone of Mauricio Pochettino's preferred Tottenham Hotspur XI, he was part of the side that pushed Leicester City harder than anyone else, as the Foxes shocked the world by clinching the Premier League title.
Following that, the 22-year-old was arguably England's most impressive performer during a disappointing European Championship, scoring in the opening game against Russia before Roy Hodgson's men eventually crashed out to Iceland.
This success has led to many putting a case forward for him to replace Wayne Rooney as England captain, as the Three Lions look to push on into a new era. However, to do this he's going to have to continue holding down a consistent place in the Spurs midfield, a task which some think may prove difficult.
Why is Dier's place under threat?
The short answer, and the obvious one, is Victor Wanyama. The Kenyan's signing from Southampton last month threw up a number of questions regarding the status quo in Spurs' midfield, as Pochettino prefers to play a two man pivot in the middle of the park.
With Ryan Mason and Nabil Bentaleb pushed well down the order, Mousa Dembele and Dier took on the mantle of playing as Tottenham's midfield two last season, doing so with great success. Both are strong, defensively able, players who would do the simple things correctly, providing a springboard for the likes of Dele Alli and Harry Kane to capitalise on.
However, Wanyama's addition complicates things. The man who helped Celtic shackle Barcelona a number of years ago has only added to his reputation with some fantastic Premier League performances for Southampton, the club that Pochettino brought him to.
With this in mind, you'd imagine that Wanyama will start in the two, leaving Dier to battle with Dembele for a place in the side. An issue for the young Englishman, given that Dembele is in the prime of his career and was also fantastic last season.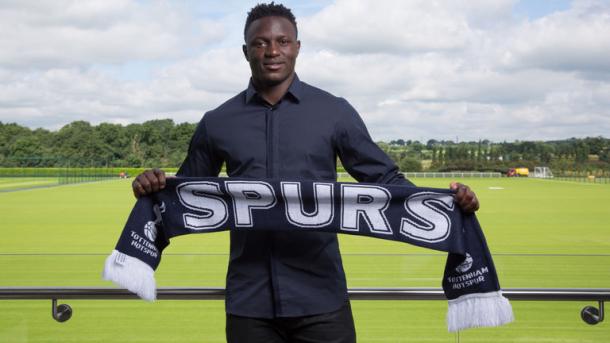 Where else could Dier play?
It is true though, that Dier is a talented and versatile individual, so could look to make up the minutes that he'll miss in centre midfield in other positions.
He's been known as a man who is capable in a few positions ever since his Sporting Lisbon days, one of those at centre-back. Whilst Jan Vertonghen and Toby Alderweireld are as strong a pair as you'll find in the Premier League, Kevin Wimmer is their only senior backup. Should one get injured for a sustained period of time, as Vertonghen currently is, Dier could easily slot into that role.
Alternatively, there's always the right-back position, but it's unlikely that he'd be able to displace Kyle Walker, whilst Kieran Trippier is a more than able backup, having signed from relegated, and now newly-promoted, Burnley last summer.
There is the chance that Wanyama, Dier and Dembele could all play in midfield, possibly through a change in formation. With Wanyama at the base and Dembele or Dier at the sides of a diamond, you could put Dele Alli or Christian Eriksen at the tip, possibly allowing Harry Kane and Vincent Janssen to forge a striking partnership in a front two.
So, what conclusion's can we draw?
Whilst it's inconceivable that Dier will be completely out of the first team fixture next season, were Tottenham to play a Champions League final tomorrow, he may not be in the team.
Pochettino is known to be a coach that picks the team largely based on who impresses him in training, so there's always a way back in for Dier even if he starts the season sitting on the bench.
Adding to that, the fact that they're bolstering their squad points to a challenge on all four fronts this season, meaning Dier can pick up minutes in the league, two domestic cups and in Europe.
You'd largely expect Dier to rack up over 40 appearances in all competitions this season, but whether or not he'll be completely happy with dipping in and out of the team, remains to be seen.