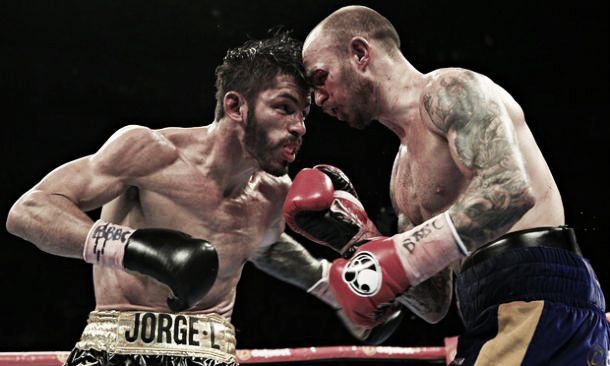 Well, what a night of boxing it was at the O2 Arena. As a full card of boxing, there haven't been any better cards for some time, at least, not this calendar year, that's for certain.
The only disappointment of such was that the main bout was underwhelming, especially as it had been built up due to being the first time two British boxers had fought for a World Welterweight title. Kell Brook made light work of Frankie Gavin, which was capped off by a TKO in the sixth round, meaning Brook keeps his IBF World Welterweight title. Gavin never truly looked like he fancied his chances against Brook so, he took to trying to just survive in the ring for as long as possible. When he did land a good power punch on Brook, it was countered swiftly, leading to the eventual TKO.
Brook was happy enough with the bout though, and turned his attentions swiftly further afield, talking to SkySports post-bout, "I always knew he'd be tricky and it'd be scrappy...It was just a matter of time, I hit him with a good shot and I capitalised." Before adding, "I want big, big fights now."
Working down the card now, we Anthony Joshua take on Kevin Johnson. Johnson was easily Joshua's sternest test yet, having never been knocked down, not even, by Vitali Klitschko who had to take Johnson the distance. However, Joshua had him down in the first, before putting him back down straight after. With Johnson half slumped in the ring, and, half out of it - many expected the ref to stop the bout there and then. Johnson rose to the bell, went to his corner and carried on. Upon the second round starting, Joshua continued the onslaught, picking his punches well, and delivering them with precision and power. The ref halted the bout soon after - making Anthony Joshua the first man to stop Kevin Johnson - something many Heavyweight's have failed to do over the years.
Joshua speaking to SkySports after the bout, was as we've become accustomed to, extremely humble - despite the trash talking Johnson had been doing prior to the fight; "This is what I'm here to do, to make statements." After this, Joshua also added that he dedicated the win to his stablemates from the undercard John Ryder and Kevin Mitchell, only serving to heighten peoples opinions of him as a man away from the boxing.
Kevin Mitchell was aiming to make it lucky number three, with his third shot at a world title against Jorge Linares for the WBC World Lightweight title. The crowd was the loudest it had been during the evening, with the large East London contingent of fans singing Mitchell's beloved West Ham's anthem 'Bubbles' throughout every round of the bout. A true fan favourite throughout Britain, he just couldn't get the rub of the green he perhaps deserved. Mitchell had Linares down in the fifth round, and many thought it was just a matter of time before he picked another punch to put him down again. But, it turned out to be a clash of heads from the fourth which cut Linares' scalp, as well as Mitchell's left eye. As the seventh round passed, Linares grew back into it, as Mitchell started to tire, in the eighth Mitchell's left eye was pouring with blood, and now, his nose was doing the same as well. But in the 10th round, with both eyes cut, his nose spouting blood Mitchell was still going and not backing down from the fight - choosing to fight on with the spirit which has endeared him to fans over the years. But, after a clinical combination, which, was gruesome to watch saw Mitchell take a knee - the ref looked at the state of his face, which, had swollen a horrific amount, and, he called the fight.
It's horrific luck for Mitchell who was winning on all three judges cards - only to lose via a TKO which had occurred through an accidental clash of heads earlier in the bout. Will Mitchell get another shot? It's hard to say right now, but, you can take absolutely nothing away from a man who fought on despite his face being beaten to a pulp.
Next down the card was Welshman Lee Selby looking to pinch the IBF World Featherweight title from Evgeny Gradovich. The Russian was true to his nickname of 'The Mexican Russian' - relentlessly coming forward at every opportunity. Only, this was his downfall. Selby was far too quick footed for him, every mistake Gradovich made with swinging punches, Selby punished him for with sweet counter punches. In the sixth Gradovich was shaken by a punch which landed high on his head, Selby chose to pick his shots meaningfully, looking to get the Russian out. He survived until the eighth, but all of a minute into the round, Gradovich suffered another cut this time, over his eye, the ringside physician was consulted, and, the bout was rightly stopped. The bout went to points, which crowned Selby the new IBF World Featherweight title, via unanimous decision.
Post-bout Selby said to SkySports; "I've been working for this for so long...I won every round up till then [the stoppage], and I'd have knocked him out anyway."
Nathan Cleverly needed all of 20 seconds with his return to Light Heavyweight, when a stunning body shot left Tomas Man grounded for a count out. Before exclaiming, "Two time world champion, watch this space!" to SkySports, post-bout.
Another fight which was subject to some bloodshed was John Ryder vs Nick Blackwell for the vacant British Middleweight title. Although Ryder was controlling the fight in which both men were cut. Bloodied in the seventh round, Ryder was caught with a crisp punch which rocked him for the first time in the bout, seizing the opportunity Blackwell set about trying to end the bout there and then. He was swinging wildly, none of which were landing, or causing any damage - but - the referee in a bemusing decision jumped in to stop the bout. It was definitely a premature stoppage, especially, given the magnitude of the fight, the fact Ryder was actually ahead, plus - none of the final punches Blackwell was through were dangerous to Ryder. The only thing which would have gone against him here was that he wasn't throwing anything back. But even then, such a controversial decision to decide who wins a British title, seems extreme and premature. Hopefully, there's a rematch down the line for these two so they can right the controversies of this bout.