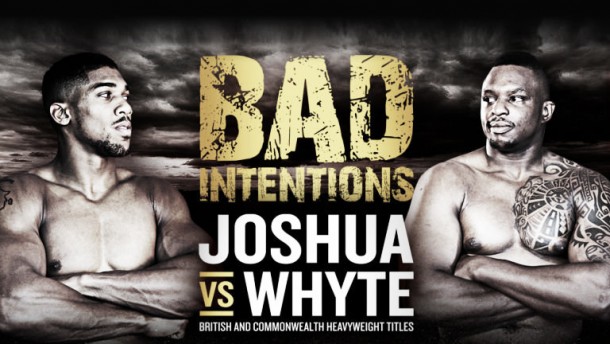 In an action packed card, the O2 Arena in London will have its fair share of intriguing and exciting bouts to look forward to this Saturday. There's the chances of; losing 0's, winning titles, putting themselves in the reckoning for a title in the future and, more so than all of that, there's some grudges to be settled.
Anthony Joshua (14-0) - Dillian Whyte (16-0)
The main event of the billing sees two undefeated Heavyweights go head-to-head for Joshua's British and Commonwealth Heavyweight titles, and, perhaps, more so to settle a personal score. Whyte boasts a win over Joshua from their amateur days, whether you see this as meaningful or not seems to depend upon which side of the fence you're sitting on for this about.
What makes the fight more appealing is the dislike between both men is clear to see. Whyte has been very forefront in his opinion, and general dislike, of Joshua throughout the build up with comments such as Joshua being "nothing special" and the fact that he has beaten him before and this time will "knock him spark out."
Joshua meanwhile has remained his calm composed self within the sport, even in the face of a probing Whyte who has been trying his upmost to rile him throughout the build up to the fight. His confidence shines through despite this being his toughest opponent to date; saying he's looking forward to "delivering an early Christmas present" to his fans on the night.
Whyte will be hoping to take Joshua further than he has thus far, whereas Joshua has said it'll be over within the four rounds. It feels like it's said every time Joshua fights, but Whyte definitely presents him with his biggest challenge yet. It's now just whether or not Whyte can do what his predecessors have failed to do; warrant being called 'his best challenger' yet.
Chris Eubank Jr (20-1) - Gary O'Sullivan (22-1)
Despite having the popular Joshua on the billing, this could well be the fight of the night. It's a fight which has split opinion in its build up; more so for the nature in which it has come about. O'Sullivan has constantly taunted and called out Eubank Jr via social media to no avail - now - the fight has been made though. O'Sullivan has always made it clear he believes he'll KO Eubank Jr due to his arrogance, but in the build up has been silently confident, whilst Eubank Jr have chosen to ridicule this change in stance from the Irishman.
There is a common denominator between the two in the form of both boxers only losses coming to Billie Joe Saunders (22-0), who will coincidentally be fighting Andy Lee (34-2-1) on the 19th December for Lee's WBO World Middleweight title. This bout will be an eliminator for a shot at Daniel Jacobs (31-1) and his WBA incarnation of the title.
O'Sullivan believes his one-punch power will hold the key to his success in the bout, saying Eubanks Jr has "never been in with someone who punches like me...he's going to sleep."
Eubanks' confidence in his training camp and skills since joining up with Adam Booth, thinks that he's "just going to be too much for him [O'Sullivan]."
If this one needed any more spicing up, there will also be some history in the corners; O'Sullivan's trainer is Paschal Collins, whose brother Steve, beat Chris Eubank Snr in the 90's.
Kevin Mitchell (39-3) - Ismael Barroso (18-0-2)
After the Jorge Linares (40-3) bout on the Rule Britannia card, many were unsure what the future held for Mitchell in the ring. Would he return? Would he be able to get himself a fourth World title shot? Well, his return to the ring since that fight spells out what Mitchell wants. No build-up fights, instead, straight into a tough bout against Ismael Barroso whose punch power is going to be a real weapon seeing the Venezuelan have an impressive 85% KO rate.
It is testament to the spirit and determination of Mitchell that is coming straight back into such a big fight, one, which has previously been deemed even bigger thanks to the winner of this bout facing Anthony Crolla (30-4-3) for his WBA World Lightweight title. That, would provide a huge night for British boxing and both men, should Mitchell come through this bout with the win.
Mitchell is confident, and adamant that this is his time, not only is he looking towards winning that world title in a domestic showdown - but also redemption. He wants to win the title, then have Linares come back in the Summer of 2016 to fight at Upton Park before his beloved West Ham leave the ground for the Olympic Stadium.
The danger is evident though in the shape of the undefeated Venezuelan who seems confident he will put an end to such grand plans for 2016 for Mitchell; "I will walk him down and throw many combinations. I will hit him with hard shots, and I will knock him out."
Tony Bellew (25-2-1) - Mateusz Masternak (36-3)
Since challenging unsuccessfully for the WBO World Light-Heavyweight title two year ago, Bellew has remained undefeated, and now, will face off against a formidable opponent in Pole Mateusz Masternak for the vacant EBU Crusierweight title.
The popular Liverpudlian is another boxer on the card who will be hoping that his performance in the ring on the night leads to bigger things, with the 33-year-old looking to get his shot at a World title within the division he now feels "comfortable" at. He also believes "There's not many Cruiserweights bigger than me" - which he feels will lend itself to him getting the better of his opponent on the night.
Masternak himself has been equally as confident as Bellew, stating that he'll "be like his [Bellew's] shadow" on the night and that if he is expecting an easy fight "he is mistaken."
Luke Campbell (12-0) - Yvan Mendy (32-4-1)
The undefeated Olympian Luke Campbell will defend his WBC International Lightweight title against the veteran Frenchman Yvan Mendy. Havin won the title against Tommy Coyle (21-3) earlier this year, Campbell is hoping that he can get the win on the night which he hopes could spur him towards a World title fight in 2016.
Mendy though has never been stopped, and has been in with some tough opponents, so it will certainly provide a stern first defence for Campbell as he hopes to progress to the next level and "exciting times" within the competitive Lightweight division.
Campbell will be hoping for the "perfect end to a great year" with an entertaining, and resounding, win on the night.
As well as those fights, the card will also contain bouts between Paulie Malignaggi (34-7) against Antonio Moscatiello (20-2-1) for the vacant EU Welterweight title despite his first opponent being replaced.
Also Dereck Chisora (23-5) comes into the bill to replace an ill Josh Warrington (22-0) who was set to defend his WBC International Featherweight title.