The Olympic Games created history oncemore this year as the first mixed sailing event was introduced within the Nacra 17 class, a move that has provided some "spectacular" sailing according to former Olympic champion Shirley Robertson.
"It was always going to be eventful"
With the setting of the Marina De Gloria just off the famous Copacabana beach, rowers and sailors alike have been forced to adapt to difficult conditions that suit neither sport. Rowing has already lost two days of action due to high winds, whilst the final scheduled race of the sailing was postponed for similar reasons on Wednesday evening.
Yet Robertson has argued that such issues have only added to the excitement, suggesting "it was always going to be eventful, as it is a pretty tricky venue". The difficulty of the sailing course was exposed in the opening Nacra 17 race which saw a boat capsize and a dozen boats somehow avoid each other as the wind pushed them into a confined space at one of the turns.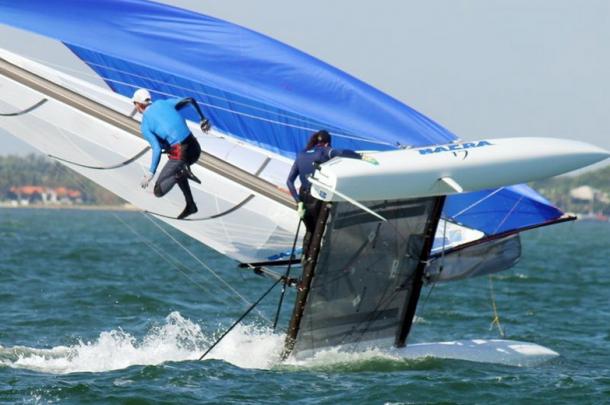 "The fastest boat in the Olympics"
Back in 2008 when Beijing hosted the Games, women were invited to take part in a multi-hull event, though it proved unpopular due to the sheer weight of the boats involved. Yet the Nacra 17 is much lighter and according to Robertson is "the fastest boat in the Olympics".
Such speed is described as "spectacular and great fun" by the twice gold medalist, with Robertson adding that "if there's enough wind it lifts out of the water".
Robertson also explains how the set up of the boat provides "an interesting dynamic for men and women". Depending upon the weather, the pairings share the various sailing roles, with women often taking an active role in the more "strength-based" positions.
If speed, teamwork and unpredictability is what you are looking for at this Olympic Games, then ensure you tune into sailing and watch the "spectacular" Nacra class.