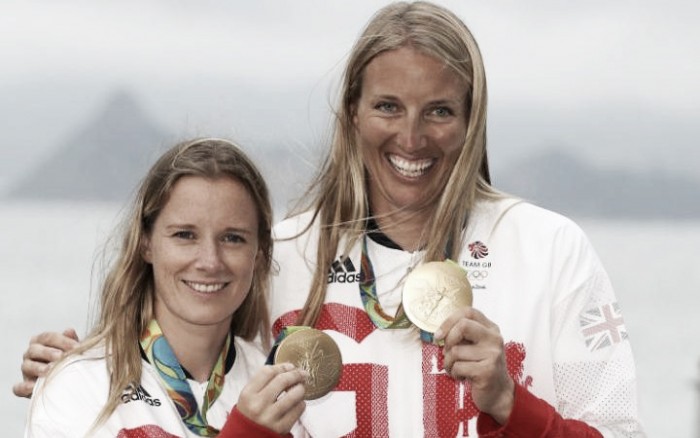 Hannah Mills and Saskia Clark only had to finish in the 470 medal race to bring home the Gold. Being so far ahead only a capsize or disqualification could prevent the Brits from upgrading their London 2012 Silver and standing on the top spot.
Their unassailable lead occured as the pair had yet to finish below eighth place in each of the 10 races, and with three first places Mills & Clark were on a mission.
Delay fails to hold up British duo
Due to a distinct lack of wind the medal race had been delayed by 24 hours, meaning the Brits had to wait longer to add to the Team GB medal count.
Treating the race effectively as a lap of honour, the Brits finished eight from ten, keeping their hands on the Gold medal.
The American pairing were in bronze medal position until the medal race. However, a mistake from them saw them drop from the medals and finish seventh overall.
Mills & Clark were disappointed back in London 2012 to finish with the silver medal, but going one better in Rio the Brits were overjoyed. Four years of hard work, with plenty of ups and downs along the way made the Gold all the more special.
Brits struggle elsewhere on the waves
In the men's 470 race Chris Grube & Luke Patience finished fifth overvall. Entering the medal race they knew they had little chance of a medal, but having fought hard over the last eight months even to achieve getting to Rio the Brits could look back with pride.
Having experienced his first Olympics, Grube wants more and a podium place next time. The Gold medal went to Croatia, with the silver to Austraila, while Greece sealed the Bronze medal.
The men's 49er race was won by New Zealand. Having a lead going into the medal race that no one could catch the four time world champions sealed the medal in style, winning the medal race. Australia took Silver and Germany the Bronze with Dylan Fletcher-Scott & Alain Sign ending the medal race last, but finished in sixth overall for Britain.
In the ladies 49er FX Brits Charlotte Dobson & Sophie Ainsworth will want to forget the medal race. Having hit the committee boat at the start and serving a penalty, they then capsized and finished eighth overall.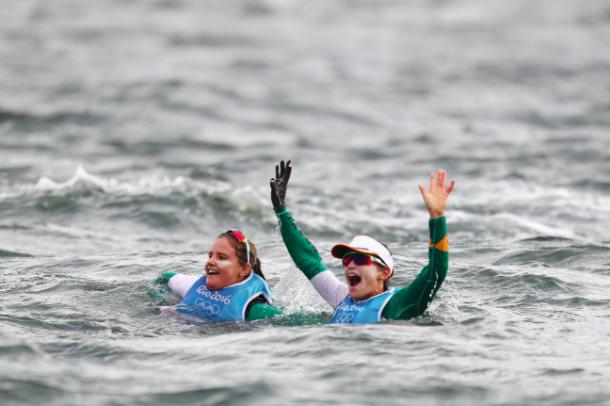 It was a thrilling finish at the front of the race, with the Brazilians holding off New Zealand for Gold, and Denmark secured the Bronze.