So, after a thrilling night, that is all we have time for. I hope you all had a very good time watching the UFC tonight. Don't forget, next week we see Stipe Miocic face Alistair Overeem for the UFC Heavyweight title and you can follow the fight here on VAVEL.com next Saturday night/ Sunday morning. So make sure you tune in, but until then, there is plenty of daily content posted to the site to keep you entertained. Goodnight!
The main-event didn't disappoint, Andrei Arlovski and Josh Barnett came out swinging, both hoping to dramatically knockout the other, but that wasn't to be. Josh 'The Warmaster' Barnett using his ground game superiority to excellent effect. He defeated his hard hitting opponent via submission due to a rear-naked choke.
Alexander Gustafsson then ended his losing streak by comfortably defeating Jan Blachowicz via unanimous decision to kick start another title shot for the Swede.
After a relatively disappointing victory for Tae Hyun Bang against Nick Hein, Ryan Bader gave us a treat, brutally knocking out Ilir Latifi with a vicious knee to the head.
Arlovski then proceeded to take his opponent down but it was once again reversed by Barnett, who is a well known submission specialist. He tried to lock in a kimura but 'The Pit Bull' defended well, until the moment he gave Barnett his back and he accepted it gratefully, locking in a rear-naked choke where Arlovski tapped in a matter of seconds.
At the start of Round 3, both fighters were visibly tired. They weren't throwing as many shots as they were in the earlier rounds. The fighters entered the clinch and when they split, Arlovski accidentally poked Barnett in the eye and then landed a few heavy shots which visibly hurt Barnett.
Josh Barnett wins! Via Submission!
IT IS ALL OVER!!!
Round 2: At the start of the round, Barnett landed a cracking shot which wobbled Arlovski once again but he recovered quickly to take the fight to his opponent. Arlovski landed a takedown but he was very quickly reversed where Barnett landed a lot of shots and almost forced the referee to stop the fight.
Round 1: What. A. Round! Within the first 20 seconds, both fighters were wobbling around the Octagon. Arlovski is bleeding heavily from his head. The fight slowed down as both fighters were visibly tired.
Round 1: OH MY! What a start, both landing vicious combinations, rocking eachother!
HERE WE GO!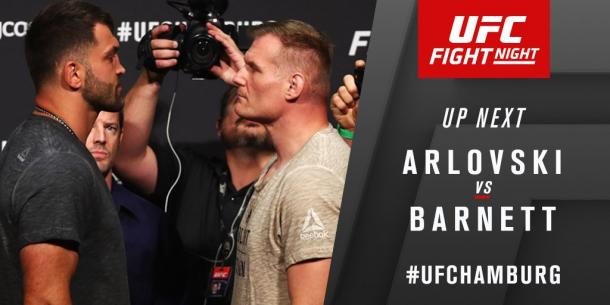 After losing back-to-back, Gustafsson is now back to winning ways and will be aiming for a third title shot.
Alexander 'The Mauler' Gustafsson wins via Unanimous Decision!
Round 3: Surely Gustafsson will be awarded the win here. when Blachowicz applied pressure, he was effortlessly taken down where Gustafsson continued to land elbows and body shots. The referee did decide to stand the fighters up, but in no time at-all, Gustafsson proceeded to take his opponent down where he surely sealed victory.
Round 2: Another round almost entirely spent on the ground with Gustafsson dominating his opponent. Constanly stifling Blachowicz whilst landing a series of vicious elbows which have cut his opponent.
Round 1: Very good round for both fighters here. Blachowicz seemlingly very confident against his opponent, landing a lot of combinations. Gustafsson always had an answer and managed to take the fight to the ground where he dominated his Polish opponent, landing his trademark slicing elbows.
HERE WE GO!
Gustafsson will have a height and reach advantage which he will surely use to his advantage.
Up next we have top Light-Heavyweight contender, Alexander 'The Mauler' Gustafsson face off against Jan Blachowicz.
An incredible knee sent Latifi flying into the cage. The Swede again looked to change levels and takedown Bader, but the American threw his right knee straight into the head of Ilir Latifi and that was all she wrote. Ryan Bader walked away from his crumbled opponent. Tremendous victory for Ryan 'Darth' Bader.
IT IS ALL OVER!
Round 1: Excellent start to the round for Ryan Bader, controlling the fight, keeping Ilir Latifi at distance. Latifi was constantly changing levels looking for the takedown, but as a wrestler, Bader always kept him at bay but in the final 10 seconds or so, Latifi landed a heavy shot which dropped his much larger opponent.
HERE WE GO!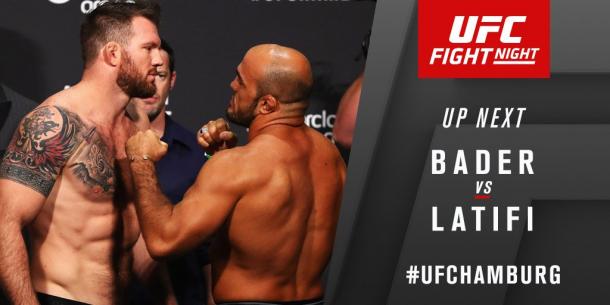 Nick Hein wins via Unanimous Decision!
Round 3: So, the fight goes to the judges as not much was on offer in the final round. After a clash of heads, Bang had a cut opened up above his left eye which Nick Hein capitalised on, landing a swift left hand to wobble his South Korean opponent. Bang managed to recover and wobble Hein as well, but after that not much happened.
Round 2: Once again a very uneventful round, with more boos ringing around the Arena. Both fighters landed takedowns during that round and landed a few strikes. Hard to call who is winning this bout so far.
Round 1: Boos ring around the Barclaycard Arena after a very cagey opening round between the two fighters. Bang landed a couple leg strikes during the opening round and Hein managed to takedown his opponent but apart from that, it wasn't a very exciting start to the main card. Hopefully round 2 will be better.
HERE WE GO!
Bang will have a considerable height and reach advantage.
First up on the main card is a fight between Nick Hein and Tae Hyun Bang. The fighters are making their way to the Octagon.
The two other main card fights see Ryan Bader take on Ilir Latifi in what surely will be a thrilling fight, but the first main card fight of the evening will be in the lightweight division, between Nick Hein and Tae Hyun Bang. The main card should kick off after 8pm BST to join us then for LIVE commentary, but before then, stay tuned to the VAVEL.com website for more top quality content.
Blachowicz is a relatively new fighter in the UFC, his fight against Gustafsson will be only his fifth UFC fight and at 33, he has experience fighting in other competitions, but this fight will be the biggest of his career. If he manages to defeat his younger and larger opponent, Blachowicz will be propelled into the top-15 rankings and will put his name up there with the very best.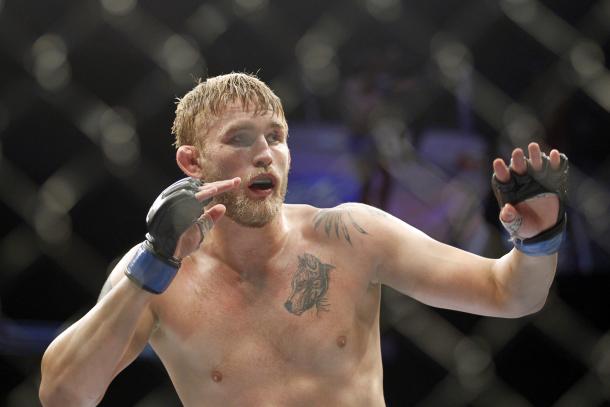 The Swede is currently ranked second in the light-heavyweight rankings and a win will surely put him in a good position to fight Daniel Cormier for the title, or face 'Rumble' once more in an Interim-title bout. If Johnson and Cormier meet for the title, Gustafsson could well wait and take on the winner.
Away from the main-event, Alexander Gustafsson will face Poland's Jan Blachowicz in a Light-Heavyweight fight. After suffering back-to-back defeats, Gustafsson will be looking to relight his charge for the Light-Heavyweight title. 'The Mauler' has had two title fights and lost them both, once against Jon Jones and the other against Daniel Cormier.
Barnett is also a former UFC Heavyweight Champion, winning the title back at UFC 36 in 2002 when he knocked-out UFC great, Randy Couture. Barnett was later stripped of the belt after failing a drugs test. He is currently ranked at No.9 in the heavyweight rankings, so like Arlovski, a win for Barnett will see him move up a few spots and potentially into title-fight contention and at 38, there aren't many years left in the American. Barnett was in a particularly positive mood before the big fight as he had this to say, "I am glad this fight is happening. This is a fight I am incredibly psyched to be a part of."
Currently ranked No.6 in the heavyweight rankings, Arlovski knows a win will propel him up the rankings and in title-fight contention. Josh 'The Warmaster' Barnett stands in his way and the Seattle native will be hoping to use his superior ground game to defeat his Belarusian opponent. A catch wrestler, Barnett has won 34 mixed martial arts fights and a massive 20 of those have come via submission.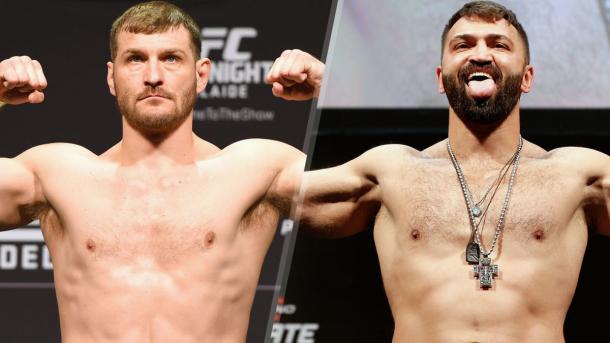 Belarus' Andrei Arlovski will face off against American Josh Barnett and although both are very similar is stature, they both have completely different fighting styles. Arlovski is a well known heavy hitter, it could be said he is the hardest striker in the entire UFC with 17 of his 25 wins coming by way of knockout. 'The Pit Bull' is a former UFC Heavyweight Champion, holding the belt over 10 years ago and the Belarusian will be hoping to kick-off another title chase, "I'm going to do everything possible to reclaim the heavyweight title."
Tonight's UFC event is being held in Hamburg, Germany and the main event will see two huge fighters step into the Octagon to surely provide all watching, a true spectacle.
Hello all and welcome to VAVEL.com's LIVE round-by-round, fight-by-fight commentary of UFC Fight Night: Arlovski - Barnett. My name is Ayden Hussain and I will be taking you through this evening's event, so stay tuned!