Donald 'Cowboy' Cerrone will be aiming to continue his excellent start to his welterweight career when he takes on The Ultimate Fighter 17 winner, Kelvin Gastelum. The two will meet at UFC 205 in Madison Square Garden on November 12.
Both Cerrone and Gastelum are very good technical strikers and both have a lot of energy. So it won't be a surprise if we see the two standing and trading. If the fight were to end up on the ground, it would be a very good battle, Cerrone is a black belt in Brazilian Jiu-Jitsu and Gastelum is a purple belt in 10th Planet Jiu-Jitsu.
Cerrone is known for his speed and accuracy and since his move to welterweight he has added power to his list of traits. According to FightMetric, Cerrone lands 4.1 strikers per minute which is incredible, and Gastelum lands 3.89 strikes per minute, which could back up the idea of an all out war.
However, of Cerrone's 31 career victories, 16 have been via submission, compared to six knockouts. So it's fair to say, Cerrone could end up winning via submission.
Gastelum is no easy prey, though. The 25-year-old has never been submitted and has won four fights himself via submission; Gastelum prefers to mix his submissions with a little ground and pound before he goes in for a choke.
So far so good for Cowboy
Since moving up to the welterweight, Cerrone has won all three of his fights in the 170 division. Firstly he defeated Alex Oliveira via submission, he then knocked out Patrick Cote and most recently at UFC 202, he produced a stunning performance to knock out Rick Story. As most UFC fans know, Cerrone was a very scary opponent at lightweight, but since his move to welterweight, he seems to be getting better with every fight. So the task at hand for Gastelum is a big one.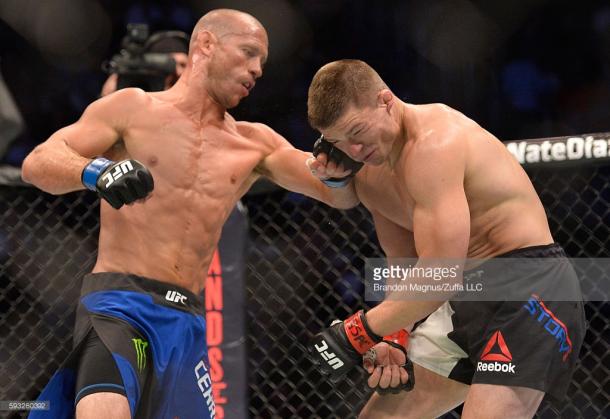 With Cerrone (31-7) currently ranked at number six, a win for him could potentially line up a title fight in the near future, but he has a very tricky opponent standing in his way. Cerrone will be full of confidence coming into fight night, coming off the back of three very impressive wins, he knows he will be able to beat Gastelum.
Cerrone was supposed to be taking on 'Ruthless' Robbie Lawler at UFC 205, but Lawler pulled out after it was decided Lawler wasn't ready to step back into the Octagon so soon after losing his welterweight crown to Tyron Woodley at UFC 201. Before the decision to pull out of UFC 201 was announced, Lawler contacted Cerrone first to let him know of his decision.
But Cerrone still feels a fight against his friend would be an exciting one, "He's a good friend of mine, I have more respect for him calling me first and letting me know, that tells you how he is. This is a guy that would be a hell of a fight."
Lawler is still ranked number one in the welterweight division, so a potential fight between the two could still take place, and who knows? If Cerrone beats Gastelum, we could see a potential title eliminator fight take place between the two, unless he goes for Brazilian Demian Maia, who he has recently called out.
Gastelum on the up
Ranked number five in the welterweight division, Gastelum (12-2) has had a rocky couple of years. In his last four fights, he has won two and lost two. His latest fight was a unanimous decision victory over Johny Hendricks at UFC 200.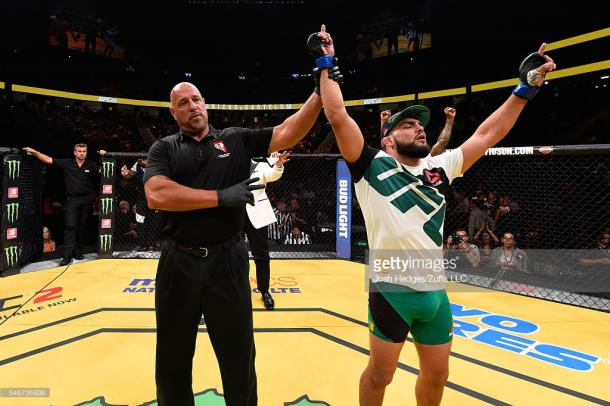 Gastelum's two losses have been via split decision, so the Yuma fighter knows he has what it takes to defeat 'Cowboy' Cerrone, "I match up very well with him. He's in for some trouble."
"Cerrone is a good fighter, a very well-known fighter," he said. "I'm the guy nobody knows yet, but after Nov. 12, people are going to see my style. They're going to like my style."
A win for Gastelum against Cerrone will undoubtedly be the biggest of his career, not only will he go up in the rankings, but he will put his name out there as a potential title contender. At the age of 25, a loss for the Mexican-American won't hinder his chances as he has a lot left to offer, but he will want to add Cerrone to his list of victories.
Prediction
No doubt we have the potential for fireworks; Gastelum has never been submitted so Cerrone will win via knockout due to his experience and all round class.