 Aksel Lund Svindal produced one of his best performances, less than a year after a potential career-ending injury, to become the oldest downhill Olympic champion, winning PyeongChang gold at the age of 35.
The Norwegian skier stopped the clock in 1:40.25 to beat teammate and best friend Kjetil Jansrud by 0.12 seconds with Switzerland's Beat Feuz completing the podium, just 0.06 seconds further back in third.
Competing four days later than scheduled due to the gusts which have peppered the Jeongseon venue, Svindal watched Feuz set the pace, and despite trailing by 0.4 seconds at the third time-check, the Viking nailed the second half to move top of the timesheet.
A miniscule mistake by Jansrud cost him gold following a fine top-half, while the Italian duo of Dominik Paris and Peter Fill just missed the podium, sandwiching German hopeful Thomas Dressen who finished fifth after being first down the mountain.
Shiffrin chases down Moelgg and co to claim GS gold
At the other end of the age spectrum to Svindal, America's Mikaela Shiffrin is ready to become a world superstar at these games, and made the perfect start in her attempt to do so.
With a potential four golds up for grabs, Shiffrin made the perfect start to her programme, claiming gold in the giant slalom. Having finished second during the first run to Italy's Manuela Moelgg, the 22-year-old from Colorado was the penultimate rider down the mountain during the second run and was set a stern task to strike gold.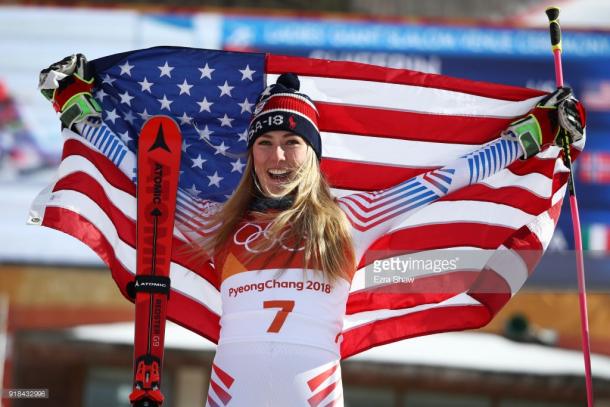 An electric run from Ragnhild Mowinckel, which included a top section which was second to none, saw her move into provisional gold ahead of Shiffrin and Moelggs' runs. 
Shiffrin has been dominating the World Cup events all season, and thanks to the advantage she had gained during the first run she was able to move ahead of the Norwegian. Then, with Moelgg putting in a disastrous second run to finish down in eighth, Shiffrin was confirmed as the gold winner and will hope to make it two from two during Friday's slalom. 
Oeberg and Boe take Individual Biathlon gold's
In one of the surprises of these Winter Olympics, Sweden's Hanna Oeberg hit 20 out of 20 at the range to claim gold in the women's 15km Individual race.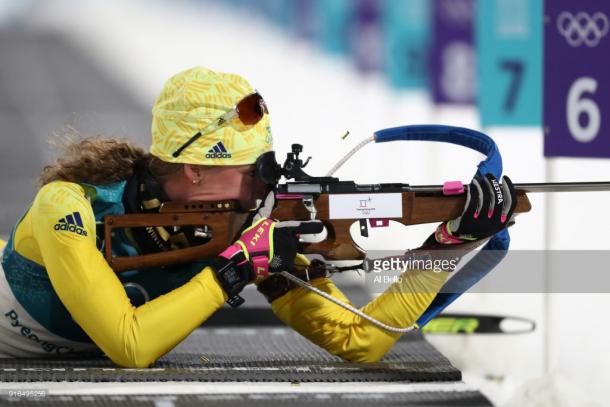 Following victories in the sprint and pursuit, Laura Dahlmeier was looking for an unprecedented six gold's in these Games, but after missing one target during her first shoot she was unable to overcome Oeberg's perfection. 
Germany's Dahlmeier was able to ski into bronze, with Slovakia's Anastasiya Kuzmina once more showing her incredible speed on the course to claim silver despite missing a pair of targets early in her run. 
In the men's 20km event later in the evening, Johannes Thingnes Boe made amends for his mishaps earlier in the week to take Individual gold, despite only hitting 18 out of 20 targets. 
Boe's pace on the course allowed him to top the podium, with fellow medalists Jakov Fak and Dominik Landertinger each finishing within 15 seconds of gold thanks to some superb shooting. Pursuit gold medalist Martin Fourcade was in control of the race, but after inexplicably missing shots 19 and 20, he was forced to make do with fifth position. 
Elsewhere on day six, Germany's continued success in South Korea showed no signs of slowing as they added two more gold's in the Luge Team Event and in the Figure Skating Pair's courtesy of Aljona Savchenko and Bruno Massot.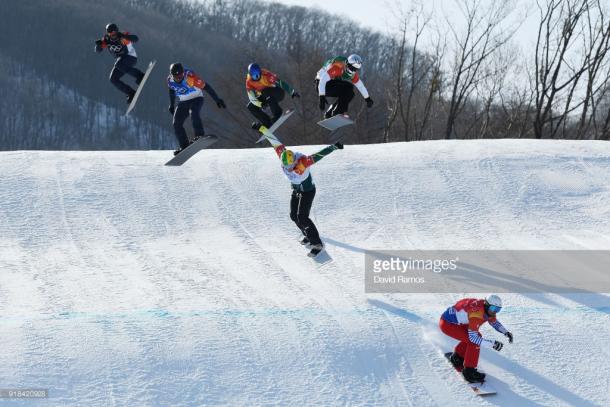 The Dutch teams' monopoly of golds in the speed skating was brought to an end by Canada's Ted-Jan Bloemen, with the ponytailed athlete, ironically born in the Netherlands, setting an Olympic Record on his way to victory in the 10,000m race. France's Pierre Vaultier defended his Snowboard Cross Olympic title, while Ragnhild Haga defeated Charlotte Kalla, Marit Bjoergen and Krista Parmakoski to snag a surprise gold in the women's 10km cross-country classic.