Raymond van Barneveld's poor Unibet Premier League campaign continued on Thursday night at the FlyDSA Arena in Sheffield as he fell to another two disappointing defeats.
He was defeated 7-3 by Daryl Gurney in the night's opening match before ending the night by being defeated 7-2 by Peter 'Snakebite' Wright.
The Dutchman was clearly not his usual self and now finds himself joint-bottom of the Premier League on eight points alongside Wright. He had a superb opportunity to close the gap between himself and the play-off places but was unable to take it.
Gurney closes in on play-offs
Van Barneveld's first opponent, Gurney, was left delighted with his win which sees him move up to fifth in the Premier League.
Gurney said: "This is where it matters so I was glad to get the win over Raymond. I have had three darts to beat him previously and blown every single one.
"If I could produce that performance week in, week out, I would be even happier. I am really happy with the result."
The 32-year-old was not confident heading into tonight's match due to the fact he became a father for the first time last Thursday and has been suffering from numerous sleepless nights since.
He revealed that he did not wake up until 1pm in the afternoon which left him little time to practice and prepare for this match.
He said: "I am a big practiser so it does have an effect, but I got the job done. The 121 hurt him and you could see that in the next leg, and it was important for me at that time in the match.
"As long as I got something out of the game I was going to be pleased as I have not had much practice over the last week."
With the play-offs at the O2 in London now just weeks away, Gurney is just happy to be playing against some of the best players in the sport and is not worried about securing a place in the top four.
He said: "I am happy to just be in with a shot of the play-offs. I do not care if I get there, I am just happy to be playing against the top players."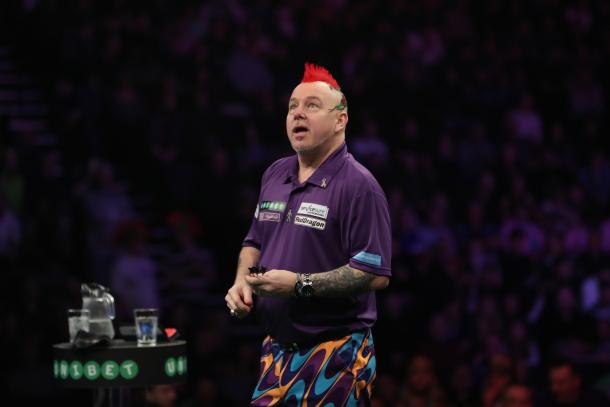 Wright noticed Van Barneveld struggling throughout
It was not until Van Barneveld's second match of the evening, against Wright, that it became apparent that he was really struggling.
Since being diagnosed with Type 2 diabetes in 2009, the Dutchman has had spells where he has become uncomfortable during matches and struggled energy wise. Wright feels that this was a key reason why the 50-year-old was not at his best throughout their encounter.
Wright said: "I think to be honest, Barney was suffering. He was not himself. You could see that he was struggling on stage."
Despite Van Barneveld's disappointment, Wright has now enhanced his chances of achieving a play-off position as he moved to within three points of Gary Anderson.
When questioned on whether he fancies his chances of making the top four, Wright simply replied "most definitely."
The eight remaining players in the Premier League travel to Rotterdam next week for an exciting double-header and Wright is looking forward to what is likely to be an electric atmosphere.
He said: "It is a difficult atmosphere to deal with. I love playing out there with people on your back."