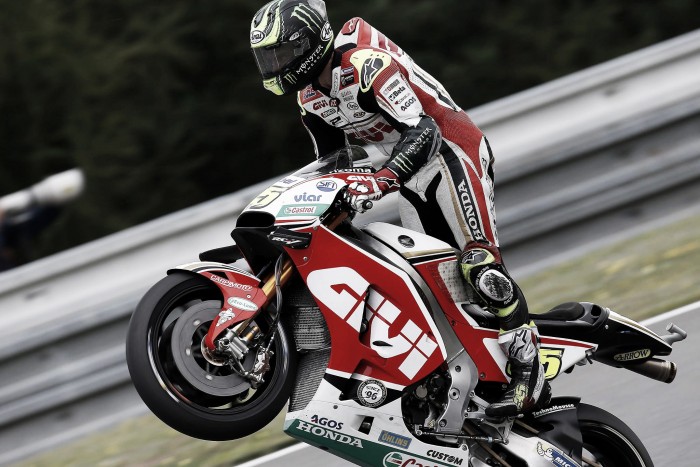 Despite glorious weather in the build-up to the 11th round of the MotoGP at the Automotodrom Brno in the Czech Republic, it had rained heavily ahead of the race meaning that all the work that had been done by the lead riders on the grid, was possibly worth nothing.
Redding quickest in the warm-up
Octo Pramac Racing Ducati rider Scott Redding was the fastest during the morning warm-up. His time of 2:09.500 meant he was the only rider to lap below 2:10 minutes. Ducati Team rider Andrea Iannone who had qualified third was second fastest ahead of Avintia Ducati rider Loris Baz.
Pole position man on the grid Marc Marquez (Repsol Honda) was fourth fastest and second on the grid Jorge Lorenzo (Movistar Yamaha) could only manage 7th fastest during the wet session. Irishman Eugene Laverty (Pull & Bear Aspar Team) completed the top five in the morning session… was this a sign of things to come?
Conditions had only gotten worse prior to the race. It continued to rain throughout the Moto3 and Moto2 races before the MotoGP took to the grid but then as Jonas Folger (Dynavolt Intact GP) came to the end of the race and took the win, the rain had stopped. It just needed to stay away for a few more hours.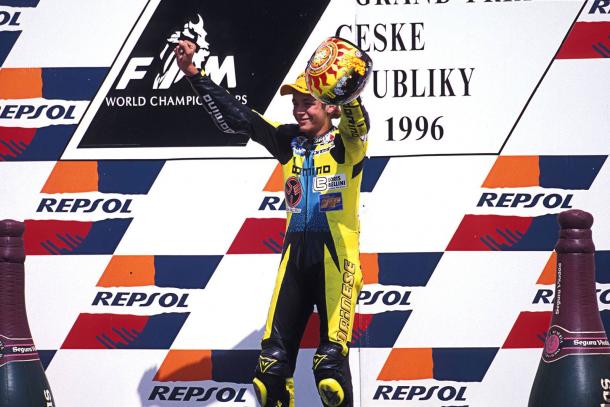 Happy 20th Anniversary Rossi
It has been twenty years since Movistar Yamaha rider Valentino Rossi won his first ever world championship grand prix when he rode for Aprilia in the 125cc championships. Will he be repeating history at a track that is very sentimental to him?
Riders took to the grid
Octo Pramac Yakhnich Ducati rider Danilo Petrucci was penalised for the incident involving him and Laverty. Petrucci crashed into Laverty on the last corner of the Austrian GP taking him out of 11th place. Petrucci apologised immediately after race.
His penalty meant he was to lose three places on the grid, by going back a row. Although he qualified in 13th he will start from 16th meaning Redding instead will start from 13th, Laverty will start from 14th and Aprilia Racing Team Gresini rider Stefan Bradl will complete the fifth row in 15th.
The race got underway
The 22 lap race got underway, the rain had held off, and the majority of riders had chosen the soft compound Michelin full wet tyre.
Marquez was on his 63rd pole position of his career after his record breaking pace in Qualifying, which meant he now matched Rossi and Lorenzo with that record.
Iannone led into first corner after the short drag race into turn one, he went slightly wide allowing Marquez to get through and take the lead. Lorenzo already looked uncomfortable in the wet and began to travel backwards as Andrea Dovizioso (Ducati Team), the Espargaro brothers and Maverick Vinales (Team Suzuki Ecstar) soon got past him to.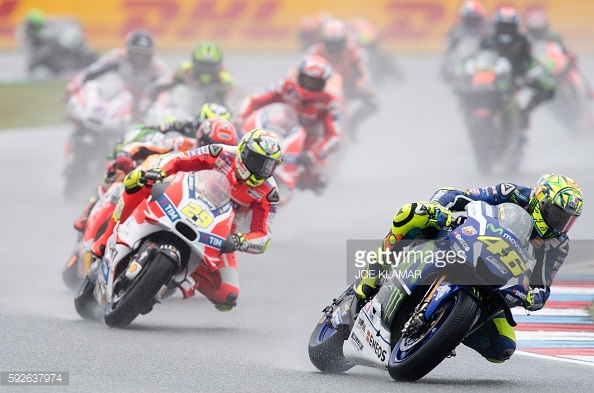 Dovizioso got past his teammate at the front to take second. Aleix Espargaro (Team Suzuki Ecstar) was in fourth behind the Italian and ahead of his teammate Vinales in fifth. Redding slotted into sixth ahead of Pol Espargaro (Monster Tech 3 Yamaha) in seventh. Hector Barbera (Avintia Ducati) was eight ahead of Bradley Smith (Monster Tech 3 Yamaha), Petrucci and Lorenzo and Rossi in 11th and 12th.
Redding found his form from the morning warm-up
Near the front though it was Redding who was on the move as he made his way up to fourth ahead by the end of the second lap. Before they crossed the line Dovizioso accelerated past Marquez, he fought back briefly, but Dovizioso regained the lead and Iannone overtook Marquez pushing him down to third. The Ducati's work very well on the soft compound wet tyres as proved by the previous round at the Austrian GP.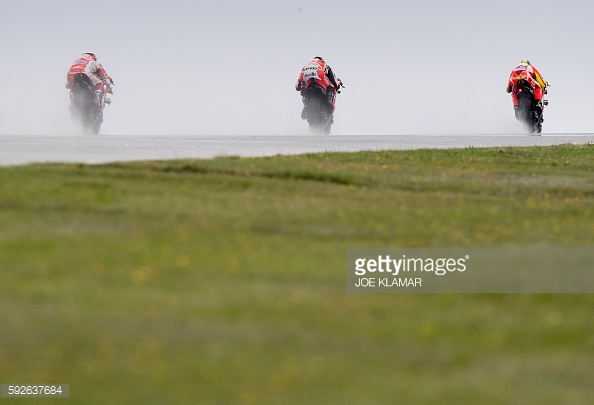 It was not long before Redding also attacked Marquez claiming third making it Ducati one, two and three. Marquez was in fourth as the Movistar Yamaha boys lost another place to his teammate Dani Pedrosa (Repsol Honda) who claimed 12th from them.
Suzuki strong in the wet
The Suzukis were looking great in the wet; Aleix Espargaro was chasing down Marquez. Behind him Vinales and Barbera were battling for sixth. The two continued to switch positions for several laps.
Iannone regains the lead
As they came to the end of lap three, Iannone made a move on Dovizioso that stuck and allowed 'The Maniac' to take the lead again at the Czech GP. Corners later on lap four, Redding also made a move to claim second knocking Dovizioso down to third.
As they completed the fifth lap, Rossi crossed the line in 12th meanwhile Lorenzo had dropped down to 16th. He was out of the points! Rumours are that Lorenzo has been training at purposely wet tracks in an attempt to improve his confidence in these conditions; however he still had a long way to go.
The rain held off
The rain was holding off but there was still a lot of spray coming up from the tyres as Redding seemed to be chasing down race leader Iannone. Barbera had won his battle against Vinales, and took on his teammate Aleix Espargaro and won. He was up to fifth and had Marquez as his next victim.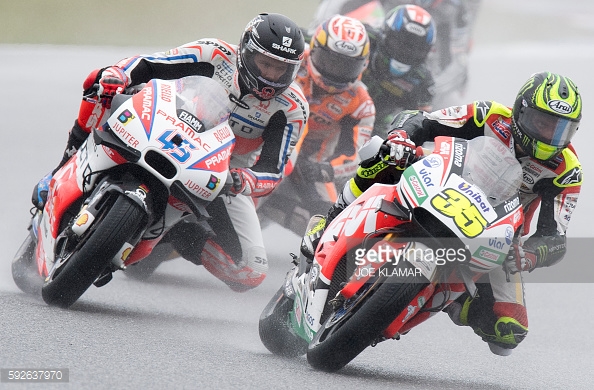 Crutchlow's surge began
Meanwhile down the grid Rossi lost another place to Cal Crutchlow (LCR Honda) who was now 12th and in the process set the fastest lap with 16 laps to go. Crutchlow's lap time was over 1.5 seconds quicker than that of race leader Iannone.
Crutchlow's run continued as he next overtook Smith, and then Pol Espargaro and now he was ahead of each and every one of the Yamahas in ninth and was now almost two seconds behind Petrucci. It was not long before he made that gap disappear and with 12 laps remaining he made his move at the inside of turn one again setting the fastest lap.
Rossi's tyres kicked in
This woke up Rossi though, and he started to make a move on the race. He had a hard rear tyre and was able to become the lead Yamaha in 10th in no time.
Dovizioso runs off the track
Dovizioso who was in third at the time had problems with his Ducati an ended up running off the track looking very angry and frustrated with his Desmosedici GP. He nursed his bike back to the pits, was it the tyres? He returned to the track after having words with his crew and reluctantly returned to the track on intermediate tyres.
This meant Barbera was now on a podium; still making it a Ducati one, two, three. Crutchlow had made his way up to sixth after breezing past Vinales. The Brit was soon on the back of Aleix Espargaro and after a few near misses he finally got past.
Crutchlow takes on Marquez
Crutchlow was on the hard front and rear and with 11 laps remaining was now looking to become the lead Honda as Marquez who was in fourth was the next man in the Brit's sights. Rossi on the hard rear was now up to eighth and Baz on the same set-up as Crutchlow was in 10th.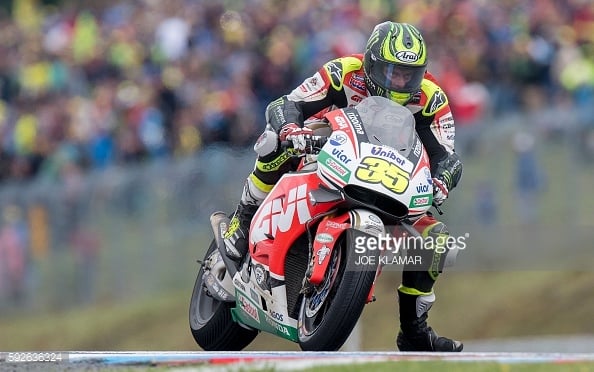 Rossi continued to progress and soon he began a battle with Vinales. The little Spaniard was determined to make it hard for anyone trying to get past Rossi did overtake but then he ran wide and had to wait a few more corners to again make his move.
Then Crutchlow got past Marquez with 10 laps remaining and was hunting down Barbera for the last spot on the podium. Barbera was doing what he could to stay in the wettest part of the track as he could. Crutchlow made his move into turn one of lap 13, but he ran a little wide allowing Barbera to get back past on the inside of the next left-hander.
The fight over podium places continues
Barbera briefly looked to make a move on Redding for second but then both Redding and Crutchlow got past the two of them to claim second. Barbera made the most of a bad situation and overtook Redding to take third.
After Smith decided to make a pit stop and switch to a bike with slick tyres on (even though rain was starting to fall again), Aleix Espargaro crashed out with nine laps remaining. It was race over for the Spaniard.
Eight laps to go
Eight laps remained and Rossi was up to sixth behind Marquez and Lorenzo was up to tenth. But at the front, Crutchlow was on Iannone's tail and ready to make a move in the next few laps.
Iannone took advantage of the Ducati's acceleration down the start-finish straight but the Italian almost missed the apex at turn one, lost some momentum and allowed Crutchlow to get even closer. He made a move, but the Ducati's acceleration spoiled the moves he was making.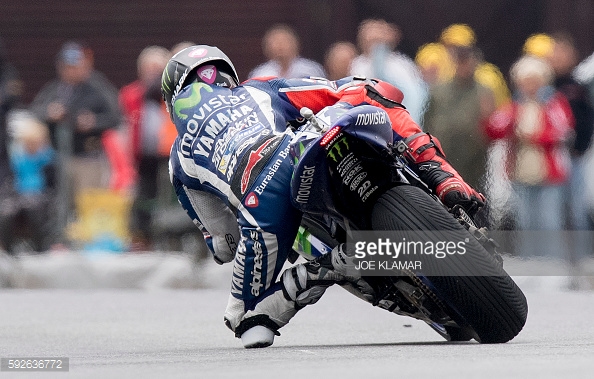 Lorenzo in the pits
Lorenzo pitted with seven laps to go as Marquez made his move on Redding taking fourth from the Brit. But then the two went wide and Rossi was able to take advantage and he overtook the two of them to take fourth. His tyres allowed him to have more drive down the straight and his move stuck.
Crutchlow takes the lead
Crutchlow took the lead! He did it, he overtook at turn 11, and then made himself as wide as possible so that Iannone could not retaliate on turn 12. He immediately began to pull away and completed a fast lap under 2:10 minutes.
Dovizioso retires from the race
Dovizioso decided to retire from the race, he did not look happy as he signalled to his pits that he was not going to go out again. Around the same time Lorenzo returned to the pits, and arguing with his crew switched bikes back to wet tyres and returned to the track to see Rossi overtook Barbera to claim the last spot on the podium. He was ahead of Marquez when he re-joined the track… was he going to try and get in his way?
Rossi moves up into second
Rossi's run continued as he made easy work of an overtaking previous race leader Iannone. He was now just under five seconds behind leader Crutchlow with four laps remaining. Their brave tyre choices definitely paid off. The crowds roared as he completed his first lap in second position.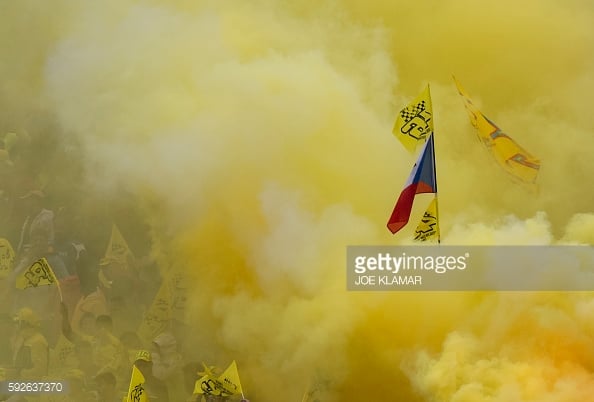 Lorenzo seemed to find his pace when his tyres came back up to temperature. Although he was a lap down he still kept Marquez behind him, overtook Barbera and soon took Iannone too whose rear tyre was spitting rubber off everywhere. Lorenzo was in 17th and pulling away from them, but he had a lot of work to do if he was to finish in the points.
The battle for the last podium spot continues
A battle for third started as Barbera initially overtook Iannone, the Italian fought back pushing him back down to fourth but then Marquez stole another position pushing him down to fifth. Iannone was struggling though and Marquez was able to easily pass the Ducati rider who was missing the apex of the corners but he was still able to hold off the Avintia Ducati, but not for long.
Iannone's front tyre dangerous…
Iannone had no rubber left down the centre of his front tyre. It was beyond dangerous. Every time he straightened up chunks flew until he had nothing left. Barbera got past, and as the two had battled, Baz who was on the hard tyres had caught up. It was not long before Baz was able to overtake his teammate to take fourth.
As Crutchlow crossed the line to start his last lap of the race, hanging over the pit wall his crew were begging him to slow down. He stayed on, he did it, he won! His first ever MotoGP win! The new Dad's life is definitely on the up.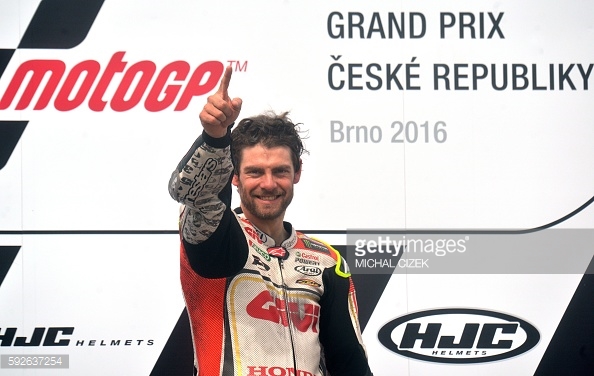 Crutchlow wins his first ever MotoGP
After the birth of his daughter Willow (he was straight onto the phone to Lucy to celebrate when he returned to parc ferme), and despite crashing his LCR Honda during qualifying, and it leaping over a fence in an attempt to escape the circuit.
His brave tyre choice paid off and he went on to claim his first victory. It has been 35 years since a British rider won a MotoGP; the late Barry heene being the last to do so.
Baz the highest independent team rider in fourth
Rossi finished the Czech GP in second and Marquez claimed the last spot on the podium after finishing third. Baz finished as the highest independent team rider in fourth position. It was a brilliant result from the French man, who recently returned from injury, and finished as the highest placed Ducati on a two year old bike.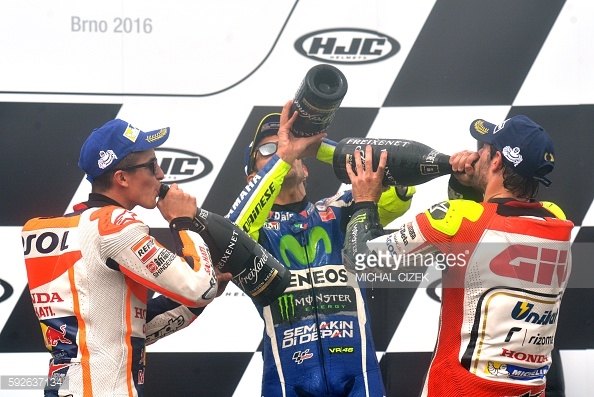 Baz's teammate Barbera finished the race in fifth and Irishman Laverty crossed the line in sixth; he was able to stay ahead of Petrucci this time, who finished in seventh. Iannone managed to stay on despite his tyre destroying itself in the final stages and crossed the line in eighth ahead of Vinales in ninth and Estrella Galicia 0,0 Marc VDS rider Tito Rabat collected his best result so far in 10th.
Yonny Hernandez (Pull & Bear Aspar Team) finished the race in 11th ahead of Pedrosa down in 2th. Pol Espargaro was 13th, Bradl was 14th and Redding slipped down to 15th where he took the last championship point available.
Alvaro Bautista (Aprilia Racing Team Gresini) finished the race in 16th and Lorenzo crossed the finish line in last place… 17th.
Marquez extends championship lead, now over Rossi
Marquez remains the championship leader on 197 points having extending his lead with his third place finish to 53 points, but now his lead is over Rossi in second on 144 points and Lorenzo drops to third as he remains on 138 points.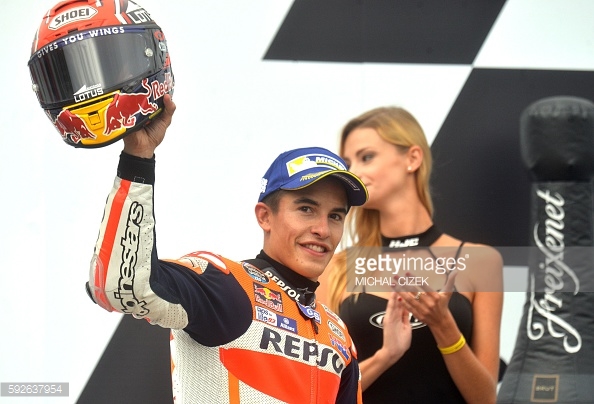 Pedrosa (109) is fourth ahead of Vinales (100) in fifth, Iannone (96) sixth. Pol Espargaro moves up to seventh and is the highest independent team rider with 81 points. He jumped above Dovizioso (79) now eighth, Barbera (76) is in ninth and Crutchlow jumps up to tenth in the championship after his race win as he is now on 66 points. Laverty (63) has moved above Redding (54) to take 11th.