 Sebastian Vettel took his fourth win of the Formula 1 season for Ferrari in the Hungarian Grand Prix to increase his championship lead after Kimi Raikkonen was not able to pass his struggling team-mate.
Vettel was suffering a steering wheel issue and was being caught by Raikkonen as the two Mercedes drivers reeled them in after the sole pit-stops.
Lewis Hamilton was attacking Raikkonen, but after only getting DRS, he fell back to allow team-mate Valtteri Bottas to take his 17th podium, after a team agreement.
Max Verstappen was fifth, after taking a 10 second penalty for crashing into Daniel Ricciardo on the opening lap with Fernando Alonso claiming McLaren's best result of the season in sixth. He also set fastest lap.
Carlos Sainz Jr, Sergio Perez, Esteban Ocon and Stoffel Vandoorne rounded out the point paying positions.
Verstappen takes out Ricciardo
At lights out, Raikkonen got the initial better getaway, but Vettel covered him off as Hamilton fell back to sixth, and Verstappen was pushed out wide by Bottas.
At Turn 2, Verstappen locked up and understeered into Ricciardo, eliminating his team-mate , after he spun going up the hill, trying to limp home.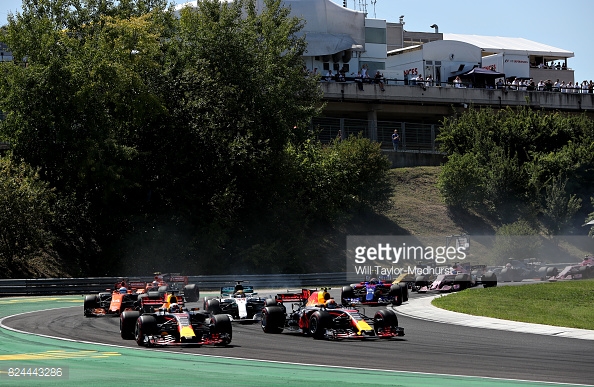 The safety car was called for and after five laps, was withdrawn at the end of lap five.
When the race was resumed, the two Ferrari's began to ease away from the pack, with Vettel enjoying a six second gap to Bottas in third, with Verstappen and Hamilton close behind.
However, as the race headed toward the stops, Vettel's steering was leaning to the left, as Raikkonen began to show superior pace to the German.
Bottas was the first of the leaders to pit on Lap 31, with Hamilton doing the same next time around, the Brit emerging in fifth place.
On Lap 33, it was Vettel who came in with a 3.5 second stop, on the next lap, it was Raikkonen who pitted, as the German came out just ahead of his team-mate.
Vettel cork in the bottle
After the stops, the Mercedes duo began to reel in the two leaders, as Vettel's pace was far slower than the cars around him.
Verstappen was leading, but with his penalty was not a feature, until after his stop.
On lap 46, Mercedes waved Hamilton through on Bottas, with both cars suffering from radio issues and the Brit was given five laps to try and make a move on Raikkonen.
He failed to do this, as Vettel's problem was minimalised, allowing the German to take a 46th Formula 1 win, to extend his lead to 14 points over Hamilton.
Mercedes swapped Hamilton and Bottas back on the final lap, honouring the agreement, allowing the Finn to take third, with Verstappen hot on his heels.
Alonso stars
In McLaren's most competitive showing of the season, Alonso was a strong sixth, after a brief, feisty battle with Sainz, and even set fastest lap late on.
Sainz himself came home seventh for Toro Rosso, as the two Force India's scored good points with Perez and Ocon in eighth and ninth.
Vandoorne scored his first point of the season in 10th, allowing McLaren to haul nine points in the race, quadrupling their season total in one race.
Magnussen vs Hulkenberg
Throughout the race, Kevin Magnussen and Nico Hulkenberg were battling, and the Haas driver was given a five second penalty for pushing the Renault out wide at Turn 2 late on.
The German then retired with a car problem, as Magnussen dropped behind Danill Kvyat and Jolyon Palmer as a result of his penanlty.
Lance Stroll was 14th for Williams, with Pascal Wehrlein beating Sauber team-mate Marcus Ericsson to the proverbial wooden spoon for last.
Retirements
Hulkenberg retired with a car problem, as did Williams sub Paul di Resta, who was running in 18th place.
Romain Grosjean, after a slow puncture was unsafely released by the Haas team with a crossed wheel-nut. On his out-lap, he was told to stop the car, doing so at Turn 8.
The team were fined €5,000 for the unsafe release.
Ricciardo was the other non-finisher, the Australian extremely angry with team-mate Verstappen for taking him out on the opening lap.
2017 Hungarian Grand Prix - Provisional Classification

| | | | | |
| --- | --- | --- | --- | --- |
| Position | Driver | Team | Time/Gap | Points |
| 1st | Sebastian Vettel | Ferrari | 1:39:46.713 | 25 |
| 2nd | Kimi Raikkonen | Ferrari | +0.908s | 18 |
| 3rd | Valtteri Bottas | Mercedes | +12.462s | 15 |
| 4th | Lewis Hamilton | Mercedes | +12.885s | 12 |
| 5th | Max Verstappen | Red Bull | +13.276s | 10 |
| 6th | Fernando Alonso | McLaren | +1:11.223s | 8 |
| 7th | Carlos Sainz Jr | Toro Rosso | +1 lap | 6 |
| 8th | Sergio Perez | Force India | +1 lap | 4 |
| 9th | Esteban Ocon | Force India | +1 lap | 2 |
| 10th | Stoffel Vandoorne | McLaren | +1 lap | 1 |
| 11th | Danill Kvyat | Toro Rossoo | +1 lap | 0 |
| 12th | Jolyon Palmer | Renault | +1 lap | 0 |
| 13th | Kevin Magnussen | Haas | +1 lap | 0 |
| 14th | Lance Stroll | Williams | +1 lap | 0 |
| 15th | Pascal Wehrlein | Sauber | +2 laps | 0 |
| 16th | Marcus Ericsson | Sauber | +2 laps | 0 |
| DNF | Nico Hulkenberg | Renault | Mechanical | 0 |
| DNF | Paul di Resta | Williams | Mechanical | 0 |
| DNF | Romain Grosjean | Haas | Wheel nut | 0 |
| DNF | Daniel Ricciardo | Red Bull | Collision damage | 0 |