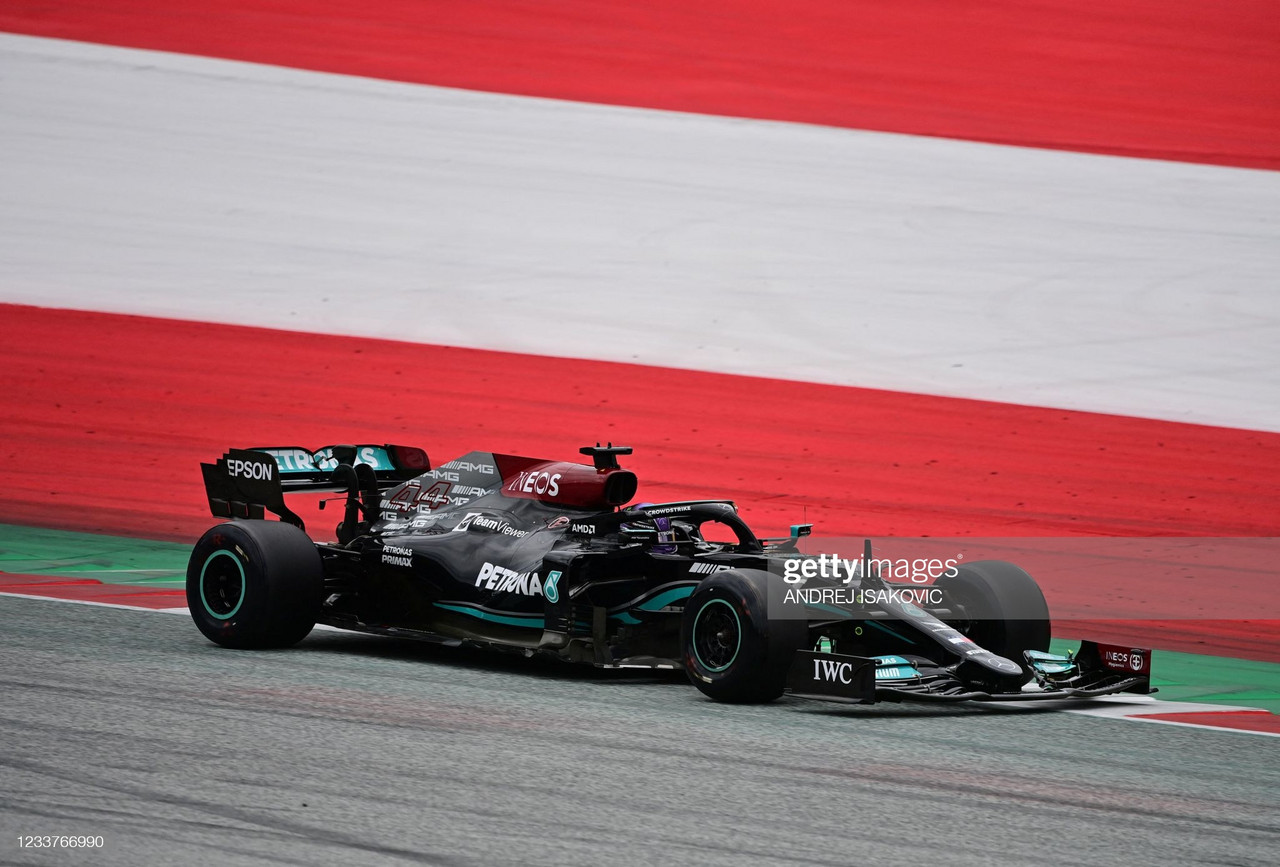 Sir Lewis Hamilton ended Max Verstappen's monopoly over the Red Bull Ring, after topping the second practice session for this weekend's Austrian Grand Prix.
The seven-time world champion's time of 1:04.523 could not be bettered, with teammate Valtteri Bottas finishing the session two-tenths behind, to complete a Mercedes one-two. Championship leader Verstappen came home third, narrowly behind the Silver Arrows.
The result was certainly a surprise as the circuit has always been one of Verstappen's favorites. He won from pole there at last week's Styrian Grand Prix, and his dominance in Austria looked to continue after his Red Bull finished quickest in this morning's practice.
New Pirelli tyres make their debut
As for the rest of the grid, Aston Martin and AlphaTauri looked particularly impressive. Lance Stroll and Sebastian Vettel came home P4 and P5, as the pair look to regain momentum after a disappointing race last time out.
Rookie Yuki Tsunoda (P6) scored a much-needed point in Styria and will be hoping for another points haul, while Pierre Gasly (P7) is out for redemption after retiring after just one lap last week.
Just like last week, the entire grid looks very tight, with just one second separating Stroll and Haas's Nikita Mazepin in last place.
Overall, it was a largely uneventful session. The only real incidents came in the last 15 minutes, when a few drops of rain caught some drivers out, including Sir Hamilton and Lando Norris, who had offs at Turn 4 and Turn 3 respectively.
FP2 did mark the debut of Pirelli's new, larger tyres, which, if teams approve, will also be tested out at Silverstone in a fortnight's time. The prototype tires have been bought in to reduce the risk of dangerous blowouts, like the ones that affected Verstappen and Stroll in Azerbaijan earlier this season.
Pit entry causes problems
The Red Bull Ring is one of the most exciting tracks that F1 race at and has become a firm fan-favorite since re-joining the calendar in 2014. However, one part of the circuit has always been a point of contention.
The penultimate corner is a blind, downhill right-hander, which also overlaps with the pit entry. In the session, cars slowed down at the corner before going onto their flying lap, causing a significant traffic jam and thereby endangering any other driver who was on a fast lap.
Ferrari's Charles Leclerc called the situation: "Dangerous", while Alpines' Fernando Alonso also had some choice words after getting blocked by Kimi Raikkonen's Alfa Romeo.
A solution will need to be found in the near future, whether that be instructing drivers not to slow down at the corner, or constructing a new pit entry road on the inner part of the circuit.