The penalty given to Ducati rider Andrea Iannone seems to have done nothing but spur the Italian rider on as he remained the fastest rider at the end of day one at the Motul TT Assen, Netherlands after two Free Practice sessions.
Some changes made ahead of the Assen GP
The weather is going to be an important factor at Assen this weekend as the forecast is not looking good with rain predicted throughout. The race will be run on Sunday this time whereas usually it is held on a Saturday here. Day one was also the first opportunity for riders to experience the track on the new Michelins as they have not ridden here yet this year since the French tyre manufacturer took over. Some changes have also been made to the final chicane on the circuit for safety reasons; the astroturf has been removed and a kerb introduced that riders will still be able to run over however they will feel vibrations from it.
Despite being overcast it was dry for the MotoGP riders for both of the sessions which meant they were able to push straight away. If bad weather was to hit during FP3, the times from day one may need to be used to determine who makes it straight through to Qualifying 2.
Iannone to start from the back of the grid
Due to a racing incident involving Iannone and Jorge Lorenzo (Movistar Yamaha), Iannone has been penalised by Race Control after deciding that Iannone was at fault; as a result he is to start the race on Sunday from the back of the grid. At the Barcelona GP, Lorenzo who was struggling appeared slow as he made his way round a tight turn, Iannone ran into the back of him and both came off with Lorenzo appearing hurt and angry; both riders thought the other was at fault and telemetry determined no rider was doing anything out of the ordinary. Lorenzo made his way straight to race control after the race to appeal the incident, the Spanish 2015 MotoGP champion did not feel that the punishment was harsh enough for the Italian.
As a result Iannone has come to Assen seeming more determined than ever and set the fastest time during FP1 of 1:34.349. His current teammate Andrea Dovizioso (Ducati) helped to prove that the Ducatis are strong here by finishing second fastest during FP1 after lapping 0.226 seconds slower than Iannone.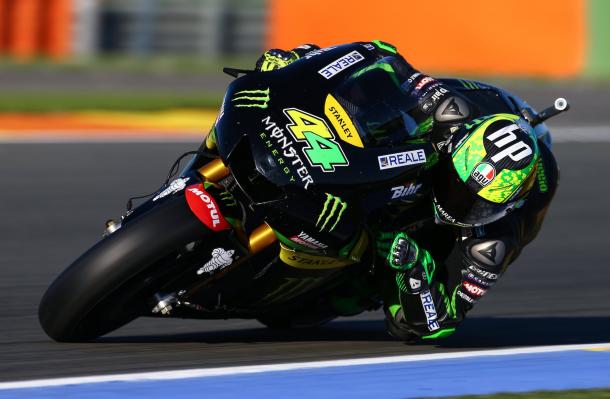 Independent riders looking strong at Motul TT Assen
Surprisingly it was an independent rider who was third fastest after the first session. Pol Espargaro (Monster Tech 3 Yamaha) lapped at 1:34.649 ahead of two more independent riders who helped to complete the top five. Scott Redding (Octo Pramac Yakhnich) was furth fastest ahead of his teammate Danilo Petrucci in fifth. Behind them were Movistar Yamaha teammates Lorenzo and Valentino Rossi who finished ahead of Maverick Vinales (Team Suzuki Ecstar) in eighth. Two more independent riders completed the top ten with Bradley Smith (Monster Tech 3 Yamaha) in ninth ahead of Hector Barbera (Avintia Ducati).
Just outside the top ten was the factory Honda rider Marc Marquez (Repsol Honda) in eleventh. Independent Honda rider Cal Crutchlow (LCR Honda), who recently announced that he will remain with the team for 2017, finished twelfth fastest ahead of factory rider Dani Pedrosa (Repsol Honda) in thirteenth; but all of that was to change with time as riders took to the track for Free Practice 2.
Iannone the man to beat after day one at Assen
Iannone remained the man to beat at the end of day one as he managed to again set the fastest time with 1:33.591; improving his own personal best time by just under half of a second. His fastest lap time came at the end of the session just after Rossi had temporarily claimed the top spot of the leaderboard previously as the last two sectors of his lap were strong; Iannone's time was just 0.004 seconds quicker but enough to beat Rossi. Marquex had managed to turn things around and he finished third fastest making it three different manufacturers in the top three after day one.
Vinales also managed to improve on his time finishing in fourth after he managed to reduce his time by almost a second as he wrestled his GSX-RR around the track. Lorenzo was the last rider to lap in the 1:33 minutes and finished fifth fastest overall after day one. Dovizioso followed and this time it was Petrucci who claimed the crown as the fastest independent rider as he finished in seventh ahead of factory Suzuki rider Aleix Espargaro (Team Suzuki Ecstar). Pol Espargaro had dropped down to ninth and Redding completed the top ten.
Pedrosa way down the timesheet
Throughout the season so far the Repsol Honda crew have been working on trying to improve the acceleration of the Honda. Surprisingly, after finishing third the previous round, Pedrosa appears to be struggling still compared to his teammate and he missed out on finishing in top ten having to settle for eleventh.
Barbera led the list of independent riders that followed on from Pedrosa on the timesheet. Barbera was twelfth quickest ahead of the rest of the British riders including Crutchlow, Smith and Eugene Laverty (Aspar Team MotoGP) who crashed during the second session at turn five in the final stages but appeared unhurt. Jack Miller (Estrella Galicia 0,0 Marc VDS) was sixteenth fastest ahead of factory Aprilia rider Stefan Bradl (Aprilia Team Gresini) whose lap time is approximately 1.5 seconds slower than the other factory riders; although they are way down the timesheet this is a great achievement considering it is their first season.
Yonny Hernandez (Aspar Team MotoGP) was eighteenth quickest ahead of Michele Pirro who will again be filling in for injured French rider Loris Baz who recently underwent the surgery to have the pins removed and has now began physio.
Difficult day for Bautista
It was a tough day for Alvaro Bautista (Aprilia Racing Team Gresini) as he crashed out twice in the second practice session. His first crash was early on in the session at turn three. He was able to get back out on his second bike however he crashed again with approximately five minutes remaining at turn three after the front tucked under on the left-handed corner. Thankfully the Spaniard appeared to be unhurt after both incidents. Rookie Tito Rabat (Estrella Galicia 0,0 Marc VDS) completed the field in twenty-first.