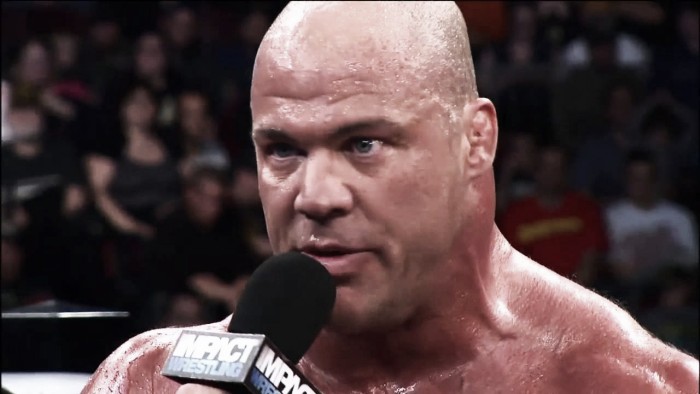 Kurt Angle spoke with Mark Madden on the former WCW color commentator's 105.9 "The X" radio show in Pittsburgh, discussing a possible return to WWE. The 1996 Olympic Gold Medalist said "he is definitely coming back, it's just a matter of when", according to the report on NoDQ.com. The former WWE Grand Slam Champion also said he spoke to Triple H six weeks ago regarding a possible return.
WWE recently contacted Angle and others in the wake of the announcement of another brand split. The company is trying to bring back several veterans along with a number of NXT call-ups to fill out the roster in preparation for the July 19th draft on SmackDown.
A golden career
Angle signed with WWE in October 1998. The Pittsburgh, Pennsylvania native made his in-ring debut at the 1999 Survivor Series, pinning Shawn Stasiak after an Angle Slam. Angle proceeded to have a very successful run with the company, holding numerous titles, including the WWE Championship four times, the World Heavyweight Championship, the WCW Championship during the "Invasion" storyline, and the Intercontinental and European Championships at the same time. Angle made his last WWE appearance on August 8, 2006, wrestling Sabu on an ECW taping.
Angles memorable WWE matches include a SummerSlam 2001 battle with Steve Austin, his WrestleMania bouts against Brock Lesnar, Eddie Guerrero, and Shawn Michaels, and a tremendous tag team match with Chris Benoit against Edge and Rey Mysterio at No Mercy 2002.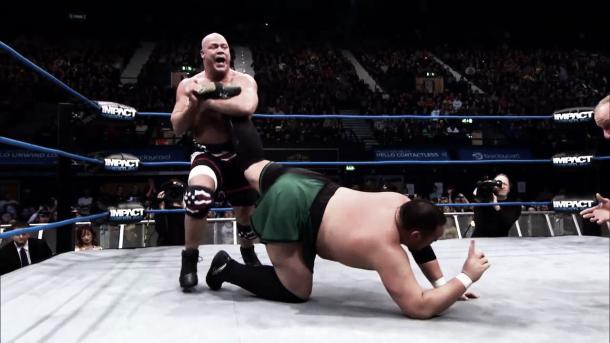 Angle signed with TNA mere months after leaving WWE, debuting in October. Angle went on to become the first TNA World Heavyweight Champion after the company broke away from the NWA in 2007. Angle also held the TNA World Tag Team Championships and the TNA X Division Championship and was the first to hold all three at the same time. Angle's most memorable TNA matches and feuds came against Samoa Joe, A.J. Styles, and Jeff Jarrett, along with an outstanding match against Desmond Wolfe (better known as Nigel McGuinness) at Turning Point 2009. The company inducted Angle into their Hall of Fame in 2013.
Will Angle wrestle in WWE?
An Angle return would be great for WWE. The company would not have to worry about trying to get him over and can simply dig into their tape library to re-introduce him to the audience. Working with Angle could be a great benefit to the younger talent, and Angle has no problems putting talent over. The question is whether or not Angle can pass a physical, which was a big concern the last time he tried to return. Either way, an Angle return seems likely, as an active wrestler or on a legends deal.