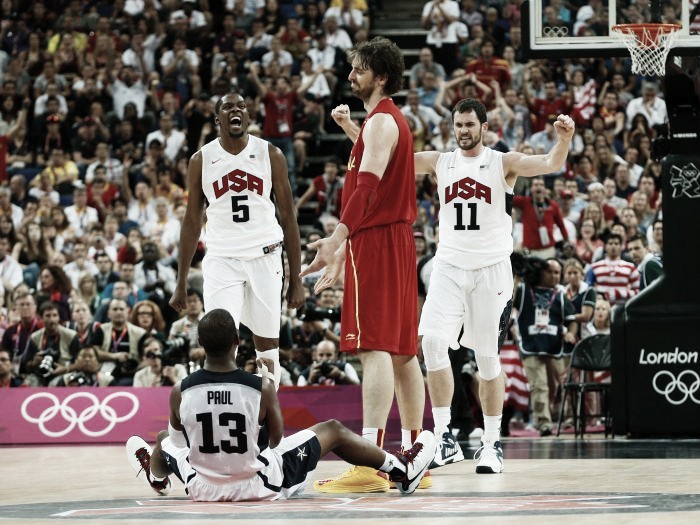 The last time Spain and Team USA met was in the gold medal game of the 2012 London Olympics. Team USA being the favorites to win gold in the 2012 summer games was almost a bust in the final game against Spain. It was anyone's game until the fourth quarter when Team USA pulled out and went on a 10 to 4 run to win the game 107 to 100.
Team USA would be back to back gold medal champions and now look to advance to the gold-medal game for the third straight Olympics.
Spain, who has medaled silver in the past two Olympics, look to get over the hump and advance to the gold medal game to have a shot at a gold medal, something the country has never achieved.
Will Spain Finally Get Past the Americans?
It is now or never for Spain as this is their best in beating the Americans. Spain avoided an early scare at the start of the tournament, losing two games in a row against Croatia and Brazil. However finishing the tournament strong, winning the remaining three games by an average of 26 points. The Spaniards did not let up as they took it to France in the quarterfinal game, winning 92-67. It was none other than Spain's Nikola Mirotic from the Chicago Bulls who scored 23 points and grabbed five rebounds. A lot of him and others will be needed to beat Team USA.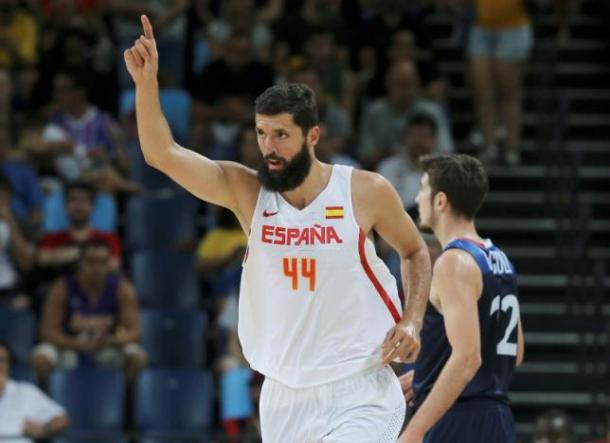 Spain's leader Pau Gasol has been giving it all to his country as he desperately wants that gold medal he or his country has never got. At age 36, Gasol is still dominating on offense as he sits sixth in the tournament in points per game with 17. He is not alone, however. Former NBA player Rudy Fernandez and Mirotic are following Gasol's lead as Fernandez is averaging 10.5 points per game and Mirotic is averaging 13.7 points per game. Both have had key games as Fernandez dropped 23 points in the 92-73 blowout win against Argentina. Mirotic's 23 points in the semifinal game against France was a confidence builder as their next game against Team USA will be tough.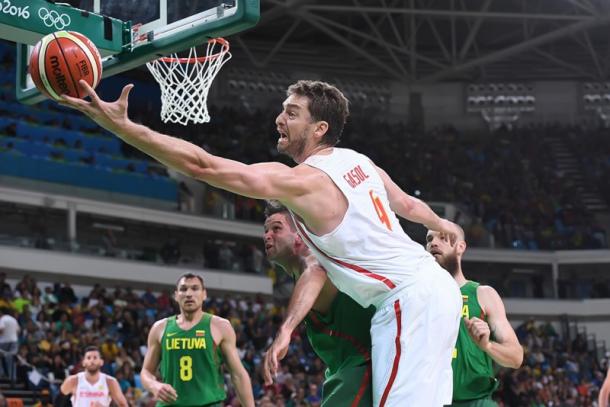 The x-factor for Spain has to 'The Other Guys' in the semifinal game against Team USA. Players like Sergio Rodriguez, Los Angeles Lakers' Jose Calderon, New York Knicks' Willy Hernangomez, Minnesota Timberwolves' Ricky Rubio and team captain Juan Navarro. All are capable of having big games and more importantly, coming up big down the stretch.
In the quarterfinal game, Spain's Hernangomez who has been quite in this tournament scored 16 points and grabbed five rebounds. Head coach Sergio Scariolo will likely play Hernangomez more to matchup against Team USA's bigs in DeMarcus Cousins and DeAndre Jordan. This game will come down to which country can pick it up on the offensive end from the tip.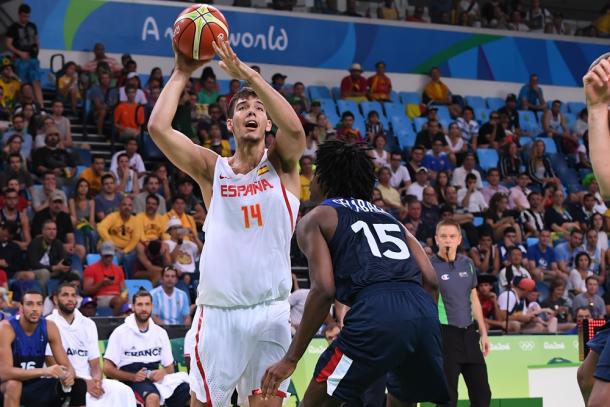 What to Expect From Team USA
Team USA's recipe for success has been to push the ball up the court at all times. Head coach Mike Krzyzewski does a great job in picking which players to go to on offense. In the game against France, no one would have expected for Klay Thompson to go off and pour in seven three-pointers for a total of 30 points. Once Thompson got off two three-pointers, Krzyzewski made the right move in keeping Thompson in the game and to keep going to him. His heroics led Team USA to a close 100-97 win.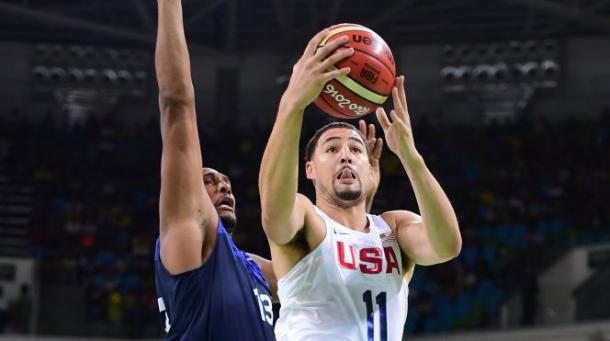 In the quarterfinal game against Argentina, Krzyzewski went to a one-two punch gameplan. So far, the Americans top player Kevin Durant who scored 27 points, grabbed seven rebounds in the 105-78 blowout win, has been performing exceptionally. To go to Durant on offense in a quarterfinal game where the stakes are high, made sense.
However, the dark horse of the tournament, Paul George, came through as well. He has been keeping steady in this tournament, averaging 12.5 points per game and shooting 50 percent per game, did not disappoint in the win against Argentina. He scored 17 points and grabbed 8 rebounds. Durant and George's play will be crucial in the semifinal game against Spain must excel to have a chance in beating them. Not to forget the rest of Team USA's players, as they too must be ready if their number is called upon.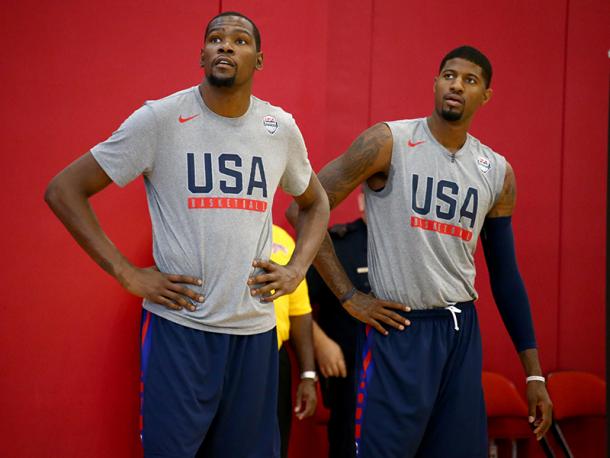 Little light has been shone on Team USA's defense. Big men DeMarcus Cousins and DeAndre Jordan and their team defense have been inconsistent, to say the least. In the game against France, Team USA let France shoot 56.7 percent for the game and allowing them to get all the inside shots they wanted. The Americans defense did improve in the quarterfinal game against the Argentinians. Team USA locked down on defense and contested majority of Argentina's shots as they shot 38 percent for the game and 25 percent from deep. If Team USA wants to advance to the gold medal game, their defense must be unstoppable against Spain's efficient offense.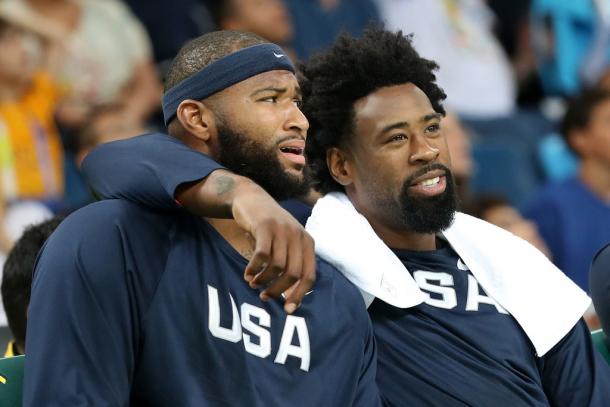 Game Details
This game will indeed be a true test for both countries as a lot is on the line. Team USA who expect nothing but gold and the Spaniards who just want to bite down on that gold medal for the very first time. Spain and Team USA will battle it out once more on Aug. 19 at 2:30 p.m. ET.