 Kevin Love has been producing at an extremely high level this season, having what many are saying is his strongest season since joining the reigning NBA champion Cleveland Cavaliers. Love is putting up his highest numbers since his final season with his former team, the Minnesota Timberwolves. Although the load has been taken off Love's shoulders to put up such numbers, since he now shares his touches with the likes of all-stars LeBron James and Kyrie Irving, there has still been immense pressure on him to produce at a high level.
The Cavaliers' investment in their "big three" was cause for celebration in Cleveland. With a promising upcoming superstar in Irving, the return of James to the city he promised a championship to, and the addition of a guaranteed offensive threat from all places of the floor in Love, the Cavaliers were primed to make a championship run.
Early struggles
There was little question as to whether Irving and James would produce, as the two demand the ball in their hands and do wondrous things under pressure. The real question was whether Love would fit into a new system and would be willing be willing to give up a significant amount of possessions to these other players. In Minnesota, Love was always the first option, and in Cleveland, he would become the third. Luckily for the Cavaliers, there was little complaint on Love's part, as he simply wanted to win.
However, those wins did not come easy. Everyone understood that when a team of this caliber is put together, it takes time to find a balance while the players learn their roles. That being said, no one expected Cleveland to start 19-20 with large amounts of controversy regarding the team's chemistry on and off the court. Trade rumors began to surface, noting that Love was simply not gelling in Cleveland's system and he should be shipped off for greater value.
Cleveland looked past these rumors and stressed their reliance in Love. They seemed to find some consistency towards the end of the season, ending second in the East with a 53-29 record. Just when opinions were starting to shift, Love got injured in the first round of the playoffs against the Boston Celtics, ending his season and severely hindering Cleveland's chances of winning a championship.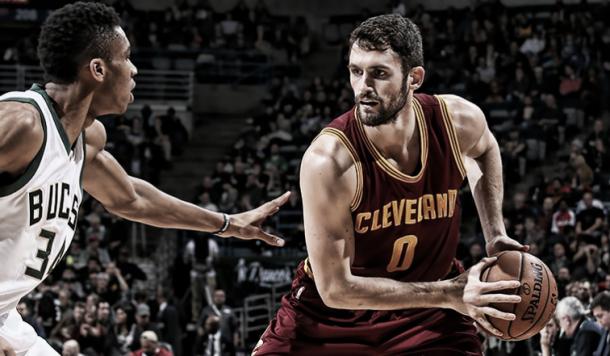 After a heartbreaking 4-2 loss to the Golden State Warriors in the Finals, rumors of Love's departure resurfaced as reporters and speculators contemplated moves the Cavaliers could make involving Love, who averaged 16 points and just under 10 rebounds for the season. The Cavaliers, however, continued to stress their confidence in Love, signing him to a five-year, $110 million contract. James and Irving also backed Love's importance to the team, emphasizing the value of having a big man that could rebound at a high rate and score in as many ways as Love could.
Finding his way
Love's stats did not change in his second season with the Cavaliers, but his confidence did. Following David Blatt's early firing, Love obtained a newfound confidence under rookie head coach Tyronn Lue. He obtained more touches, and players like James and Irving allowed the offense to flow through Love, giving him opportunities to make statements early. The investment paid off, as the Cavaliers fought back from a 3-1 deficit to win the franchise's first-ever NBA championship. Love, who hadn't played in the previous year's finals, had his presence felt by Golden State in the rematch, using his versatility on offense to aid Cleveland's comeback. Finally, in game seven of the series, Love was credited with the final stop on Stephen Curry (now known as "the stop"), helping secure the series for the Cavaliers.
Jump ahead to the current season where Love is now averaging nearly 22 points and 11 rebounds a game. Love's shooting percentages are up to 46 percent from the field and 41 percent from three-point range. Love is also pivotal to jumpstarting the Cleveland offense, averaging right around nine points per first quarter. It seems that Love is likely on pace to make his first all-star appearing since joining the Cavaliers in 2014, but in understanding the roller coaster that he has been on these past few of years, Love does not need the validation of an all-star appearance to prove his worth to Cleveland.
Love's importance
Love's versatility on the offensive side of the court is crucial to the Cavaliers' success. He can score from the post, midrange, and from beyond the arc, extending the floor and instilling fear in defenses. Cleveland goes to him early, ensuring that he gets his touches and finds a rhythm. His ability to facilitate on offense through passing the ball, whether that be in the half court or through his signature full-court outlets, adds another threat that few other teams have. Love's rebounding ability is another facet of his game that makes him important to Cleveland.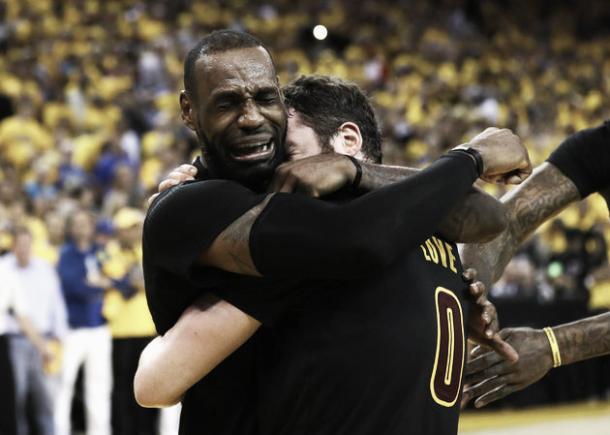 Most importantly, however, Love has found his confidence in his role, which had seemed to be lost the previous two seasons. Love has been accepted by the city of Cleveland and the Cavaliers. He is calm and comfortable in Cleveland's offense. He is no longer forcing shots but is instead getting them in the flow of the offense. This, in turn, is making him a more productive player overall. His role as a leader has grown, as he carries a large portion of the load when Irving and James go to the bench. There is no longer that moment of hesitation that seemed so common when he touched the ball in the previous seasons. He is not afraid to step out on defense, as "the stop" was crucial in the Cavaliers' championship win. Love's unique facets as a player make him a key factor in building this championship team, and he understands that now. Being on a winning team and finding his value in that system has changed Kevin Love as a player.
Love does not need to be an all-star to confirm his worth to Cleveland or himself because he now understands his role with this team. He has found a zone after winning a championship where he feels most comfortable. He is producing at an extremely high rate because he has more confidence in himself, and his teammates, in turn, have more confidence in him. Love understands the importance of that balance in doing what he needs to do with his skillset, but for the benefit of his team. The entire city of Cleveland is reliant on Love to come out of the gate hot and to set the tone for the rest of the team. Love didn't need all-star appearances in previous seasons to understand his value as a maturing player in this league. He needed the validation of winning and understanding that he contributed to those wins through his unique set of abilities. Love may very well be on his way to his first all-star appearance as a Cavalier, but he doesn't need it. His importance to the team is finally in his grasp, and Love has been a major factor in Cleveland's strong start to this season.